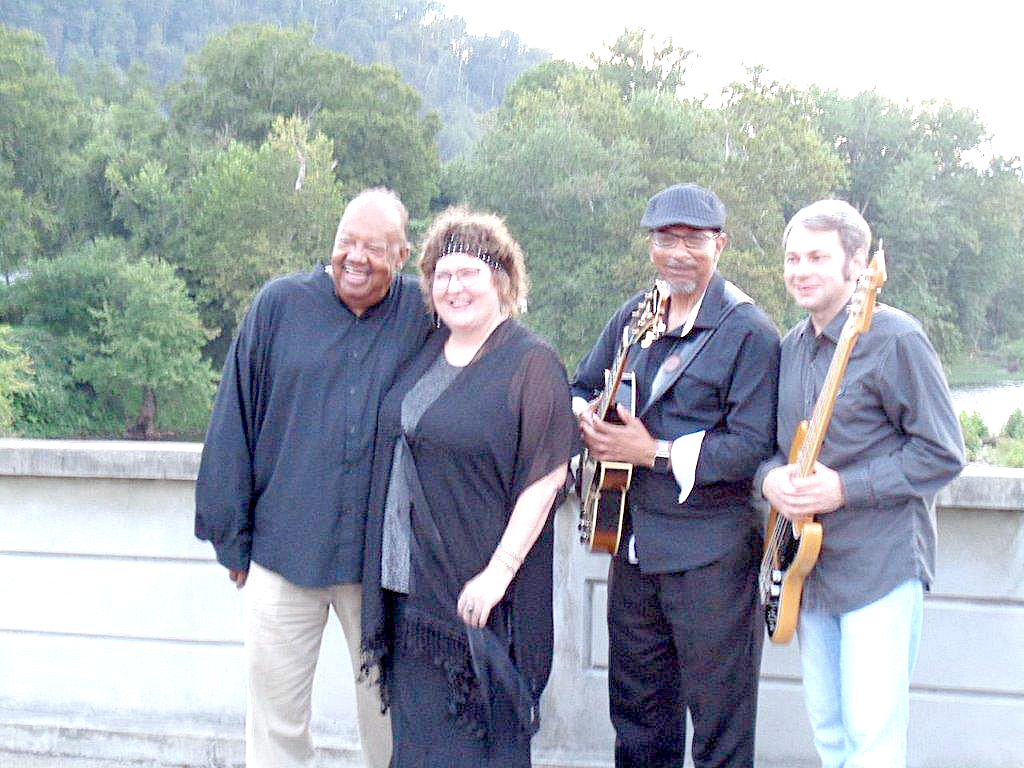 Imagine a warm summer night sitting on the Alderson Memorial Bridge in the middle of the Greenbrier River listening to smooth jazz. Alderson Main Street, with support from the Greenbrier County Commission Arts and Recreation Fund, will hold its annual "Tribute to Bricktop" on Alderson Memorial Bridge on Sunday, Aug. 8 from 6 to 8 p.m.  
Free to the public, this tribute is in memory of jazz singer and entertainer Ada Beatrice Queen Victoria Louise Virginia Smith born in Alderson in 1894. Although she moved to Chicago with her mother when she was still small, she always claimed Alderson and West Virginia as home. Her career reached its peak in Paris where she owned a popular nightclub and taught the Prince of Wales to dance the "Charleston."
Returning to present the music of Bricktop's time is the Robinson, Hoffman, Penn, and Sellards jazz group. Writer/Artist/Vocalist Susanna Robinson has been a fixture and creative force in the Lewisburg area for more than 25 years. She was a founding member of long-lived jazz combo Ghost Town Swing, well-known statewide and beyond for their sultry interpretations of jazz standards and has often been featured as guest vocalist for the Manhattan Jazz Quartet. Robinson has also appeared with Ancestor Radio and Sam and Janet Evening, as well as the eclectic Squawkin' Henry, and the inventive and decidedly original vocal group, Blue House.
She still returns to her jazz roots by belting it out with her own jazz group, Robinson, Hoffman, Penn, and Sellards, formerly known as the Robinson-Kenga Trio. She has often been an official judge for a myriad of state-wide vocal competitions and has appeared occasionally on public radio and local music radio shows including Music from the Mountains and Mountain Stage.
Joining her at the 6th annual Tribute to Bricktop will be guitarist extraordinaire Bill Hoffman, who hails from Roanoke, VA. Hoffman is known for his flawlessly smooth style, and his sweet renditions of jazz standards. He is an exceptional musician with an amazing technical knowledge of jazz. Hoffman currently plays with several groups including Roanoke's big band, The Old Timers.
William Penn, piano and vocals, is a longtime presence in the music scene of Roanoke, VA. Teaming up with Hoffman, they play together regularly in the Roanoke area. His presence is a great addition to the group.
Rounding out the group is upright bassist and master of several other instruments, John Sellards, formerly of Boston, and who has returned to his roots in Beckley. Sellards is not only a superb musician, but a brilliant music historian as well. In demand as both a live player and session musician, he has been welcomed back to the Mountain State with open arms and looks forward to being part of this evening.
No concessions will be available, but you are welcome to bring your own non-alcoholic drink. Bring a chair and settle in for a wonderful evening.