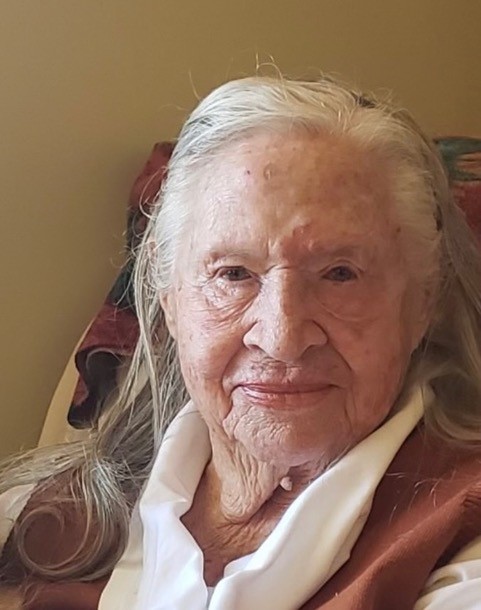 Lewisburg – Ruth Olvey Wadsworth Murphy died Saturday, May 6, 2023, in Lewisburg.
Ruth was born in Fort Worth, TX, to John William and Eula Belle Olvey on Oct. 16, 1923.
She was preceded in death by her beloved husband, David Murphy; her parents; her brothers, John Olvey and Frank Threadgill; sister, Gladys Sample; sons, Richard and John Wadsworth; grandchildren, Jane, Amy, and Robin Wadsworth and Tara (Wadsworth) O'Connor.
She is survived by her daughters, Kathryn Wadsworth (David Deardorff) of Port Townsed, WA, Lauren Wadsworth (Jeff Kessler) of Lewisburg, Sarah Wadsworth (Kieth Cales) of Sandstone, step-children, Warren (Kathy) Murphy and Katherine Murphy of Little Rock AR; grandchildren, Kate Wadsworth (Brad Moon), Nick (Karen Gondoly) Tony (Mary Legg), Deya (Scott Coppersmith) and Annie (Alan) Terrafranca, John and Mary (Jeff Ward) Wadsworth, Patrick Fern, Sam (Kirstie Hambrick) and Jules Kessler, Jay, John (Melissa) and Mark Murphy, Emily (Rodrigo) Rojas, Paul and Will Walker; great-grandchildren, Meryl and Olive Wadsworth, Zeno Terrafranca, MacKenzie O'Connor, Walker and Everett Rojas, and Hannah Murphy; special niece, Jean Intravia; daughters-in-spirit, Debra Hartman, Susan Sharp, and Monica Clagg; and devoted friends and chosen family, Jenn and Amber Danley, Marsha Jones, Ruth Hanson, Lynn Benedict and Rob and Chrissy McMann.
Ruth grew up in El Dorado, AR, and Shreveport, LA, moved to Washington, DC in 1947, where she raised her five children, earned a bachelors and masters degree from American University and worked as a tutor and psychotherapist, primarily providing counseling at Northwest Center for Community Mental Health. As part of her graduate education she worked at Lorton Federal Penitentiary as a therapist with incarcerated men as part of their re-entry process after their release. She moved to Lewisburg in 2003, where she started a new life at 80 years old and enjoyed remaking her life yet again.
She married Lawrence Wadsworth in 1944. They divorced in 1973.
Ruth was a remarkably energetic, funny, insightful, adventurous, open minded, open hearted, generous and loving woman, who was devoted to her family. She loved to laugh and did so often. She found joy in her dogs, the natural world, especially the ocean, traveling, all foods, but ice cream best of all. She had a passion for social justice, was a die-hard Democrat who took her civic responsibilities seriously and encouraged others to do the same and always kept abreast of the news. She was deeply loved and deeply loving; her absence leaves an enormous hole.
A memorial service will be held at a later date, to be announced. In lieu of flowers, donations can be made in her memory to the Stay Together Appalachian Youth Project: https://www.thestayproject.net/take-action.
Online guestbook may be signed at www.morganfh.net. Arrangements by Morgan Funeral Home, Lewisburg, WV.