By Lyra Bordelon
For Ashley Guet's daughter, Winter, finding ways to communicate with kids her age can be difficult. The nine-year-old is mostly nonverbal, one of the ways autism presents itself in her life. Not being able to speak often brings complications when you're trying to play with the other kids in Island Park, her favorite place to play. Despite this, Winter has managed on her own to an extent.
"Two summers ago, at the water mister," Guet set the scene. "It was right after Winter discovered it, she's a water baby and loves that thing. She was playing on it and another little girl was playing on it, and a third little girl came over. Not intentionally and not maliciously, they were edging Winter out and she was looking at me. I thought I was going to have to step in, but Winter held her hand and put it out. Then it finally clicked to the little girl what Winter wanted. They just all had a blast and it was the most beautiful thing I had ever seen because it was the first time Winter communicated on her own without me. … I cried all the way home, I cried when I called my husband at work to tell him about it. She managed on her own to help these girls understand what she wanted. Once they realized she wasn't just being rude by not talking, they realized she couldn't talk, they accepted her and took her right in."
Communication is key, and without being able to speak, how could Winter more directly communicate with the kids and adults around her, particularly when the device Guet uses does not have the internet it requires to work? Fortunately, a solution existed.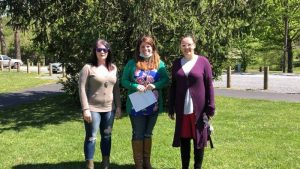 "Last year I was on Facebook and I ran across an article about a nonverbal communication board someone put up in some other state, I don't remember where it was, at an Elementary School. I thought it was the coolest thing I'd ever seen. I realized this wasn't something new, this was something we hadn't caught onto yet."
Guet took the idea to Ronceverte Elementary School, looking to get a board installed in the school's playground, and was surprised to receive as much support as she did. Ronceverte Elementary School Principal Stuart, the Parent Teacher Organization, each "jumped right on in."
Despite this momentum, the same thing that interrupted everyone's lives also interrupted the project.
"Then COVID happened," Guet said. "Everything just kind of stopped. I had almost given up on it until I talked to Deena just a few weeks, few months, ago."
City Recorder Deena Pack had previously talked to Guet about the board during PTO meetings. The recent meeting between the two kickstarted the project again.
The boards were initially expected to be made by JCT Vinyl, but when the business sold, becoming River City Tees, its future was left uncertain. Pack's connection between Tim Doolan of River City Tees and Guet restarted the project, with Doolan agreeing to make them.
"I say Timmy but apparently now that he's an adult he goes by Tim," joked Pack. "I was over there and casually mentioned Ashley had this idea and she had been working with the previous owners. He hadn't been told anything. … He was on board immediately too. [A family member of his] has Asbergers as well, so this project is special to him. Knowing that kids on the spectrum will be able to communicate better on the playground. He got a quote back to me."
Next, the project was brought to the Ronceverte Parks and Recreation Committee, where Pack presented the project. On the same day, Guet prepared to explain the boards to City Council. Fortunately, Pack's pitch to Parks and Recreation was succesful enough for the project to be approved before Guet could speak.
"I thought they weren't going to do it," Guet said. "I thought 'they're going to laugh me right out of that building.' Then I started talking and [Mayor David Smith] goes 'they already approved it.' Then Kathy King asked how much they cost and said they could get additional funds and they could get another one. By the time I walked out of that building I was crying. We could end up with four of these, when all I wanted was one. I think it's gonna be a great project. Then, the very next day, Senator Baldwin reached out to me on Facebook and said that he was willing to help however he could."
For Pack, the nonverbal boards are just one piece of the city's ongoing efforts to improve Island Park.
"I had been thinking what could we do to improve the Island?" Pack explained. "[City Administrator Pam Mentz] is working to get some wheelchair accessible swings. What started as a Facebook post about 'what can we do to make the Island more inclusive?' led to some comments that tore at your heartstrings. These kids just want to play like any other kids. … We're also working on replacing the slide. There's a crack. Pam's looking at replacing the whole slide and that's more expensive that what you would think."
Guet hopes these initial boards at Ronceverte Elementary School and Island Park are the beginning of a trend for all of Greenbrier County, giving both kids and adults with autism a chance to speak.
"I would love to see it expand to all local parks because I know more than just my daughter could benefit from this. … Most kids, when they run into somebody that's their age that doesn't talk, that isn't quite on the same mental development that they are, they don't know [how to act]. I didn't when I was their age. It's going to give children without a voice, a voice. To have a better way to say 'hey, I want to play' or 'I don't like that.' Even for the caregivers, if I don't have her speech device with me, or when they don't have internet, we've got that board."