By Adam Pack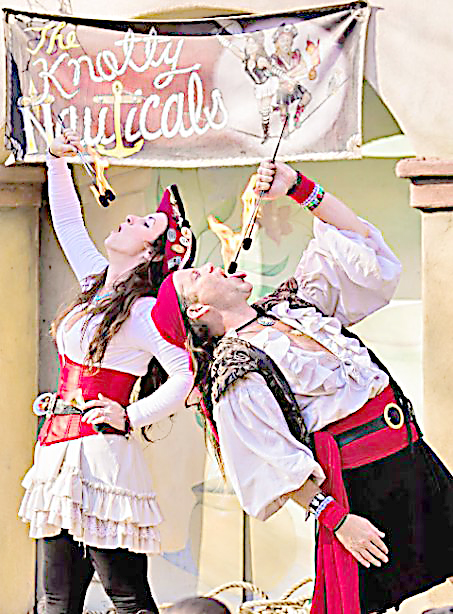 The West Virginia Renaissance Festival returns for its fourth year starting this weekend, and will run every weekend in June. This family-friendly event will bring jousting and equestrian exhibitions, medieval music, circus, comedy and sideshow performances, food and drink, games of skill, and vendors selling handmade wares.
"The West Virginia Renaissance Festival will be honoring veterans, active duty, and first responders by providing free admission to those on our opening weekend, June 4 and June 5," states a press release. "Please bring proper identification regarding your affiliation to ensure your free admission. We thank you for your service and look forward to seeing you during our opening Pirate's Landing theme weekend. Although not necessary, we encourage our guests to dress in either Renaissance style or as a pirate, and all pirates can participate in the costume contest at the end of day."
Each weekend will feature a different theme, starting with pirates on June 4 and 5, followed by Celtic Crossing on June 11 and 12, Beer and Barbarians on June 18 and 19, and Bacchanalia on June 25 and 26 with togas and a masked costume contest.
Dozens of entertaining acts and artists will be appearing at the fair this year, including Onias the Mage, Galiana the Living Fountain, Equestrian Chaos, Hey Nunnie Nunnie, The Wheel of Death, and much more. Musical entertainment will be present as well, with performances expected from The Crossjacks, Coal Black Rose, Magnus and Maggie, Boom Boom Shake, Wolgemut, Valkyrik, Bad Beth and Beyond, and more.
"The festival proudly features local West Virginia brews, ciders and meads, and has food to suit any palate. Don't miss the vendor artisans selling and demonstrating handmade crafts, so come prepared to buy a souvenir for your sweetheart or a beautiful handmade piece for your home. The West Virginia Renaissance is here to stay and is looking forward to working with West Virginia vendors, such as actors, artists, crafters, specialty farm producers, musicians, and others to help showcase the amazing skills and high quality products produced by its residents."
The coolest artisans and crafters come to the West Virginia Renaissance Festival. Whether local or traveling, fine art or folk, you'll find something for all tastes and every budget. Use the list as a guide and go right to what you want, or wander around the grounds and browse. You can't go wrong! Mark Haller Glass will be providing live glass blowing demonstrations, while dozens of artisans will be plying their wares. Artisans expected are: Wyrd Armouries, Travelling Leather, American Highlander, Peasant's Corner, Dragon Smoke, Petal Ears Studio, Made by Me, Wolfsden Forge, Dragonspirations, Blackberry Botanicals, Moonstruck Maple, Phaedre's Place, Family Name History, New Pterodactyl Leather, The Two Tinkers, Pepi's Puzzle Rings, Celestial Thyme, Mark Haller Glass, Starfire Swords, Swords by Alan Meek, Wooden Swords and Shields, Puck's Creations, King Richard's Flowers, North Winds Raiders and Traders, Dragon Ocarinas, O'Sullivans Fur Shack, Pendragon Chainmaille, Wylde Hare, and Sassy Gals Gourmet Treats.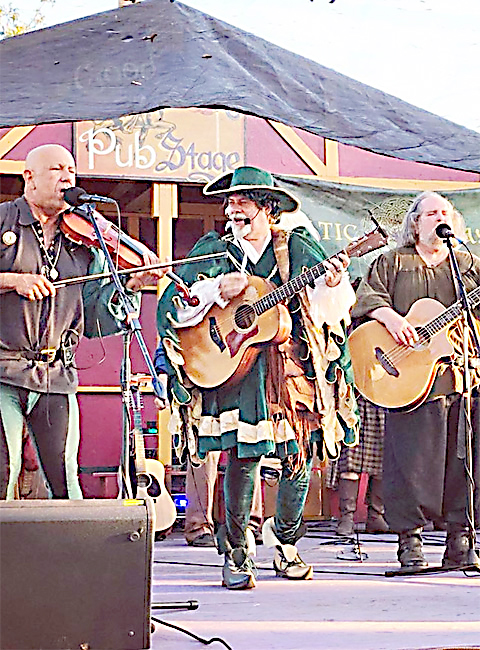 Boredom will never be close by as games and activities will dot the grounds. Games and activities booked include: Unicorn and warhorse rides, Archery, Ax throw, Knife and star throw, Knock Your Block Off!, Test of Strength, Vegetable Justice, Catapulting frogs, Darts, Castle Escape room, Maze, and Jacob's Ladder.
"Renaissance Festivals have a rich and varied history, with many dedicated followers, and have been held nationwide for more than 50 years, but this is the first to be located permanently in West Virginia," states the release. "The festival founders have spent their extensive careers being featured and working at similar events around the US, and have brought home the best for the enjoyment of West Virginians, knowing our rich mountain heritage is the perfect place to showcase a historical way of life."
The West Virginia Renaissance Festival is located on US Route 60, 8 miles west of Lewisburg. Take Exit 161 off of I-64 for easy access. Pricing is $18 for adults, $8 for children 6-12, and children under six enter free. Tickets can be purchased at wvrenfest.com.