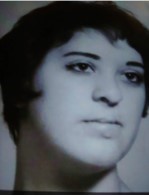 Lewisburg-Rebecca Ellen Ramsey, 77, passed away Saturday, Oct. 28, 2023 at CAMC Greenbrier Valley Medical Center.
Born Oct. 10, 1946 in Lewisburg, she was a daughter of the late Guy Fredrick and Susie Ellen Mace Ramsey.
Rebecca was a retired C.N.A. from the former Greenbrier Manor Nursing Home, was of the Baptist faith and loved to crochet.
In addition to her parents, she was preceded in death by two brothers, Rick Ramsey and Roger Ramsey and a sister, Carolyn Shortridge.
Survivors include three daughters, Christine Renee Counts (Paul), Debra Diane White (Scott) and Kelly Lynn Carnell (Robert); grandchildren, Christopher Michael Burns (Brittney), Jonathan Marshall Tucker (Cheyenne), Warren Samuel White (Morgan), Richard Dustin White (Racheal Hepler), and Tevin Nathanel Taylor (Rachael); great-grandchildren, Kyndal Blair Burns, Presley Grace Burns, Kaydence Faith Tucker, Zakaryah Scott Tucker, Braxstyn Eugene Tucker, Emersyn Lanie Gabbert, Tucker Steve Cutlip and Jake Randall Cutlip; two sisters, Mary Sue Judy and Joann Marie Arthur; and three brothers, George David Ramsey, Fredrick Gene Ramsey, and Kenneth Wayne Ramsey.
A memorial service will be 1 p.m. Saturday, Nov. 18, at Wallace & Wallace Funeral Home in Lewisburg, with Pastor Sharon Howard officiating. Interment will follow in Greenbrier Memorial Gardens in Lewisburg.
The family will receive friends one hour prior to the service on Saturday.
In lieu of flowers, donations of sympathy may be made to Hospice Care, Inc. 1265 Maplewood Avenue, Lewisburg WV 24901.
Wallace & Wallace Funeral Home in Lewisburg is in charge of arrangements. Please send online condolences by visiting www.WallaceandWallaceFH.com.