By Lyra Bordelon
A breakfast heralded the end of one company's 40 year effort to provide emergency medical transportation to the town of Quinwood on Monday, October 5. Serena Davis, paramedic and Quinwood Emergency Ambulance Service (QEAS) office manager, called the nine full-time staff and four part-time staffers into the office and had one of their final mornings together.
"I had everybody that could be there … come in," Davis said. "We fixed a big breakfast for everybody. It was sad. We're not sure where everybody is going to go from here. We just need time to wrap our heads around everything because it happened really quickly. It was three months. We were hoping to maintain but we just couldn't."
The difficulty in providing comprehensive emergency medical services in rural areas is well documented. In 2015, reporting by Tina Alvey of the Register-Herald highlighted the closure of two EMS organizations in Greenbrier County, the Northern Greenbrier EMS and Williamsburg EMS, citing the difficulty in financing operations and the lack of volunteers to man them. In 2018, Monroe County instating a new few on property owners to provide coverage after the withdrawal of Greenbrier County Emergency Ambulance from the county.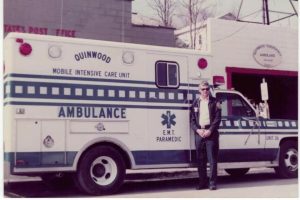 These difficulties have continued on to today – Alvey's reporting shows QEAS with nine vehicles for its coverage area. By this year, that number had fallen to one operational vehicle, a number that caused alarm with the Greenbrier County Commission. In a meeting on July 14, Commission President Lowell Rose explained he had received calls asking for more emergency services for the Meadow River Valley.
"In evaluating the level of ambulance services in this area, it became obvious that a number of calls for medical emergencies were met with lengthy delays in ambulance response times simply because there were not enough ambulances operating in the region," reads a press release from the County Commission. "On many occasions, emergency medical service units located in adjacent regions were placed on standby to handle calls for medical emergencies in the Meadow River Valley, but there were a number of times this did not occur because of an oversight on the part of Quinwood Emergency Ambulance, Inc. This oversight caused unsatisfactory response times to several medical emergencies."
With trips to area hospitals taking 45 minutes to an hour, and then the same time back, even when QEAS boosted the number of vehicles back up to three, there did not seem to be enough coverage. This led to the commission approving White Sulphur Springs Emergency Medical Services (WSSEMS) to operate in the region, with emergency calls dispatched to both emergency response organizations.
"The complaints we did receive, when we went back and looked at our call information and the background on those situations, it provided us information that caused us to make the decisions we made," said Tincher. "There was plenty of evidence based on the concerns people shared with us for us to have concerns about public safety."
This solution, however, created the "unintended consequence" of "racing ambulances," 911 Center Director Mike Honaker explained. This led the commission to ultimately divide the area into two response regions, one for each organization, further reducing call volume.
"It's not about us picking one company over the other, one group over another or anything," explained Rose. "One group, in our opinion, was not handling the safety of the people in that area – the people deserved better coverage."
In addition, the need for EMS services to be dispatched through the county's emergency response network was emphasized. Each of these factors came together with one result – a massive reduction in call volume and income.
"It used to be that we would get phone calls privately," Davis said. "Most of the time the 911 center didn't want to know about our private calls. Suddenly they wanted to know every move we made, everything we did. We had to advise them of that. Once they started making the restrictions and brought White Sulphur in, our call volume went from like 150 to 180 calls a month to, in September we had about 50 calls. It is a huge drop off."
Davis explained in the July 14 Greenbrier County Commission meeting that the organization needed to bring in approximately $90,000 a month in order to meet payroll, insurance, and liability. Estimating the 50 September calls is about $25,000, the math just couldn't keep QEAS open.
"It's very regrettable, but from a business standpoint, it seems to me that their problem is pretty simple," said Commissioner Mike McClung. "It costs just as much to maintain and ambulance and a crew and a facility in Quinwood as it does in White Sulphur. You just don't get the return on investment and ultimately that was more than they could overcome. I still regret that it came down to it closing."
The decision by QEAS was announced on social media, with the last day set for October 5. In that post, the organization stated it couldn't' fully explain its closure because its "questions have gone unanswered too."
"After I submitted a FOIA request, I asked [the County Commission] … for the list of complaints Mr. Rose claims he has had for the last six years," Davis said. "Mike Honaker came to my office, sat across from my desk and told me there is no list. … I want to know how they can take a drastic action against us without any documentation."
FOIA requests require an organization to provide any information it might have, such as documents, recordings, and photos, but it cannot compel any organization to produce data that it does not already have. The complaints received by Honaker and Rose were from citizens, but not through a formal documentation process or email, but through word of mouth "running into people at the grocery" and unrecorded phone calls. As a result, there is no paper trail to produce showing who submitted the complaint.
"We got some phone calls on our personal phones," Rose said. "No emails, no written letters, just running into people and talking to people and people calling to voice their concerns. This has been going on the past several years and hasn't improved. It got to the point where we had to make a decision and do something about it."
Honaker and Rose also affirmed names of complainants would have been kept secret, even if there were a paper trail, in order to protect shield the complainants from potential retaliation.
"We don't have such a list, it doesn't exist, but even if it did, it would be exempt from FOIA because of its sensitive nature and because it could be used to retaliate against people who made complaints," Honaker explained. "… One of the complaints did come from within QEAS, so it was one of their own employees that was reporting problems. Obviously that person never wanted to be identified."
Throughout discussions around the closure, an investigation into QEAS was referred to by both parties. In the social media post, QEAS explained representatives from the West Virginia Office of Emergency Medical Services (WVOEMS), the DHHR regulatory body over EMS providers, inspected and investigated complaints it received.
"With HIPPA, I can't get into a lot of detail about the call they are talking about, but we were found not at fault with that," Davis explained. According to QEAS it was found the crews "acted appropriately and used good judgment."
Requests for comment from the WVOEMS from the Mountain Messenger have not been answered, a similar situation to what Honaker and the County Commission found when trying to examine the case. The commission did not have to approach WVOEMS – the organization reached out to the commission first, requesting information to assist in its investigation.
"[WVOEMS] told me they had done the inspection, they identified some things they were addressing, they were satisfied with the results of the inspection," Honaker said. "… I reported that to the commissioners, the commissioners then asked for a copy … of the inspection report. [WVOEMS] said they would not provide the commissioners with a report. … They declined to provide even a summary of the investigation. As of today, [the commissioners have] never been provided a report or any information related to that inspection."
Tincher, Rose, and Honaker each confirmed the WVOEMS findings were not part of any decisions because they are not known. Honaker explained the commission acted on an internal investigation alone.
"Once [the commissioners] were made aware of these calls, and they were calls that resulted in people dying, [they had to act]," explained Honaker. "The commission's position has never been, and I want to be clear about this, that [QEAS] was the cause of the death. … [The commissioners] were concerned that some of these calls have a pretty lengthy delay. … If they do nothing and these cases continue to occur, at some point someone's going to come to the commissioners and say 'you knew about this six months ago, a year ago, or six years ago, and you didn't do anything about it.' It kind of put them in a tough position."
Davis was critical of the commission's investigation.
"The County Commission has really done a lot of damage to our reputation," Davis said. "We have a good history with [WVOEMS]. … They are our governing body and you would think, if we were that big of a problem, they would have come to us a long time ago. … [The commission] didn't interview our crews. … We were criticized and we were basically shut out because we would get busy and have long response times. That's not going to change in an area where you have a 45 minute transport time to any hospital that you go to. … I think there are going to be some problems."
Despite the concern, Rose and Tincher both cited ongoing concerns with EMS service around Quinwood going back to 2015, citing Alvey's reporting and conversations with previous County Commissioner Woody Hanna. Honaker emphasized that the Commission's division of the region was not due to a single case, but ongoing concern with the diminished capacity to handle call volume.
"It has never been presented to me that there was one specific case that was the genesis of all this," Honaker said. "In the two years I've been here, there have been times people had expressed concerns to me and the commission. It was too often that Quinwood Emergency Ambulance Service was only operating one ambulance. They were not only doing that with the western region of the county, but they were going into Nicholas and Summers counties on calls as well."
Moving forward, the likelihood of QEAS reopening is very slim, with many of the crew having already moved on to other positions and equipment now completely unavailable. With coverage now handled by the WSSEMS operating remotely on the western side of the county, and some WSS responders stationing in the Rainelle Medical Center, the QEAS crew now has to figure out their own, individual paths forward.
"Well, I'm unemployed. No, it's not a great feeling," Davis said. "I've worked for the company for 30 years and we've got to sit down and figure out. We've got trucks to figure out what to do with, we've got equipment and supplies we've got to figure out what we're going to do with. We've still got bills to pay, we've got one more payroll we've got to meet. … We worry about our people and our patients. It's not a good feeling."
Reflecting on their typical patients, Davis explained that emergencies were not the only type of call they responded to.
"A lot of times it was older people that have just always called us privately," Davis said. "People that are very familiar with us that don't really have an easy time giving directions that know we're familiar with their homes. We've been there so many times. … People who are familiar with us that know we know how to get there and that we can get there promptly."
An outpouring of support followed QEAS's closure announcement on social media, with hundreds sharing the news and expressing their disappointment with the loss. Davis thanked them for the support.
"We just want everybody, our patients, to know that we care," Davis said. "We still care and we didn't want anything like this to happen. We appreciate the support that they've give us."