By Sarah Richardson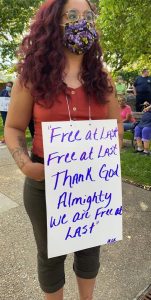 Residents of the Greenbrier Valley gathered together at the Green Space in downtown Lewisburg last Saturday to peacefully protest the death of George Floyd of Minnesota. This demonstration was part of over 3,100 protests held across the nation since Floyd's death on May 25.
The gatherings are a platform for demonstrators to speak out against police brutality and anti-Black racism. The phrase "Black lives matter," originating from the Black Lives Matter movement, is a centerpiece of the movement.
"We are working for a world where Black lives are no longer systematically targeted for demise," says the Black Lives Matter website. "We affirm our humanity, our contributions to this society, and our resilience in the face of deadly oppression."
Demonstrators were joined by members of the Lewisburg Police Department, who stood with them for several hours. This is the first of several gatherings, including one held on Thursday, June 4, and another tentatively planned for June 19.