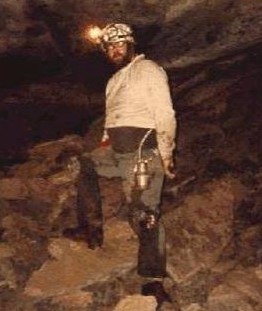 Lewisburg-Paul Edward Burdette, known by his friends as Eddie, died Sunday, Apr. 2, 2023, at Peyton Hospice House, two months after suffering a paralyzing stroke. He was 74. Eddie was known by many around Lewisburg for years as the owner of the red Jeep whose plywood roof was tied on with ropes. But he had talents not everyone knows about.
He was a brilliant photographer, producing some magnificent photographs of tiny flowers, insects and snowflakes. In his younger days he was a serious caver and bicyclist.
Eddie was born in Lewisburg on July 31, 1949, the son of Ray and Virginia Harris Burdette.
An adopted brother, Ricky also preceded him in death.
His closest living relative is his dear first cousin, Janet Belcher, of Winnetka, CA, whom he talked to every week.
Eddie graduated from Lewisburg High School and attended Bluefield State College. Over the years, despite some disabilities, Eddie worked as a construction helper and laborer, did farm and lawn work, repaired bicycles, and worked for years at Organ Cave as a wild cave guide.
Besides photography and caving, Eddie was very knowledgeable about volcanoes, earthquakes, geology and the history of the Alderson lion. When he was younger, he had a strong interest in telescopes, astronomy and model rocketry. He fed the birds around his apartment and loved and took good care of a cat who lived outside, whom he named Mr. Gazebo.
Eddie was a person who didn't always fit in. He readily admitted to having very few social skills. As a result, he sometimes suffered ridicule or abuse from unkind people.
But he also had people throughout his life who appreciated him and looked out for him.
Among these were Carl Waggoner who was his friend from childhood. Eddie taught Carl about astronomy and rockets. And Sylvia Waggoner, Carl's mom, was Eddie's friend as long as she lived.
When Eddie was in high school, Mr. Earl Clay, then a science teacher at Lewisburg High, stood up powerfully for Eddie when he badly needed help. Eddie was being bullied by fellow students and as well as by some of his teachers. Mr. Clay, who had been principal of the Bolling School for many years before the two schools merged, wouldn't stand for it and soon put a stop to the bullying. After that he and Eddie remained friends.
Beverly McBride was a good friend and employer who believed in Eddie. They were good friends as long as she lived.
Leon Piper, one of Jehovah's Witnesses, called on Eddie when he was living in Bluefield and taught him many hope-inspiring truths from the Bible which Eddie held onto the rest of his life.
Ken Hensley, an expert caver from the DC area, was a mentor to Eddie in caving and became a long-lasting friend.
Eddie found the meetings at the Kingdom Hall of Jehovah's Witnesses in Lewisburg to be educational and inspiring and regularly attended them. Several of the Witnesses became good friends to Eddie, including Dan and Jimylu Cook, Lydia Chams, Imre and Brigitte Pentek and Mike Bardoff.

Eddie appreciated the management at Lewisburg Manor, where he lived. Kim Hoke, Brenda McKinney and Ben Hoke were always very good to Eddie and gave him a job taking out the trash on the weekends. Karen Fisher was also someone at the Manor whom Eddie cared a lot about. Mountain State Computers kept his aging computer going and always treated him kindly and fairly.
Eddie's friends and family deeply appreciate the kind-hearted care he received from the nurses and aides at the Greenbrier Health Care Center (formerly Greenbrier Manor) and the warm, expert individualized care he received at the Peyton House Hospice during his last few days. We also appreciate the good help and advice we have had from the people at Wallace & Wallace.
Eddie has been cremated. There will be a memorial service for him at Lewisburg Manor Apts on Court Street North on May 11 at 1 p.m., conducted by a member of the Lewisburg Congregation of Jehovah's Witnesses. It will also be on Zoom at: https://us06web.zoom.us/j/85754573633?pwd=QzVWWlQvS1RYOVVhOGJMRjVkS0lGUT09
Please send online condolences by visiting www.WallaceandWallaceFH.com