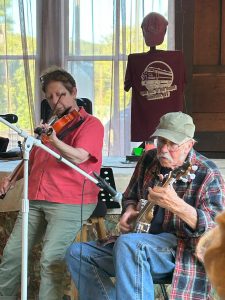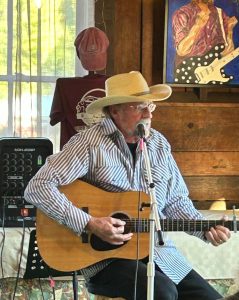 Alderson Main Street's "Open Mic at the Depot" continues to attract additional musicians and audience members.  A hot Labor Day weekend evening on Saturday, Sept. 2 drew 17 musicians and 30 audience members to the historic Alderson Train Depot for an evening of fun and fellowship. Eddie Johns, a regular who is locally known for his John Prine interpretations, performed as well as acted as "guest emcee," keeping everything running smoothly.
When asked why the event seems so popular, organizer Marcia Sutherland said, "I think it's because the audience is so appreciative of every performer, and the musicians really support each other."  It doesn't hurt that the venue is unique; performers and audience are surrounded by antique baggage carts, train memorabilia, original artwork, and instruments hanging on the walls.  Even the occasional train that rolls through town and forces a pause to the performance is part of the ambiance.  Anybody know a train song?
The last Open Mic at the Depot for the 2023 season will be held on Oct. 7 from 6 to 9 p.m., following the 2nd Annual Alderson Fall Festival on the Bridge from 10 a.m. to 3 p.m.
For more information on Open Mic at the Depot, look at Alderson Main Street's Facebook page or contact Don Sutherland at donsutherland2003@yahoo.com.