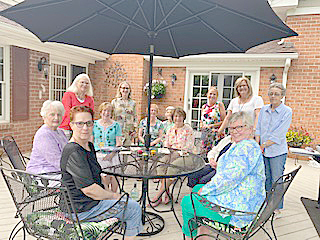 Members of the Old White Garden Club in White Sulphur Springs gathered at the home of Louise Doggett on Tuesday, May 25, for a spring social.  Twelve members and guest Elizabeth McGruder enjoyed light refreshments and conversation in a lovely outdoor setting.
The evening program gave members the opportunity to hear about the positive repurposing of old nostalgic structures in White Sulphur Springs.  Cindy Bennett gave a brief update on the exciting development of the Schoolhouse Hotel (formerly the WSS High School). Cindy is the Operations Manager for the new 30-room hotel scheduled to open by the end of 2021 and shared that incorporating the history of the old school and some of its memorabilia are part of the design plans.
Penny Fioravante is renovating the old Gum General Store on Dry Creek Road into Gum Store Studios, a retreat and studio space for artists, yoga and much more. A first goal for Penny was to have Studios' resident artists work with third and fourth grade students at the WSS Elementary School to create an "under the sea" mural. The mural featuring unique sea creatures has been painted on the resurfaced creek side of the Studios building. Additionally, Penny plans to document each student's artwork and write a book with emphasis on diversity and friendship.
Lastly, Mary Collins encouraged members to attend the dedication of the new municipal swimming pool and Fitness Center on Friday of the Memorial Day weekend. The impressive facilities located at the Dick Gunnoe Memorial Park complex were a long time coming and are now open.