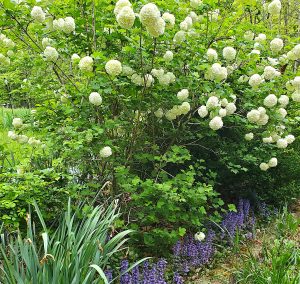 By Karen Cohen
I have friends who just moved to an area on the Greenbrier River which is "populated." That means they can see their neighbors' houses from theirs and vice versa. Wondering what plantings they can introduce into their yard which will quickly turn into privacy fencing, I started to research some that are easy to grow. With over 200 species, I have direct experience with just a handful of viburnums. We planted three bushes three years ago and already they have taken off. Presently each one stands five feet tall and about the same in width. The Prague Viburnum grows well in zones 5-8. It has an open branch style which is easily seen through and matures to about 8 feet in height with a 10 foot spread.
Only slightly fragrant, it is multi-stemmed and produces cream colored small flowers in clusters in the spring which turn into berries in early fall. Its leaves drop late fall and grow back the following spring. We cut out a few of the under branches in the late fall to encourage healthy new growth in the spring but that will also reduce the amount of blooms that grow on old growth wood. We used this viburnum to replace a small hemlock tree that we had planted in the front of our house. That evergreen grew so quickly that it soon towered at 12 feet tall and partially blocked the view of our driveway, so we opted to remove it before it got bigger than our house and replace it with some "airy" deciduous bushes.
Another lovely viburnum is the Leatherleaf viburnum. Not being a fan of the latin names, I will skip those! This bush has a creamy flat type of clustery flowers also in the spring and grows just fine in the shade. It has a large green fuzzy leaf on long branches. I plan to trim some lower branches in the winter to take some bottom weight off the 6 foot bush. We discovered this summer that a large hornet nest was tucked deep inside the 7 foot wide bush. We never saw until a bear pulled it all apart one night as we slept, just the nest, not the whole bush.
My favorite viburnum, the Eastern Snowball bush, came from a root that I dug out of my parents' yard in New Jersey many years ago. It stands about nine feet tall and every year in the spring puts out an abundance of huge white, fluffy, round clusters of flowers, all about four inches in diameter. It is called a "showy bloomer" and that it is! I have given it zero care over the decade and insects and deer do not chew on it. I have thinned out the bottom branches a bit to give it good air circulation and I watered it weekly the first year it went into the ground. Sun loving, it is winter hardy in zones 6-9. It has been covered in real snow and made it into the spring just fine. The deciduous branches when laden with blossoms do begin to droop from the weight. That's when I cut off a bunch and take them into the house for a spectacular, long lasting flower bouquet on the table. Remember that pruning this bush is done ONLY in the spring when the blooms turn brown. This will encourage new blooms and a compact shape. If you prune it in the fall, you will be taking off new growth for the following year.
All of these aforementioned bushes give your yard some spring flowers for cutting and viewing!
Another fast growing easy to care for bush is boxwood. You can have fun shaping these into round or square hedges or even sculpt into animals! If you heard they smell like used cat litter, I can testify that they do indeed. I suggest NOT putting them outside under house windows and don't line your porch or front outside stairs with them either. Otherwise, I don't smell ours at all unless I am clipping them which I do every year. I like to keep our boxwoods at a low, squat shape at around 3-4 feet in height. Give them room to grow widthwise when you put them in the ground; they like to grow both up and across. Ours are all four feet in diameter. I keep the bottoms "open" for air to circulate. I prefer to see the ground around them just in case of hiding snakes. Oops, did you just gasp?
A pest to the boxwood that I have dealt with annually, is a tiny yellow-orange flying insect known as the boxwood leafminer. It hatches in swarms and they feed off the tender new leaf growth in the spring. I keep a watchful eye on my boxwoods. When I see a swarm rising up from the bush, I spray them and the leaves with soapy water. It works to coat the leaves that can eventually be destroyed by the larvae and it seems to weigh down the flying adult's wings, too. I keep spraying liberally and several times a day for the next few days until hatching is over. This has proved to work and none of the ends of the branches' leaves turn brown if they are caught in time. Note: if you see zig zag white lines in any plants' leaves, it is probably from leaf miners. Their larvae molt four times in a three week period so keep a lookout for them.
Lastly, I will mention bamboo for a fast growing privacy fence. For some folks, it is a curse word! Plant this at your own discretion. You must keep an eye on this plant or it will walk right into your neighbor's yard and take over yours, too. With over 1400 species of bamboo, it is the fastest growing plant on this planet. It is considered renewable and can replace lumber which is slower in regrowth. Initially it takes five years for bamboo to break ground when planted and then it can soar to 90 feet in one year. In the USA, laws are put in place to require landowners to keep running stands of bamboo contained to their property line only to keep neighbors happy.
When I toured Indonesia, I was surprised to see three story buildings using bamboo rather than lumber as studs and floor joists! It is strong, renewable, and inexpensive to grow. Gardeners love to use bamboo for stakes in the garden, too, and the leaves are great to add to your compost pile because they are high in silica. So there's some choices for getting your own live privacy fence. Plant it now in very early fall so the roots get settled in. Water once a week until frosty climates are predicted. You can opt to cover your new bushes in the deep winter with burlap but we have not done that yet and they have all survived. You can create privacy that is beautiful and practical!
(Karen Cohen is a ardent gardener, researcher and explorer. Please send your tips and comments to natureswaykaren@gmail.com. And Happy Gardening!)