"This building is 33,000 square feet, and three floors of potential."
By Sarah Richardson
When Amy Hubbard set out earlier this year to start a nonprofit, she never dreamed the process would go as fast as it has. After filing for 501c3 status in January, West Virginia Helping Hands was approved by the IRS just months later in April. 
"Awesome. Awesome is the main word that comes to my mind whenever I start talking about how fast things are moving, because the charity was not started until January of this year," says Amy Hubbard, the driving force and spearheader behind West Virginia Helping Hands.
The group is already making big waves of change in the Greenbrier Valley despite only just getting off the ground. They have been working to install and help stock blessing boxes, but have quickly moved onto tackling bigger projects. Their main focus now is an undertaking so large that it will take the entire region's support to see fruition.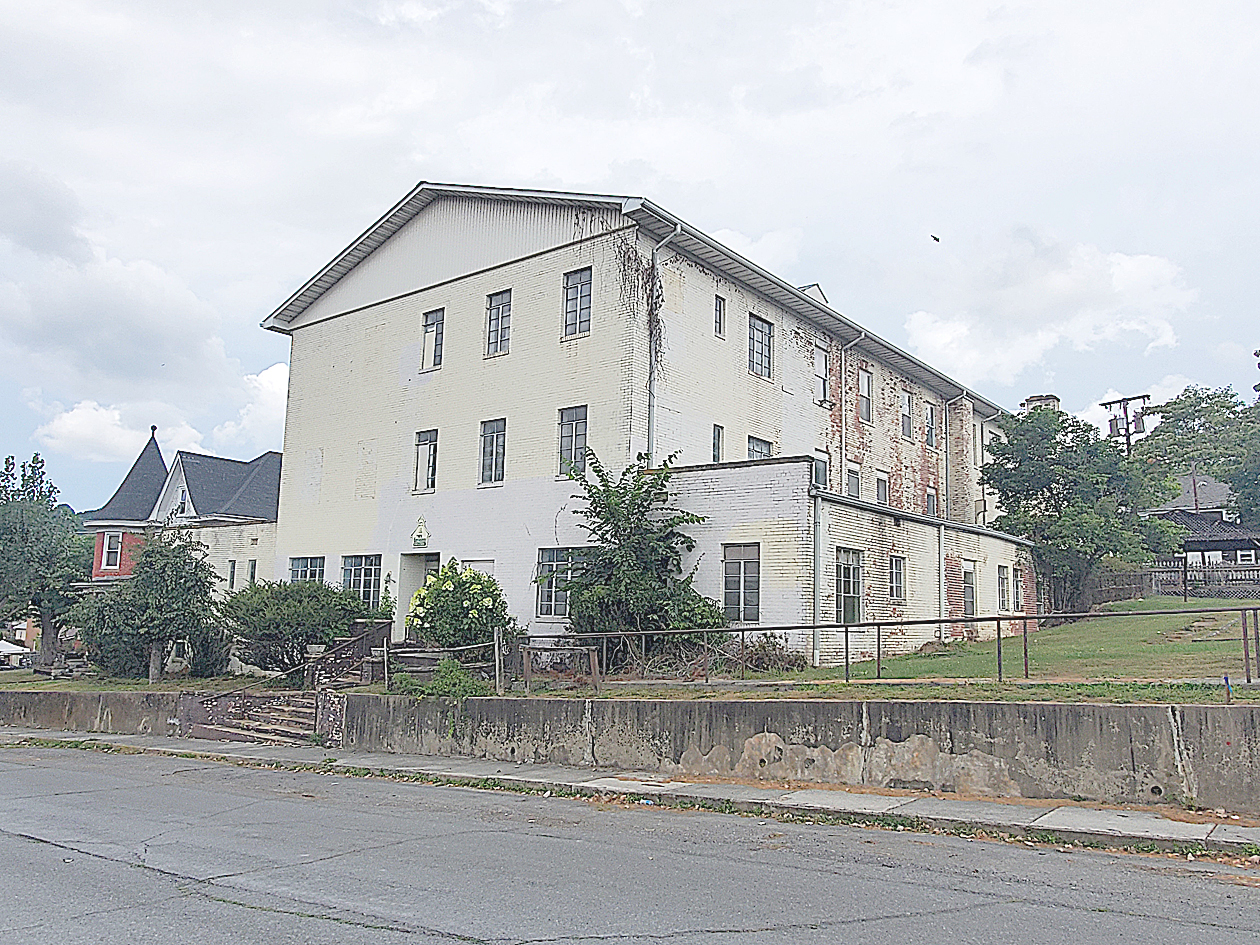 At the end of this month, the nonprofit will get the keys to the old nursing home building in Ronceverte, and they have plans to turn it into a source of hope and security for disadvantaged individuals and families. Hubbard intends to open a full-scale transitional educational facility and community center for those who are just down on their luck and have nowhere else to turn. 
 "I don't know how to explain it – I just couldn't let go of it. Once you see something, you can't unsee it. You can't unsee the need in our community, and I couldn't let go of the idea in my head. I was dreaming about it, I was thinking about it, it was just something I had to try. If it fails, it fails, but at least I know that I tried."
She says that once she decided to give it a shot, every step of the way has been filled with community support and groups wanting to help. 
"Ever since I made that decision things have just fallen into place like pieces of a puzzle just falling into where they are supposed to go. The nonprofit was turned around, and we've already received that back from the IRS, volunteers are so plentiful in our community wants to help, they just don't know what to do. It is just blessed in so many ways to not have to fight so hard to get people's understanding. We live in a wonderful community, and people see it. Their kids go to school with kids that are struggling, and everyone deserves a fair shot."
Hubbard is also the owner of the Little Learners Daycare in Fairlea, and has a background in the nonprofit sector, giving her a unique advantage to organize and execute such a huge project. 
"I was at Boy's Home in Covington for 21 years, I was the Director of Education there, so my career has been in nonprofit and struggling families, and recognizing areas of deficiency and planning on how to plug the holes and fix the gaps. If you don't, you have generational survival. People learn how to survive, and they don't learn anything else. That's not the happiest way to live, nor is it the most productive way to live. I think if we can give people resources to expand past what they are used to, or past their situation, then everybody benefits. The family benefits, the community benefits, everybody benefits from that stability. And we have to do it together."
The facility will be designed to provide temporary housing for those participating in programs offered by the establishment, including life skills curriculums, interview skills, GED acquisition, financial management, and job training.  
"In order to participate in this, you have to be in the programs," Hubbard explained.  "The idea is that a family in need would come to us and we would be able to assess their needs and make sure that we can serve them. If we can't serve them then we'll help them find somewhere that can. If we can help them then we will put them in an apartment. We have apartments for families on the third floor, and singles on the second floor. Our first and number one priority is safety. We will not be creating an environment of victimization. Our security will be in place before people are in the building. It's too important, people have to feel safe, and the community around us has to feel safe for this to be successful."
After determining what their needs are, they will be assigned an independent living skills curriculum and assigned a case manager. Hubbard emphasizes the importance that a sense of responsibility carries, and says that every adult will be assigned duties throughout the building ranging from cooking, cleaning, lawn maintenance, and more. 
"We will work with them daily on meeting their goals and getting them aligned with already existing programs to help them fill in the gaps and address whatever obstacle is keeping them from being successful. We will work every day with the ultimate goal being to get them through getting their GED, through education, through some kind of job training, and help mentor them and get them into a job as well as plans on saving money and transitioning into independent living. It's not a band aid. You can't do band aids anymore, band aids aren't working. Our approach is to put responsibility, accountability, and safety into the circle to ensure that they can transition independently."
However, before anything else, Hubbard says that the people they serve need to feel seen.
"The first step is to help people get their dignity back. Once they feel safe and are fed and they don't have to worry about the next day, change happens. Growth happens."
The facility will have classrooms and meeting spaces not just for educational purposes, but for support groups as well. They will also work with agencies to make sure everyone is able to receive help that is available from different sources. 
"One of the holes in the system is people not being able to get the resources they are entitled to," explains Hubbard.  "Either they don't know what they are, or they don't have internet, or they don't have transportation. There is a reason there are so many of these people out here- why is that happening? We need to find out what the holes are and what the obstacles are keeping them from moving forward."
She differentiates this system from governmental programs by attributing their catalyst for change to their active hands-on-deck approach and daily involvement in the process from start to finish.
"With nonprofits there is a passion, and a desire for change and growth. With governments, the idea is there and they throw money at it without the passion. People have to know you care about them."
The community has already started to show their support for this massive undertaking through donations, participating in fundraisers, and volunteering their time and efforts to the cause. A poker run held last week drew out 50 bikers and raised $1,885. A pulled pork fundraiser, arranged with Taste of Eggcellence Catering, will be held Oct. 5 for businesses wanting to place an order for food delivery. A golf tournament is scheduled for October 22 and 23 at Valley View Golf Course in White Sulphur Springs, as well. 
"We are 100 percent nonprofit, so everything that we are doing is contingent on the funds as we receive them," Hubbard said. "We already secured one grant of $10,000 for a computer lab, so that's exciting. We have a lot of furniture including beds and dining room furniture that were donated by the owner, Mike Anderson. He has donated several of the items in the facility."
A local business has also donated mattresses and boxsprings, which are being kept in storage until the building in ready. While it may not look like it, the structure is actually more intact than it appears, making volunteer's jobs easier when it comes time for cleaning day and renovations. 
"The building is so structurally sound, it doesn't look like it from the outside, but Mike has done an amazing job at keeping it current. All of the electric is current, the heater is current, the backup generator is current, the fire system is current. We don't have to go in and tear down walls, it's ready. It needs to be cleaned, it needs some TLC, but it is ready. It really is," said Hubbard. "Once that building is open, it's going to take all of us to get it cleaned and painted and loved on and furniture moved and everything done." 
She laughs as she says, "If everyone could bring their good wishes and their broom that will be the best help."
After everything is signed and finalized, she says it will be a priority to make a clean-up schedule so volunteers will know when and how they can help. One of the main helpers so far, however, has been the building's current owner. Mike Anderson owns several nursing homes around the state, and has made a career out of serving those who need some extra assistance.
"Mike has been such an asset," said Hubbard. "He is patient, he is cooperative, and he is understanding, but more than anything he is supportive of the vision. He is very in-touch with this type of work. He is also going to lease us the lot next to the building, and that whole area will be a community garden."
As they prepare to take over the building's ownership, Hubbard reflects on what called her to lead this in the first place. 
"When I first started, 60 percent of my kids were in foster care. They are a vulnerable group, and when they turn 18 and age out of the foster care system, their services end. And a lot of the times, if they don't have family willing to take them in, there is nowhere for them to go. That's another gap that is hopefully addressed through this program." 
She sighs and says, "Sometimes you know stuff, and life is so much happier without knowledge sometimes, because you can pretend these things aren't happening within your community." 
However, despite it all, what keeps her moving forward is a thought of "I think I'm meant to do this," seeing how everything is continuing to come together in support of this vision. 
If you or your community group is interested in assisting West Virginia Helping Hands, please reach out via Facebook at WV Helping Hands, and make sure to follow their page for updates.