By Lyra Bordelon
Update August 6, 2020
After the subsequent passage of a new COVID-19 reopening plan by the Greenbrier County Board of Education, a revision to the school year calendar was also made. See below for the new calendar.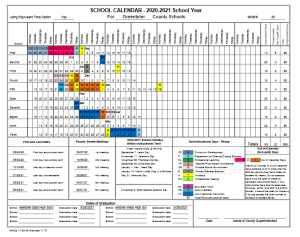 Original Story July 30, 2020
The Greenbrier County Board of Education updated the school year calendar during a special session on Monday, July 27, before going into executive session to further discuss the school's reopening plan.
"Everybody had a lot of input to this calendar," explained Superintendent Jeff Bryant. "As you know, the governor mandated that schools would start September 8, so we had to adjust the calendar. He asked and requested that the last day of school be June 1st. With that tall task, Nancy [Hanna] took the school calendar [and had to create] 180 instructional days and 200 days for our employees.
One potential issue was how each holiday would be broken up for students and school employees when looking at the new opening date. Although one early consideration was to adjust Thanksgiving break, instead the planners moved it to later in the year.
"We originally [had] that they would have to work those three days [during Thanksgiving]," explained Hanna. "We talked about it and in about two seconds we realized that would not go over very well. So what we did is took three [out-of-school] OS days and put them in that week, then if you look down at the eighth month for spring break or Easter, we will not have a full week this year. The students … will be doing remote learning but the employees would actually get a long weekend – they would get Friday, Monday, and Tuesday."
Several adjustments to the previous few years calendar were also noted, including the requirement that incremental weather days, also known as snow days, would not longer be subjected to the same extended school-year guidelines, but could be considered remote learning days, and a new type of instructional day.
"The [remote learning] NT days are new, those are non-traditional instruction," Hanna said. "They are basically remote learning days and they do count as instructional and employment days.
Preparations around COVID-19 are still underway for both the Board of Education and teachers. The board entered executive session to continue working on their safety and reopening guidelines, currently planning to release them on Friday, July 31. Meanwhile, teachers have been preparing for the upcoming weeks.
"Teachers have already created the first nine weeks of remote learning lessons and some are currently working on the second nine weeks. You can see that the beginning of school how fortunate we are to have all this predevelopment time … that we'll be working on the second nine weeks remote learning lessons, as well as training and Google classroom and Google meets and other programs that allow remote learning."
The calendar was approved by the state department before the Board of Education meeting, allowing them to enact the finalized schedule.
In other business:
Two bids were accepted for school food items, including an item-by-item $242,005.40 bid for milk, juice, and cheese, and an "all or none" bid totaling $88,065 for breads, including hamburger, sub, and hot dog buns.