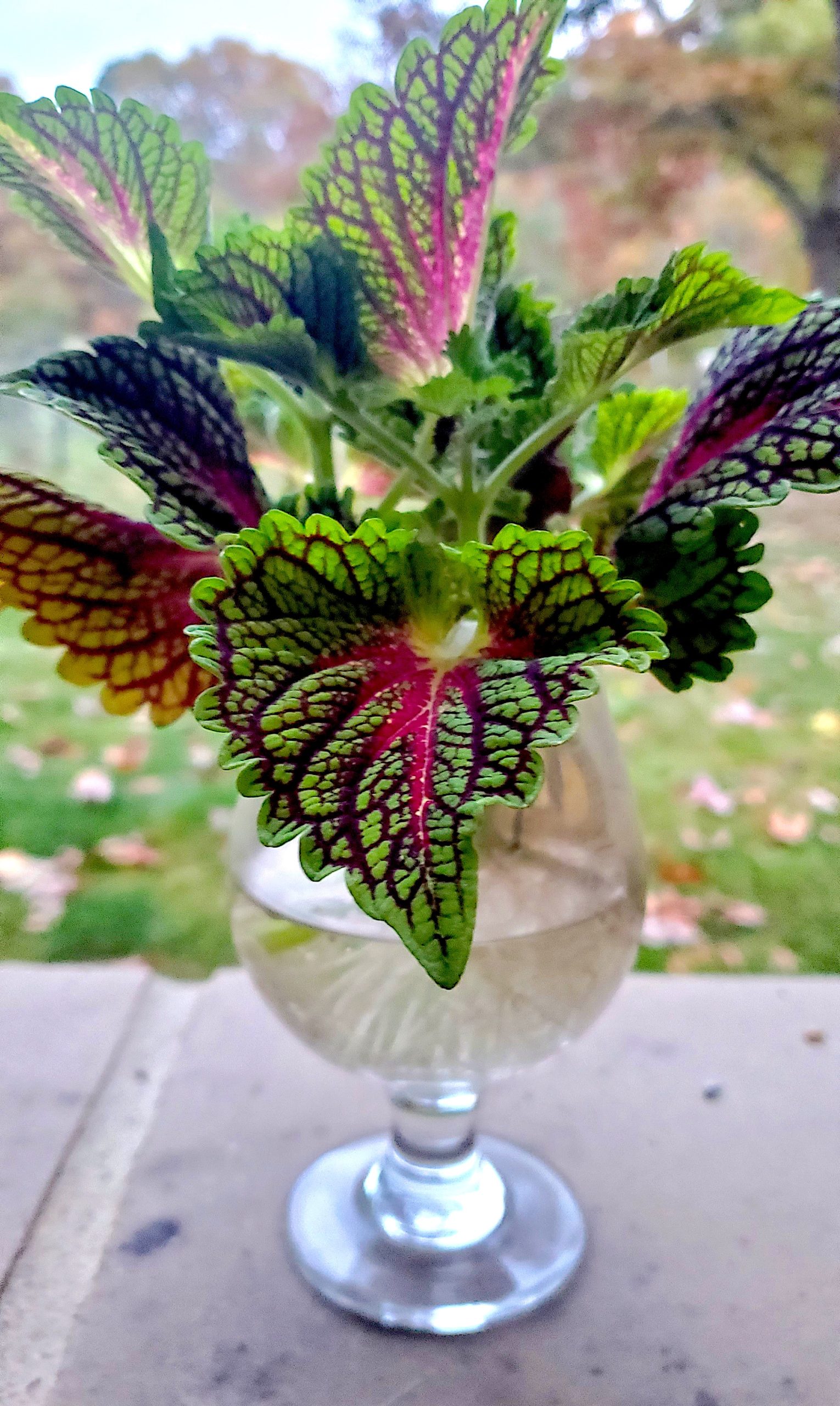 By Karen Cohen  
So Long but Not Goodbye! 
Frost is coming, but that's nothing new here in West Virginia this time of year. But before it happens, we still have some garden chores. We took in the last of the cukes off the vines today and were surprised to find six medium size ones hiding under the sweet potato leaves! All the green toms hanging on limp vines were harvested too. I place them in brown paper bags in a dark place to ripen up. Note to self: Don't forget about these because rotting tomatoes smell worse than a lot of things I can't mention. Strawberries can be divided now before the ground hardens. Cut the runner vines and move the "babies" into a new spot if you desire more strawberries. Last spring, we saw lots of flowers and strawberries but some little critter, mouse or chipmunk, came in and took bites out of all the strawberries. Next year we will drape them with netting but even that can't guarantee whole, intact berries. Maybe barbed wire? Ouch!
The gladiolas in my yard will not survive low winter temperatures. This was the first time EVER that I planted gladys. I adored the tall shoots of spiky leaves which blossomed into cascades of oranges, pinks and reds. Deer did begin to help themselves to the tender blooms, so I made sure to snip the stalks just as they showed any color at all on the tips. In vases inside, they bloomed and lasted a long time. Now with winter around the corner, the bulbs which I planted in pots will have to be lifted out and stored in cardboard boxes in a root cellar or garage till next year. An alternative idea is to bring the whole pot with bulbs and dirt into a safe, semi-warm spot to dry out over the winter and not freeze completely. Next spring, they all go back out into the outside world to bloom again. 
Storing plants and bulbs over the winter months is not my favorite garden chore and I hesitate to purchase any plant that will not come back on its own outside in our gardening zone. But this year, I broke down for certain flowers that I have never grown and longed for. Cannas are a tropical plant which sprouts from perennial rhizomes. In many areas of the world, they spread and grow like crazy. They are hardy in zones 8-10. In our WV zones, 6-5, the bulbs will freeze if left in the ground over the coming cold months and eventually die. 
Cut back the foliage first and then grab a sharp shovel and dig out the bulbs. I don't wash off the soil. Set them in a protected space, like a garage, to help the skin toughen up before storage. Mold is the enemy. A paper bag with a bit of peat moss or vermiculite in it will absorb any moisture during the cold months. Keep them where the temps do not drop below 40 degrees and take a look at them every week or so to be sure rot has not set in. Throw any rotted bulbs out. When spring comes calling and the ground thaws out, replant your canna bulbs for fresh flowers.
We grow Meyer lemon and kaffir lime dwarf trees in large clay pots outside in the warm months. Today, we carried them into the shed for temporary protection against dropping temps. Both of these will love coming inside a warm house near a sunny window as soon as we make room. Every year they get bigger and bigger! After about three years since we bought them, fruit has still not appeared. They require at least six hours of direct sunlight per day. Only one of each is needed because both are self-fertile, that means they don't need pollen from another partner tree to produce fruit. Hopefully in another year or two, we will have some delicious citrus fruit on our little trees.
The leaves on the kaffir lime tree are edible. They can be crushed and thinly chopped to add sparingly to dishes. This adds a tart flavor and citrus fragrance. These are an essential ingredient in Thai cooking for soups, curries, salads and more and are good for you.
I broke off plenty of coleus shoots from my outside plants and put these into glasses of water set on south facing windowsills. The bright and happy colors add cheer inside when the dreary winter months take their toll. They root quickly in water. When the roots are long and tangled, place them in small pots of soil with a bit of compost as fertilizer and keep watering when they get slightly dry. This will keep them growing tall till next year. When the temps rise above 55 degrees outside, I can place all back into the ground. There are over 300 different coleus species and are considered an annual here. My favorites: Dragon heart with green edges and pink centers. French Quarter has bright magenta centers and lime green leaves. Growing from seed is another option and very easy to do. Coleus plants will get bushy when you pinch back the top vertical growth. This allows the side shoots to grow quickly and the whole plant fills out.
With my garden put to "bed" now, we can take a long winter break. I will be back next spring to resume and share my garden journals with you. Right now, a cup of tea is waiting by a stack of garden catalogs. 
(Karen Cohen is an organic grower and avid explorer of nature's wonders. Email your tips, comments, ideas to natureswaykaren@gmail.com)