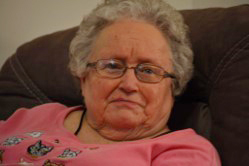 White Sulphur Springs – Nancy Sue Shafer, 81, of White Sulphur Springs, passed away Tuesday, July 4, 2023 at her home in White Sulphur Springs.
Born Sept. 28, 1941 at Corbin, KY, she was a daughter of the late Delbert Strange and Gladys Mildred Grimes Randall.
Nancy was a homemaker and was a member of Eakle Chapel United Methodist Church in White Sulphur Springs.
In addition to her parents, Nancy is preceded in death by her husband, Harry Allen Shafer, Sr. and her daughter, Pamela Shafer Bonvillian.
She is survived by two sons, Harry Allen Shafer, Jr. of Ruckersville, VA and Norman Ray Shafer and wife Jeanette of White Sulphur Springs; grandchildren, Jacqueline Faye Burgess (Tyler), Larra Leigh Farnack (Tanner), Brenna Suzanne Shafer and Evan James Shafer; great-grandchildren, Brooklyn Sue Burgess, Declan Ray Burgess, Charles Jenson Burgess and Easton Lee Burgess; brother, Steven Douglas Randall of Jacksonville, FL; niece, Michelle Montoya and nephew, Robert Randall.
Funeral service will be at 2 p.m. Sunday, July 9, at Wallace & Wallace Funeral Chapel in White Sulphur Springs with Pastor Lowell O'Dell officiating. Burial will follow in Greenbrier Memorial Gardens in Lewisburg.
A visitation will be held one hour prior to the service at the funeral home on Sunday.
Wallace & Wallace Funeral Home in White Sulphur Springs is in charge of arrangements. Please send online condolences by visiting: www.WallaceandWallaceFH.com.