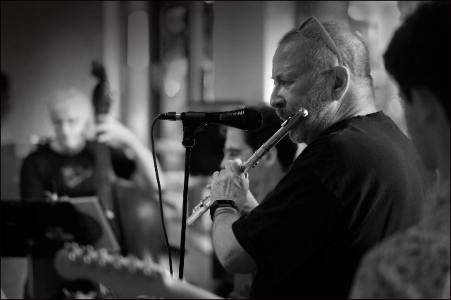 Pocahontas County Opera House, host to an array of notable music performances, is delighted to welcome The Mike Gillispie Jazz Flute Quartet on Saturday, Nov. 4, at 7:30 p.m. The performance guarantees an evening of eclectic jazz melodies, bridging across diverse generations and styles.
The quartet features Mike Gillispie, a renowned flutist and bass flutist celebrated for his vibrant blend of musical experiences. Gillispie's musical journey began at age 5 with the accordion, transitioning to the flute by 7, and later expanded to include saxophones. Gillispie, emerging from Washington's dynamic music community, now brings his rich musical and graphic arts background to the stage. With performances spanning continents, he's known not just for his unique mix of musical and photographic talents, but also for his deep-seated family roots in Pocahontas County, where he spent formative summers before embarking on a full-time music career.
Joining Gillispie is esteemed guitarist Thomas Kitchen, admired for his versatile musical background spanning both jazz and classical genres. Kitchen, a passionate educator and transcriber, complements his international experiences to enhance his performances and educational pursuits.
The quartet also features Dan Griffin, a respected bassist originating from New York City. Griffin launched his musical career at the tender age of 8 with the accordion, transitioning to the upright acoustic bass by 13. His passion for music is as unwavering as his notable career in clinical psychology, earning him accolades as an educator, speaker, and author.
Completing the quartet is James Deshler, the drummer whose diverse Los Angeles upbringing sparked a career that astonishingly merges jazz with molecular and cellular biology. Deshler, a UCLA PhD holder and Harvard Medical School post-doctoral scholar, masterfully complements his intellectual pursuits with his musical talents.
This captivating performance at Pocahontas County Opera House is a must-attend event offering a unique blend of high-quality jazz music. Tickets are priced at $10 for adults while admission is free for those aged 17 and under, available via the Opera House website, the 4th Avenue Gallery in Marlinton, or at the venue on the evening of the performance.
The concert series at the Opera House receives impressive support from the West Virginia Department of Arts, Culture, and History, West Virginia Commission on the Arts, Pocahontas County Dramas, Fairs and Festivals, and the Pocahontas County Convention and Visitors Bureau.
The Opera House promotes an inclusive and family-friendly environment, accessible to individuals with disabilities. Special accommodations can be organized upon request. Seating is available on a first-come, first-served basis, encouraging attendees to secure their tickets in advance.