By Lyra Bordelon
A special request after the passing of Greenbrier West High School Coach Bud Whitlow last year is the spark behind upcoming renovations of the Meadow River Community Park.
In lieu of flowers, Whitlow and the family requested donations for the improvements of the Meadow River Valley, a request friends obliged.
"He passed away about a year ago, and when he did, his family asked people to donate to the Meadow River Community Park in lieu of flowers," explained Matt Ford, a local Meadow River Valley organizer. "We ended up getting a little over $3,000 in donations."
Work on the Meadow River Community Park, including on a shelter and outdoor classroom, became the consensus, with one condition.
"I was talking to [his widow], trying to figure out the best use of this money, … he had always been a supporter of the park," Ford said. "One thing he didn't like, and no one liked, [is that] right now that park has concrete picnic tables made out of old guardrail concrete. They are not going anywhere, but they're terrible to sit on and they look awful. Some of our shelters need replaced, so his wife said 'whatever you do, don't put concrete picnic tables down there, cause he hated those.'"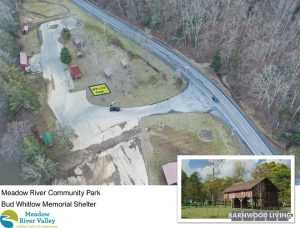 Greenbrier West High School offered to construct new benches for the park. Soon after, Mark Bowe and Cindy Lavender-Bowe toured the Meadow River Rail Trail and, upon hearing of the project, offered to build much of the needed infrastructure at cost.
"They found out about this project, the Rail Trail, and they wanted to help in some way," Ford said. "The stars aligned – we had a little bit of money, they wanted to help, and [we decided] to build a shelter in memory of Whitlow."
"The Meadow River is one of those places in West Virginia that you can't forget once you've seen it," explained Mark Bowe. "We have been blessed with the success of a hit TV show and this is a great way to give back to our community."
Ford estimates the project will come together over the summer, and will be reaching out to foundations and writing grant applications to bolster the donations.
"We need to have money for the concrete pad, put a roof on it, so we're in the process of raising money for that. It's probably around $15,000 or $20,000 total, … that's probably about where it'll be. … We're looking at doing that this summer, I'm pretty confident we'll be able to hit the fundraising goal. We're going to make it happen."
This is not the only project going up – the West Virginia Division of Natural Resources is working on a river access point in the park throughout 2021. Because of the proximity to this project, and because of Whitlow, the shelter and outdoor classroom
"We were thinking we need to rebuild the shelter – it would have a fishing theme because it'll be near this boat access and [Whitlow] was a big time fisher in the Meadow River," Ford said.
If you would like to donate or request more information, please contact Matt Ford, President of MRVA at info@meadowriver.org.