By Lyra Bordelon
Due to two multimillion dollar water infrastructure projects, many residents of Ronceverte have found themselves without water in the past week or two. Due to the ongoing nature of the project, requirements for testing, and some over 100-year-old, unmapped pipelines, the issues are expected to continue.
"We sure hope we're not going to have another week like this past week," said Mayor David Smith. "I'm afraid we may be looking forward to a number of occasions. We may be hollering."
City employee Steve Williams explained, as best he could, why city crews needed to shut off the water system, often working in risky positions on the lines.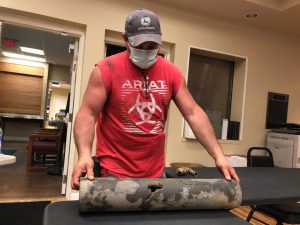 "The majority of the leaks we found, all but the hydrant down in Southern Estates, have not been fresh breaks," explained Williams. "When we cut the water off, the rust and the calcium falls off [the inside of the pipe]. It'll drop down into the pipe, then when you turn the water back on, she goes. … The air is harder on the lines than anything else because it's a water hammer. When that air hits, the pipes move. When the pipes move, it shakes everything in them, and if they're weak, it'll shake the rust out of them, then they pop up. We've done it the same way, I don't know why this weekend was the way it was, I can't answer that."
Even newer lines can be an issue.
"Through the years, new lines have been put in some places and old lines have been connected to the new lines," Williams said. "They did not necessarily abandon old lines. We know from the flood of 1996, the notes and sketches were lost. No one even knows where a lot of those lines are. The contractors are hitting them and we're doing our best to local them, but we're not going to get them all. We don't know where they're all at. We think we might know where some of them are, but then they might be over a foot or two or three feet."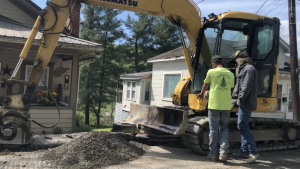 Line location was made worse when many of the city's water line maps were destroyed during a flood in the 1990s. Since then, remapping the lines has only occurred as work and leaks have sprung up. Once this project is complete, all the new lines, and many old ones, will be mapped once again.
"The pipe they're putting in the ground, we'll know where they are at. As far as the pipes we haven't dug up yet, it's a guesstimation," Williams said. "The project we're working on, both of them, we'll know where those lines are, but the rest of them are still a guess, until Bob Hazelwood finds us the rest of the $30 million I asked him for when we started this five years ago.
"We got six and half!" Hazelwood joked.
"We're getting there, Bob!" Williams said.
Bob Hazelwood, a representative of the main project contractor E.L. Robinson Engineering, explained the project was moving forward. The two water improvement projects, totaling over $6 million, are funded by grants from several sources, such as HUD and IJDC totalling over $2 million, and low interest loans provided to the city. 
"The water system rehab project, which is the contract for downtown, we're about 26 percent complete on the project and that was as of April 16," said Hazelwood. "The sewer crew that is on hold at the bore has moved on to the water project so we have more crew here. … Since April 16 they've made quite a bit more progress in getting the water lines installed."
The two projects have different anticipated completion dates, although he noted the timeline could change based on issues arising during the project.
"They'll probably get all the water mains done in the next two months," Hazelwood said. "After that they have to go in and start putting in all the water service lines and reconnects following that. They could very well be finished in the next five months. The upgrade project, which is the large 4 and a half million project, they'll probably be at least through October before it's complete."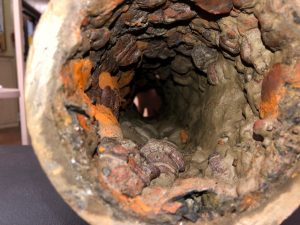 Hazelwood also explained the pipes might have been built to last beyond 40 or 60 years, but not "for these to be in there for 120 years. Most of these lines are cast iron pipes, they were probably lead joints instead of a rubber jointed style. Some of the four inch pipes have, maybe, a two inch opening with all the [mineral] build up."
However, help has been on the way thanks to numerous organizations. A water tank from American Water, and pallets of water from both the local Walmart and Pepsi, have been provided to citizens as the process continues. Since the City Council meeting, crews with other local cities have come to provide assistance as they could. Williams noted that this could be difficult due to the nature of the leaks.
"The mayor of Alderson called and the water department from the city of Lewisburg's folks called me numerous times and asked if they could help us in any way," Williams said. "That was great, and if I needed them, I would've called and they would've come, but when we were fixing these leaks, it was a stair step ordeal. We had to fix one to get the water turned back on to see where the other one was. They did call me to say they were willing to send a crew." 
Smith said White Sulphur Springs and Union also offered help.
"It's nice to know that the towns around us realize we've been in a predicament the last couple of days," Smith said. "A lot of folks thought the entire town was without water, but it was only the folks that were on the main water tank that lost water. There was a great effort by city employees to take water to those folks who could not come and get water. … I didn't have water at my house. You can't take a shower or flush the commode, but other than that, it's workable. Those are the two big inconveniences. You can't wash clothes either. Think back to the derecho folks."
Council, Senator Stephen Baldwin, and everyone in the room thanked city crews and employees for helping get the water back online.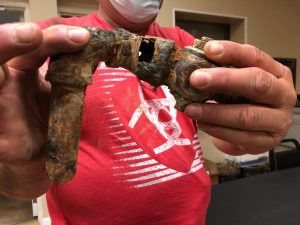 "I want to thank Pam and the City Hall employees, the city workers out working on the leaks, Mayor David Smith," said Recorder Deena Pack. "Everybody's been putting in a lot of time to make sure the inconvenience is as slight as possible. We need to thank our citizens for their patience. Yes, this part of it is not fun, but it will be worth it so we're dealing with pipes that are not over 100 years old. We need to keep looking to the future and know that it's going to get better."
Anyone looking to keep up with the ongoing water situation should follow the City of Ronceverte Facebook page, where the most up to date information is posted. City Council, Smith, Williams, and the crew working the leaks also thanked Mentz for keeping the page up to date, keeping people informed about what was next, and allowing them to work. Going to nixle.com and signing up for text notifications is also recommended.
The Facebook timeline also offers more timeline details on the water issues:
April 20, 1:05 p.m. – "One of project contractors has hit a water line on Edgar Avenue.
We are on site repairing the line. We will update as soon as we talk to our employees who is on site working. Thank you"
April 20, 1:49 p.m. – "All customers that are on the Main Tank are on Boil Water effective immediately. This should be the downtown area, teaberry all the way to the end of where our service ends. (Shires, Second, Third, Shires,West, East, Taylor, Mountain View, Bakers Acres) Greenbrier, Pocahontas, Elm, Rush, Walker, Matthew, Sellers, Clay, Ronceverte Avenue, Walnut, GHS lane,  Monroe, Locust, Mill, Edgar, Main Street, Frankford, Lewisburg, Summers, Beech, Landon Lane, Vine. We are sorry for any inconvenience."
April 22, 8:50 a.m. – "Contractors have hit a water main line. Crews on site repairing."
April 27, 10:15 a.m. – "As of today, April 27, 2021, the boil water advisory will stay in effect until further notice. This is due to the online contract work on the water lines. Please boil water for cooking, drinking, brushing teeth, etc. It can be used for showers but be careful if you have any cut or abrasion on your skin. You should boil your water in those cases. We understand this is an inconvenience, but to complete the necessary upgrades this is a necessity. If you have any questions or concerns, please feel free to call City Hall [at] 304-647-5455."
April 27, 5:28 p.m. – "We had calls today regarding drinking water. The City understands and is sorry for any inconvenience. There will be a tanker truck coming from Charleston in the morning. It will provide drinking water for our customers. I do not know what time we will be able to start filling containers. It depends on what time they arrive. At this time we have in mind to place it in the lot across from the Sportsman. I will provide information in the morning of an estimated time and where.  We will have staff there to fill containers and assist you when we are able to get started tomorrow. Thank you."
April 28, 1:33 p.m. – "The water tank has arrived. If you are on Boil Water and need drinking water, please come to the parking lot across from Tri County Produce on Edgar Avenue. We will fill containers from 8 am – 8 pm daily. Please bring your own containers."
April 29, 9:28 a.m. – "Water Line Break this morning. Water will be restored as soon as possible for those customers without water due to the line break. We are still on Boil Water. Reminder: Water from American Water being distributed in lot across from Tri County Produce. From 8 a.m. – 8 p.m. today. Please bring a container. Under Boil Water you can use the water for everything BUT consumption. Recommendations are to Boil Water for 5 minutes before cooking. Brushing teeth, and drinking the water would require using other water. The water can be used for washing clothes, use of the restroom, cleaning and other non-consumable use. Showers would not be a problem unless you have open cuts or wounds. Call City Hall 304-647-5455 if you have any questions."
April 29, 7:27 p.m. – "Leaks are still being fixed. They will not stop working tonight until they are all repaired. They are working on #3 of 4 for today. It may be late into morning hours before they get finished. We are not sure, they are working." 
A full statement was also posted here – "The City of Ronceverte is still on a Boil Water Advisory. We have been experiencing multiple line breaks almost every day this week. We cannot take samples down to be tested until we can get to the point of no continuous breaks in the lines. … Please have patience as they continue to replace the lines. The lines getting replaced are incredibly old. The pressure from turning the water on after leaks are repaired are causing the older lines to break. We are deeply sorry for any inconvenience and will keep updating information as we can."
April 30, 10:08 a.m. – "Walmart has graciously donated bottled water to the city for our Boil Water Customers. We have gotten several messages that some citizens did not have anything to put water in. At this time we are arranging to go get the water. I will update this page when the water arrives in bottles. Thank you"
April 30, 10:16 a.m. – "Water will be shutting off for the entire town due to a main line leak near spring street. The entire town is meant to be the people that lost water yesterday. If you had service yesterday and the Boil Water has not affected you, this message does not include your area. Squirrel Hill down to Chesapeake, Gypsy Hill area, Brier Hill to Valley Drive and Apartment complex buildings are NOT included. I am sorry for any confusion this may have caused."
April 30, 11:08 a.m. – "Please turn your hot water tank off when you have no running water. This will ensure it will not try to operate dry of water. When turning the hot water back on, please bleed the tank lines to insure all the air is out."
April 30, 7:57 p.m. – "The city crew is working as hard as they can to get your water back on. They have just estimated midnight tonight if all goes well to have it back on. In the morning at 8 am we will be giving bottled water out along with the 'bring your container to fill water.' We are very sorry for the inconvenience."
May 1, 8:30 a.m. – "Water at lot across from Tri county will be delayed opening this morning. We are in the process of loading up the bottled water. It will be 9:30 before we have it there and get started giving it out."
May 1, 5:57 p.m. – "American Water & Greenbrier Homeland Security & Emergency/ Paula Brown for locating and supplying the water tanker. Special thanks to so many people who  make this bottled water delivery possible. Walmart & Store manager James Bowyer for providing the water and Walmart's driver for driving it in, Ripco and Mike O'Brien for providing the dock & forklift, Tri-County produce & Heath Bennett for providing a box truck. Chris Vance & Justin Defibaugh for taking time from repairing leaks to help with unloading. Thank you to everyone who helped in the beginning to get this going. Everyone took their personal time & equipment to help. The City sincerely appreciate's making this possible."
May 1, 9:39 p.m. – "Located the leak on Greenbrier Avenue. It is a 6 inch main line that has gas lines underneath it.  You may lose water until it's repaired. They are working on it and will continue until it is repaired. We are sorry for the inconvenience."
May 2, 10:09 a.m. – "Just got an update from our line crew that our next leak is at the end of Monroe after Southern States. We cannot start until Mon Power cuts the power off to a power pole. The leak is under a guide wire. Once the power is off It will be repaired. This leak doesn't appear to be as bad as the one on Greenbrier or Valley Drive. We are also reaching out to see if anyone else can help us due to the line breaks continuing non-stop. I know everyone is aggravated and we understand. We are doing everything we can right now. Ronceverte needs water and as soon as possible."
May 2, 10:33 a.m. – "Mon Power has came and looked at it. They will need to get their own crew together to take the power pole completely out. We can start once they get that removed.
We have two other possible leaks. One at the Bank and another at Walker right now."
May 2, 6:33 p.m. – "Still working on Monroe" with pictures
May 2, 10:48 p.m. – "They are working on the leak at the bank. We plan on leaving the water on while we try to fix this. There are 2 smaller leaks in town that we will deal with tomorrow. We are concerned about people having water. If all goes well tonight, it will stay on as we try to repair it. There are no plans turning off the water tonight unless an emergency comes up."
May 3, 10:46 a.m. – "We will not be turning off water today unless an emergency occurs. They will try to fix the smaller leaks with the water on. Thank you"
May 4, 10:27 a.m. – "The contractor has hit an un-marked line near Edgar Avenue. Because this is a Main Line, the Main Tank must be shut down. Those customers that get water from this tank will lose water. As soon as the leak is fixed, they will turn it back on."
May 4, 10:33 a.m. – "We would like to thank Pepsi for delivering 14 pallets of bottled water. The city contacted Pepsi for assistance and they promptly sent water. Water is still being handed out by filling containers you bring or handing out bottled water.  This is done daily from 8 am until 8 pm at the lot across from Tri County."
May 4, 11:05 a.m. – "Alderson has reached out to us this weekend and offered their help with leaks. We have multiple leaks this morning and have asked Alderson to help us in repairing them. They have offered to assist with anything we need. They probably will start on walker street & other streets where needed. Thank you to the mayor (Travis Copenhaver) and the employees for coming to help out."
May 4, 1:23 p.m. – "Important Reminder. Turn off your hot water heater if water goes off."
May 4, 7:06 p.m. – "Water back off. They turned it back on and a bigger leak on Greenbrier appeared. They are diligently working and will turn it on as soon as they can. These messages only apply to the customers who have been losing water. If you have maintained water since the beginning, you are not on Boil Water."
May 4, 11:15 p.m. – "City crews are still out working on the leaks. They have worked 16 hours non-stop at this time.  Water will still be given out tomorrow 8 am – 8 pm at the lot across from Tri-County. If you know of a neighborhood or family member that cannot get out to get water due to health issues, please call City Hall 304-647-5455 and we will get staff to deliver it."
May 5, 9 p.m. – "A few leaks left but we are trying to leave the water on. Reminder there is still water at the lot across from Tri County."