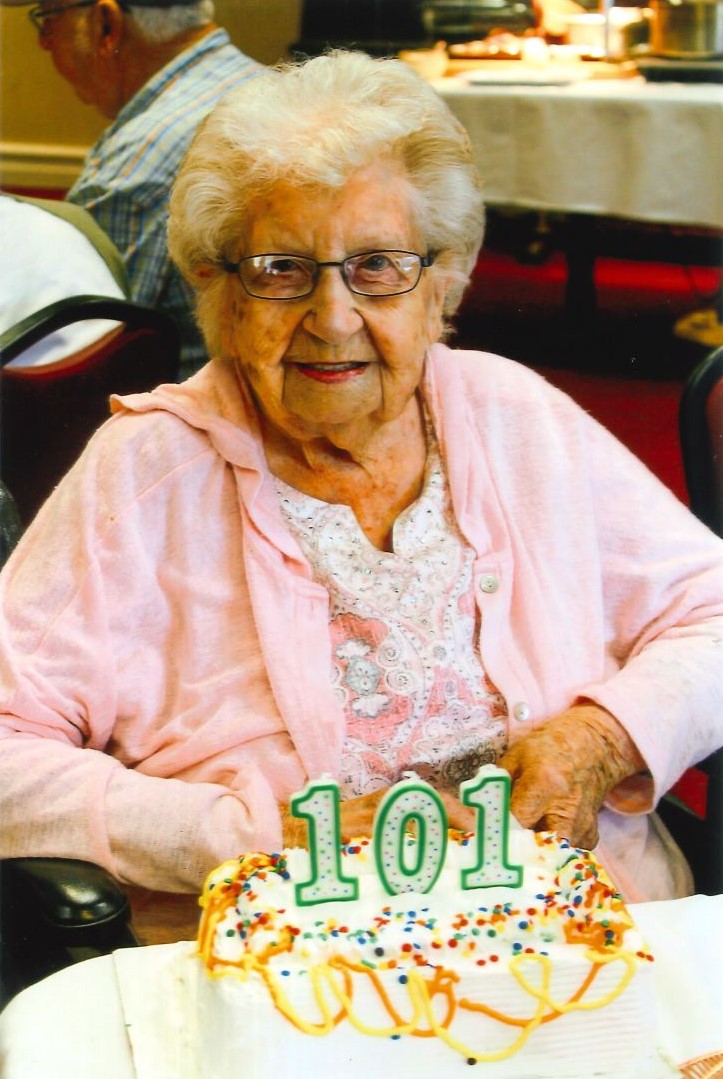 White Sulphur Springs – Margarete June Vance, 101, passed away Saturday, Aug. 12, 2023 at Peyton Hospice House.
She was born June 26, 1922, a daughter of the late Fred W. Vance and Elvina Jane Howard Vance.
She was a member of the White Sulphur Springs Baptist Church.
She was preceded in death by her husband, Wilbur H. Vance; brothers, Calvin and Ward Vance; sisters, Evelyn Burns and Ruth Wilson; and granddaughter, Cathy Rodgers.
Survivors include sons, Kenneth (Linda) of Richmond, VA; Roger "Pete" (Donna) and Loxley "Lucky" (Linda) of Caldwell; daughters, Charlotte Vance of White Sulphur Springs and Bonnie Rodgers of Warrenton, VA. Also left to mourn her loss are 11 grandchildren, 30 great-grandchildren, 9 great-great grandchildren with 2 on the way and a host of nieces and nephews.
Margarete celebrated her 101st birthday in June with a party attended by 97 family members and friends.
Other than being a mother and a homemaker, she worked as a cook at both Organ Cave and White Sulphur Springs Elementary Schools, the Ribbon Factory, and retired in 1987 after 21 years in Housekeeping at The Greenbrier. She always made herself available to help others and enjoyed her family and traveling after her retirement.
Funeral Service was held on Wednesday, Aug. 16, at Wallace & Wallace Funeral Home in White Sulphur Springs where Pastor Lewis Brooks officiated. Entombment followed in Greenbrier Gardens Mausoleum.
Friends called before the service on Wednesday at the funeral home.
Grandsons, Nick and Ryan Vance, Cody and Brandon Budd and great- grandsons, Caden Sheppard and Colson Vance served as pallbearers. Honorary Pallbearers were grandsons, Michael Rodgers and Michael Vance.
The family suggests that, in lieu of flowers, donations be made to Peyton Hospice House, 1265 Maplewood Avenue, Lewisburg, WV 24901, in Memory of Margarete.
Please send online condolences by visiting www.WallaceandWallaceFH.com.