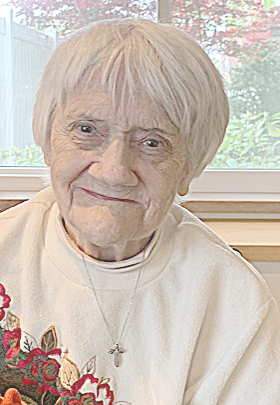 Lewisburg-Margaret Victoria Hofer, 89, passed away Tuesday, Aug. 3, 2021, at Greenbrier Health Care Center in Lewisburg.
She was born May 9, 1932, in White Sulphur Springs, a daughter of the late Lafayette Lee and Victoria Corron Kirk.
She was a homemaker and an art hobbyist and was advanced at crocheting quilts and clothing for others. She was a selfless person and her children and grandchildren were her life.
In addition to her parents, she was preceded in death by her first husband and father of her children, Maynard Howard Simmons, and second husband, Kurt Hofer. She was preceded in death by two sons, Maynard Quain Simmons and Howard Franklin Simmons; step-daughter, Heidi A. Hofer; and Margaret's siblings, Mary Kirk, Irene Kirk, Joseph Kirk and wife Thelma, Jimmy James Kirk, Ernie Kirk and Lafayette Kirk.
Those left to cherish her memory are daughters, Minthia "Mindi" Rockafellow (Jim) of Pennsylvania, Delsie A. Simmons and Billie Jane Simmons, both of Richmond, VA; step-granddaughter, Leslie Johnson; and a multitude of grandchildren and several great-grandchildren.
As per her wishes, she will be cremated and no services are planned at this time.
Wallace & Wallace Funeral Home in Lewisburg is in charge of arrangements. Please send online condolences by visiting www.WallaceandWallaceFH.com.