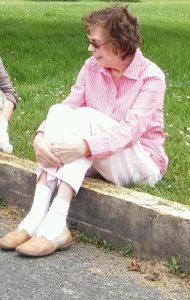 White Sulphur Springs-Loretta Spinks "Etta" Ayers, 84, passed away Tuesday evening, May 19, 2020, at her residence with her family by her side.
Etta was born Aug. 28, 1935, in Alvon, the daughter of the late Vernard F. and Lonie Rider Spinks.
She was a member of Emmanuel United Methodist Church. She loved cooking, gardening and reading. She offered her help at church for whatever function she could help.
Other than her parents she was preceded in death by her loving husband of 66 years, Henry F. "Dixie" Ayers in 2018; her granddaughter, Amy Michelle Burdette; sisters, Wanda Scott and Sharon Dudley; and brothers, Jimmy Spinks, Marvin Spinks and Oliver Spinks.
Surviving are her daughters, Brenda Arnold (Robbie) and Karen Ayers; grandchildren, Brittany Arnold and Saylor Arnold; her only great-grandson, Braylon Calhoun; sister, Barbara Spinks; as well as many nieces and nephews.
Funeral services for Loretta will be held Saturday, May 23, at 3 p.m. at Wallace & Wallace Funeral Home in White Sulphur Springs with Rev. Steve Grimes officiating. Interment will follow at Hillcrest Cemetery in White Sulphur Springs.
The family will receive their family and friends on Saturday from 1 until 3 p.m. at the funeral home.
In lieu of flowers please make a memorial contribution to your local food pantry.
We will be observing Covid-19 restrictions.
Wallace & Wallace Funeral Home in White Sulphur Springs is in charge of arrangements.
Please send online condolences by visiting www.WallaceandWallaceFH.com