By Lyra Bordelon
Pastor Richard Lohmeyer and his wife Judy Lohmeyer were honored with a proclamation from Alderson and with the 18th annual community service award from the Shepherds Center of Greenbrier Valley for their dedication to helping the community.
With Richard serving as the founding pastor of the Christ Our Savior of the Valley Lutheran Church in Alderson, and Judy involved with Alderson Main Street, the Alderson library board, community center board, and serving as the Greenbrier County President for the CEOS, the Lohmeyers have been involved with beautification, service, and flood recovery since coming to the area.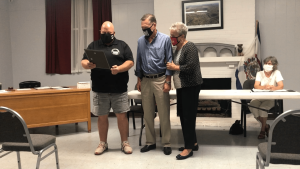 "You guys have touched so many people, directly and indirectly," said Alderson Mayor Travis Copenhaver. "I meant it. You all have been unbelievable."
"We're just ordinary people doing our thing," said Richard Lohmeyer. "Alderson is an easy place. An easy place for us to get involved."
The proclamation from Copenhaver endorsed the Lohmeyers' dedication to service, ministry, and humanity, their "championed" full support of a needle exchange program for narcotics abuse education in Alderson, "despite the unpopularity of their position," their community beatification projects, and the aid they provided to the city and its citizens through "several natural disasters."
"I was approached by a group asking we recognize a few people that go above and beyond," Copenhaver said. "In so doing, I took a little bit of time to reflect on the amount of time these people have been involved and the things they've done, and it really hit home and bit. When I was gonna be crucified out on the bridge, these people stood behind me on the needle exchange program, for one thing. So I'm going to [make this proclamation] honoring Richard and Judy Lohmeyer."
In addition to the Alderson proclamation, the couple was recently honored with a community service award by the Sheppard Center of Greenbrier Valley. In a Facebook live event, several speakers honored the Lohmeyers' work, including Theresa Bostic, executive director of the Shepherds Center, Judy Long, president of the board of trustees, and more.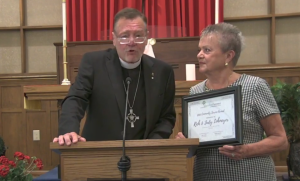 The live stream also played Whither Thou Goest, a short film by B.J. Gudmundsson and Patchwork Films, about the Lohmeyers' journey through life together, which can still be found on the Shepherds Center of Greenbrier Valley Facebook page.
After receiving the recognition in Alderson, the Lohmeyers spoke for a moment, thanking the town for their efforts and the award, highlighting why they do what they do.
"We're guided by three basic principles, the first being bloom [where you are planted]. So Judy and I, in our parishes, have tried to make the community better, work hard at making the community a better place to live," Richard Lohmeyer explained. "Our second principle, Luke 17:10, we're just your humble servants doing what you command, so we believe our Lord is asking us to get involved in our communities and do what we do. Thirdly, way back when, the president of our church body, Dr. C.W.F. Walker, he … said that every pastor ought to consider where he is, his location, a bit of paradise. I've always had that in my mind as well, no matter where I'm serving, it's a bit of paradise, and Alderson is like that. Can't get to a better small town than Alderson."
"We're sincerely thankful," said Judy Lohmeyer during the Shepherds Center event.