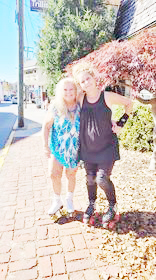 October is National Roller-Skating month, and two local women celebrating this great sport are Tammy Dotson Rhodes and Kim O'Shea, who are longtime skaters, friends, and cosmetologists. Tammy is a current National Artistic competitor in figures and dance, and Kim has a love of roller derby and enjoys the sport of skating.
Some of the favorable aspects of skating are that there are a number of health benefits, such as balance and coordination. Roller skating improves your balance by using your lower back and abdominal muscles to roll forwards and backward. Roller skating is also heart healthy and a great was to manage diabetes. It is easy on the joints, and a wonderful was to burning calories, which leads to weight loss.
Roller Skating has long history. The first patented roller skate was designed in 1760 by John Joseph Merlin. In 1857 the first public skating rink was opened in London. From there skating popularity grew by leaps and bounds.
Unfortunately, roller rinks are becoming few and far between. In our area alone the nearest rink is more than an hour away, which makes it difficult to enjoy skating in our area.
Rhodes travels to Greensboro, NC, twice a month for training with her coaches. For additional practice, O'Shea and Rhodes both frequent two very good rinks in Roanoke, VA.
Little known facts about the competitive side of skating are that there are several competitions during the year, ending with a Regional Competition, consisting of five states that make up the Southeastern Region. This Regional meet is held in Greensboro, NC, in June. If placement is first, second, or third in Regionals, then you are qualified for the National Competition in July which is held in Lincoln, NE. Currently the World Championships are being held in Buenos Aries this week and are being televised. You can also check on USA Rollersports on their website for more information.
"We need a rink in our area for this and other communities, what a great way to exercise and enjoy good health all year long," said O'Shea.
To help get this started for the community, Rhodes and O'Shea have begun a 501c3 non-profit: "Hairdressers for Health, Art and History." They state that they are asked continually from people as far away as Virginia and at least three counties away for someone to build or establish a skating facility for all to enjoy.
"We are committed to making this happen for the communities, for the kids, and for good health."
If you would like to assist with this non-profit, please contact Tammy Dotson Rhodes at 304-661-1361 or message Tammy Dotson on Facebook.
Tammy Dotson Rhodes (left) and Kim O'Shea have started a nonprofit, Hairdressers for Health, Art, and History to help raise funds for skating in our area.