By Sarah Richardson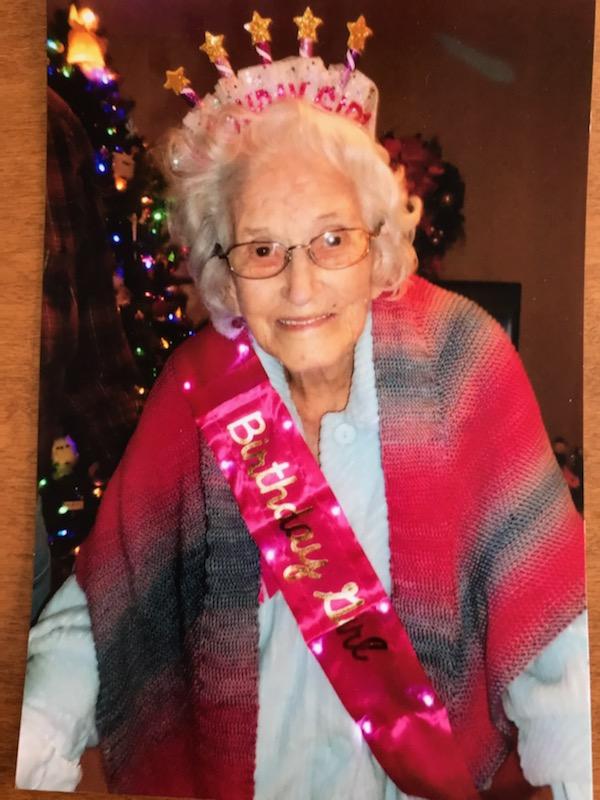 Polly Shawver Bowling Welch, affectionately known by her grandchildren as "Gert," celebrated her 105th birthday on Thursday, January 6. She has resided in Lewisburg with her daughter, Betty Jo McNeel, for the last seven years.
Polly grew up in Quinwood, WV, and married her first husband there. After he passed away from cancer, she remarried and relocated to Covington, VA. Her second husband also passed away from cancer, and she eventually moved to Greenbrier County, where she has been for over the last decade.
Polly's other child is her son, Clyde Bowling of White Sulphur Springs, and grandchildren Mendy McNeel, Matt (Trish) McNeel, Chanda (Brad) McNeel, Amanda (Brad) Watson, Timmy Bowling, Jimmy (Donna) Bowling, and eight great-grandchildren and one great-great grandchild.
Polly's granddaughter Amanda is the daughter of Betty Jo, and says that her grandmother is a blessing to the family. "She is just an amazing lady, and my mom takes such good care of her, which is why we say she has lived so long. She has been blessed with good health."
Amanda says that Polly has always been an inspiring force for her. "I've never heard her say an ugly word about anyone. As her granddaughter, I could not be more proud to call her ours. It's Jesus first, but Gert second. She has always been such a light to others."
Lewisburg Mayor Beverly White made a surprise visit to Polly on her birthday to spread good wishes and cheer on behalf of the city, and presented her with a custom plaque.