By Lyra Bordelon
A leprechaun, blessing box, a $500 scholarship, and supporting an active local nonprofit are the reasons for a downtown Ronceverte bucket drive in front of Wild Child this Saturday.
"Friends of Ronceverte volunteers will be there, [including] a goofy leprechaun," explained Friends of Ronceverte organizer Tonya Hazelwood. "Everybody is going to be decked out in green, very Saint Patrick's Day. We are going to be passing out golden coins, bracelets and treats to anyone – children, elderly people, whoever."
Scheduled in town for Saturday, March 13, from 10 a.m. to 2 p.m., the funds will support several Friends of Ronceverte projects, such as a scholarship and beautification projects.
"We're hoping to get a big push for a [$500] scholarship we want to do annually for a Ronceverte Greenbrier East graduate," Hazelwood explained. "Some of the money will go towards Friends of Ronceverte for beautification, but some of it will be for the scholarship."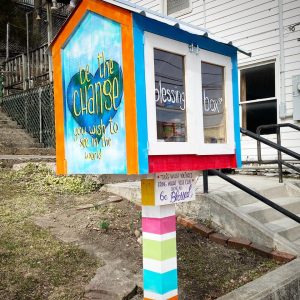 Friends of Ronceverte has been involved in several projects and partnerships looking to improve downtown. Hazelwood pointed to recent discussions about a potential dog park as one place they would like to get involved. Another recent example is a newly installed blessing box on Main Street, across the street from Wild Child.
"The blessing box is the brainchild of West Virginia Helping Hands, the new nonprofit organization, [guided by Amy Hubbard]," Hazelwood explained. "Their point is to help the unfortunate, homeless, needy people in the area. … It brings something to Main Street, it brightens it up, and it helps people, so it's a plus, plus, plus."
The partnership with Helping Hands, Friends of Ronceverte, and Loudermilk Construction led to the second blessing box in Ronceverte.
"We're always doing [projects], and this ties into the blessing box," Hazelwood said."We're going to landscape it for shrubbery and landscaping and flowers. … That is city owned property, the city allowed us to put it there. … … [We] enlisted the help of John Loudermilk, of Loudermilk Construction, to build these boxes. I approached the city myself about this particular spot, … then of course, I painted it. It is stocked completely full, there are people going to town on putting stuff in there."
After the Saturday bucket drive, the leprechaun will continue making rounds through Greenbrier County.
"The leprechaun that will be here on Saturday will also, on Wednesday, St. Patrick's Day, will be going to the two day cares in Fairlea, Little Learners and Lit'l Rascals, and will be visiting children on behalf of Friends of Ronceverte, giving them treats," Hazelwood explained.
Pausing for a second, Hazelwood then said with a laugh, "It's me, I'm the leprechaun. I've got green glitter from one end of my shop to the other – I ordered a costume that was so plain and boring. I blinged it out, the beard and the eyebrows are phenomenal. It's been so much fun!"
To get in touch with the organization, message their Facebook page, "Friends of Ronceverte."