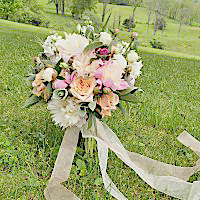 Carnegie Hall's Spring Classes & Workshops Series continues Saturday, Apr. 23, from 1 to 4 p.m., with Alaina Hower teaching Growing and Arranging Flowers for Your Home. Carnegie's Classes & Workshops Series offers fun-filled education and entertaining activities great for all ages and this class is sure to stimulate participant's creativity.
Growing and Arranging Flowers for Your Home teaches students the art of creating flower arrangements using beautiful, locally sourced blooms and greenery. Students will create an eye-catching centerpiece for a Mother's Day table or simple bud vase arrangements. Every participant will make a custom arrangement and go home with the knowledge to create their own floral designs and hand tied bouquets. Participants need to bring a pair of garden secateurs or scissors, all other materials provided.
Registration for each class in $85 ($75 for members) and students must be at least 12 years old. To enroll or for a complete list of classes and workshops visit carnegiehallwv.org/classes-and-workshops or pick up a Classes & Workshops brochure at 611 Church Street, Lewisburg.