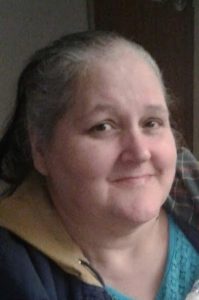 Laura Catherine Withrow
White Sulphur Springs-Laura Catherine "Cathy" Withrow, 61, went home to be with the Lord on Tuesday, Sept. 5, 2023 from CAMC Memorial Division in Charleston after an extended illness.
Born Mar. 28, 1962 in Ronceverte, she was a daughter of the late Gilbert Ray Winals and the late Rebecca Ann Duncan Wood.
Cathy was of the Christian faith and enjoyed making numerous arts & crafts. Her favorite past time was watching TV with her husband by her side.
In addition to her parents, she was preceded in death by her stepfather, Thomas Duncan; daughter, Fannie Ferrell; two sisters, Lila Noreen Carlson and Teresa Kincannon; and a nephew, Jefferson Lorenzo Williams.
Survivors include her loving husband, Daniel "Danny" Withrow; daughters, Cheryl Ferrell (Josh), and Shelbi Bryant Withrow (J.R. Bryant); sons, Chuck Ferrell (Cora), Derrick Ferrell, Austin Ferrell (Sam) and Todd Withrow (Rachael); grandchildren, Aliester Ferrell, Scarlett Ferrell, Rylee Bryant-Withrow, Kylee Bryant-Withrow, Mathew Bryant-Withrow and Paisley Cornell; two sisters, Grace Harris (John) and Sara Duncan (Paul); nieces, Emily Harris, Alexis Mayle, and Chrystal Walters; nephews, Kenny Williams, Jr., Isaac Ray Mayle, Eli Duncan and Caleb Walters. Also surviving is an aunt, Charlotte "Louise" King.
Funeral service will be at 2 p.m. Saturday, Sept. 9, at Wallace & Wallace Funeral Home in Lewisburg, with Pastor Ray Propps officiating. Burial will follow in Greenbrier Memorial Gardens in Lewisburg.
A visitation will be one hour prior to the services at the funeral home on Saturday.
Wallace & Wallace Funeral Home in Lewisburg is in charge of arrangements. Please send online condolences by visiting www.WallaceandWallaceFH.com