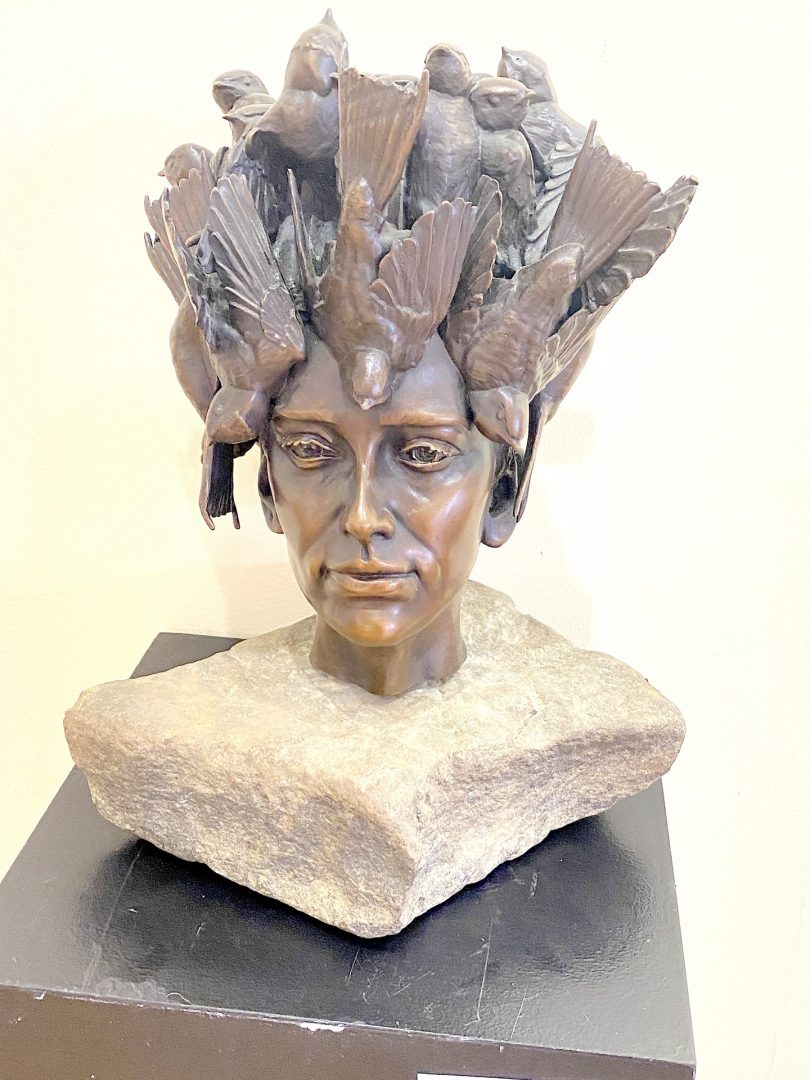 Carnegie Hall's August/September Exhibits are underway and run through September. The Old Stone Room Gallery not only features paintings by Deborah Diane Lester, but also showcases sculptures by her son, Jamie Lester of Morgantown.
Jamie Lester was born in 1974 in Oceana, WV, a small mining town in Wyoming County. After graduating from West Virginia University in 1997 with a Bachelor of Fine Arts, he formed Lester Sculpture, specializing in figurative works through sculpture, paintings, and other art mediums.
His professional career began post-graduation and he has been successfully self-employed for over 25 years. Pivotal moments in his career include designing the obverse side of the West Virginia State Commemorative Quarter, sculpting over 40 larger-than-life monumental figures, and thousands of bas reliefs.
Lester's award-winning bronze sculpture has shown in galleries in West Virginia, Baltimore Maryland, Wales, and The Society of Fine Arts and Crafts in Boston, Massachusetts. He is a member of the Portrait Society of America and the National Sculpture Society.
His experience in the monumental bronze industry is specialized in portraiture and figurative sculpture. Since 1997, Jamie has sculpted thousands of bas-relief portraits and has completed a multitude of largescale bronze statues. His bronze figures possess a dynamic sensitivity with exquisite detail.
Lester spent five weeks studying figurative sculpture in Jingdezhen, Xian, and Beijing, China in 2011, while teaching as a guest artist at Jingdezhen Ceramics Institute. In 2015 Jamie completed a two-week course of study in Rome, Italy, focusing on the figurative sculpture of Gian Lorenzo Bernini.
The Brooklyn Wall of Remembrance at Keyspan Park on Coney Island is one of the most well-known and widely viewed works produced by Jamie Lester. The six-foot-tall figures were commissioned in 2002 to commemorate the 105 firefighters from Brooklyn who lost their lives in the attack on the World Trade Center on September 11, 2001.
In addition to his nationally recognized works Lester has completed over 30 monument-sized sculptures for the Boy Scouts of America in just 4 years.
Lester's experience in portraiture positions him as one of the finest portrait sculptors in the nation. Though his portrait work is admired by many all over the United States, Lester also sculpts and creates abstract designs as well. Inspired by Robert Indiana, Lester has produced comparable renditions of this style for private collectors and public art.
Carnegie Hall August/September exhibits are on display Aug. 6 through Sept. 24. The exhibits are free and open to the public Monday through Saturday, 10 a.m. to 4 p.m. For more information, please visit carnegiehallwv.org, call 304-645-7917, or stop by the Hall at 611 Church Street, Lewisburg.
Carnegie Hall programs are presented with financial assistance through a grant from the WV Department of Arts, Culture and History and the National Endowment for the Arts, with approval from the WV Commission on the Arts.