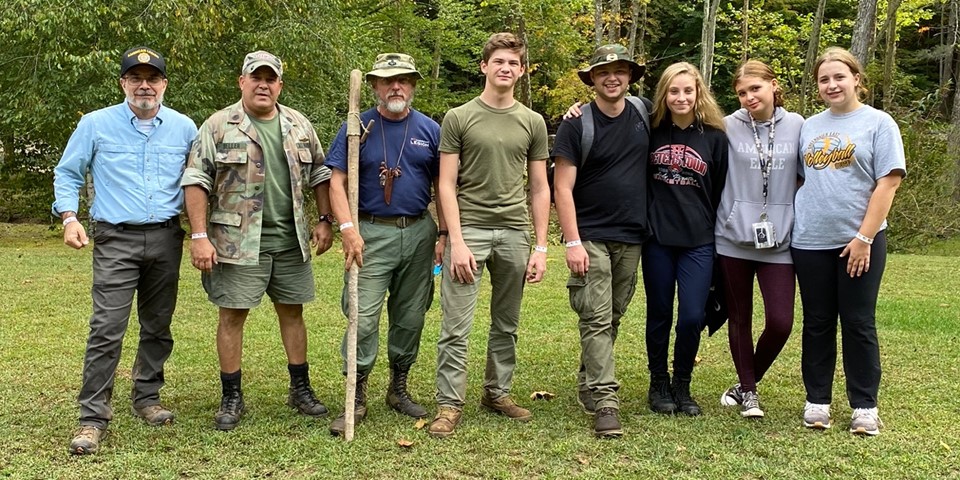 Members of the James Monroe High SchoolJunior Reserve Officers' Training Corps (JROTC) Maverick Battalion joined Vietnam Veterans of America Chapter 1108 and American Legion Post 100 in a ten-mile ruck march to honor the 220 U.S. Marines killed in the 1983 Beirut, Lebanon barracks bombing. Proceeds from the fund raiser went to the American Brother Foundation, created in honor of Hinton native Sergeant Mecot Camara, who perished in the attack.
The ruck march started at Bluestone State Park and ended ten miles upstream at Pipestem State Park. Among the participants were dozens of veterans of the 1983 peacekeeping operation in Lebanon and Gold Star Family members of those who were killed. In addition to the 220 U.S. Marines, 18 U.S. Navy Sailors, three U.S. Army Soldiers, and 58 French paratroopers died in the attacks. They came in peace.
Maverick Battalion Cadets who participated in the ruck march included Eli Thomas, Caleb Cooper, Matthew Heller, Alyssa Broyles, Ashlan DeLuca, and Lola Mohler. Local American Legion Post 100 and Vietnam Veterans of America Chapter 1108 members either joined the march or manned the grills to feed the hungry hikers as they finished the challenging course. Rumors that the trail was a flat one were dispelled in the first mile, as the typical West Virginia roller coaster terrain characterized most of the hike. Those who completed the march enjoyed the camaraderie of a difficult but meaningful task well done, whatever their age. The food and music that greeted the marchers at the end were most welcome.
The American Legion is nonpartisan and open to veterans of any branch of service and era, including those currently serving. The American Legion supports veterans and their families, patriotism, and youth education. If you are interested in joining us in this vital mission and assisting with programs like the one described above, contact Scott Womack at 304-992-4405, via Facebook Messenger, or by email at scott_womack@hotmail.com.