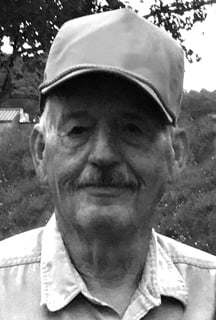 Neola-James A. Strawn died from a stroke Monday, July 13, 2020. He was the 11th and youngest child of John Salem Strawn and Hazel Noami Strawn from Wheeling.
Jim hit the road at 19 becoming a professional truck driver. After stints for various trucking companies, Jim bought his own truck and settled on the entertainment industry for the last 30 years of his career. Throughout his adult life, he traveled to every state in the U.S. as well as Mexico and Canada. Jim never retired and was still driving professionally up until the COVID virus shut down concerts and shows this past March. He was a welcome site to many on the road with his good friend, Bella, his WV brown dog.
Jim served two years in the West Virginia Army Reserve and was called up to active duty during the Cuban Missile Crisis.
Along with his parents Jim is preceded in death by eight siblings: Harold Strawn, Easter Pethel, Elizabeth Hoy, Helen Blazier, Edward Strawn, Naomi Miller, Bill Strawn and Murph Hoffman.
Jim is survived by his wife, Sandi; two sisters, Mary Lee Jorgenson (Dale) and Colleen Martsolf (Willy), four children; James Strawn (Lisa), Dennis Strawn (Anne), Kenneth Strawn (Beth) and Cindy Naylor (Phillip); three step-children; Jamey Head, Jonathon Head (Diane) and Rheka Armstrong; 12 grandchildren, Jessie, Cody, Nicholas, Jacob, Kelsey, Salem, Hailey, Delinda, Daisy, Justin, Joseph and Jack; and three great-grandchildren, Ally, Paislee and Kayson.
Due to the COVID virus a small family gathering proceeded his cremation.
Online condolences may be left at Wallace & Wallace Funeral Home, Lewisburg.