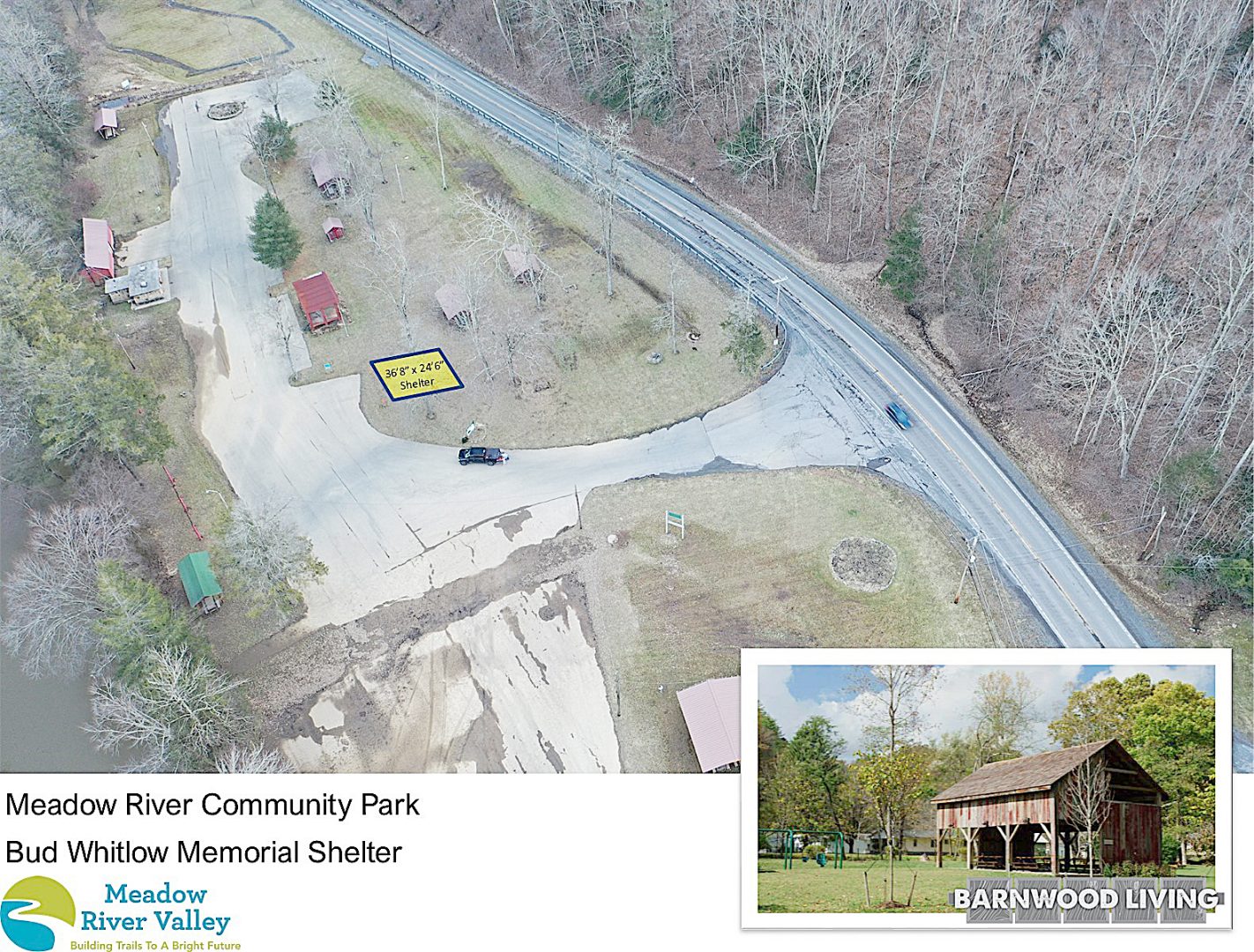 The Meadow River Valley Association (MRVA) thanks all who've donated gifts following the passing of our dear friend, Coach Bud Whitlow. He was a friend and mentor to many, avid fisherman and supporter of our work in the Meadow River Valley – in particular, improvements to the Meadow River Community Park. More than $3,000 was donated to our organization in his memory, and our goal is to use these funds in a way that honors his legacy and enhances recreational and educational opportunities in the Meadow River Valley.
The West Virginia Division of Natural Resources is constructing river access at the park this year, so we thought a shelter and outdoor classroom near the river access location would be a perfect addition. After hearing about the project, Barnwood Living, owned by Cindy and Mark Bowe, knew they wanted to help.
According to Mark, "The Meadow River is one of those places in West Virginia that you can't forget once you've seen it. We've been blessed with the success of a hit TV show, and this is a great way to give back to our community."
The MRVA is sourcing more funding for construction but hopes to have everything in place to complete the shelter and outdoor classroom this year. According to Matt Ford, President of MRVA, "The repurposing of the former Rupert Elementary School, improved access to the Meadow River, Meadow River Rail Trail and this outdoor classroom are all projects that improve our community. I'm amazed how people from across Greenbrier County are working together to make our corner of West Virginia better than ever. It takes time to plan and implement these projects, but the work we are doing is starting to pay off."
Greenbrier West High School is also assisting with the project by constructing benches, etc. If you would like to donate to the shelter project or want more information, please contact Matt Ford, President of MRVA at info@meadowriver.org or call 304-646-7616.