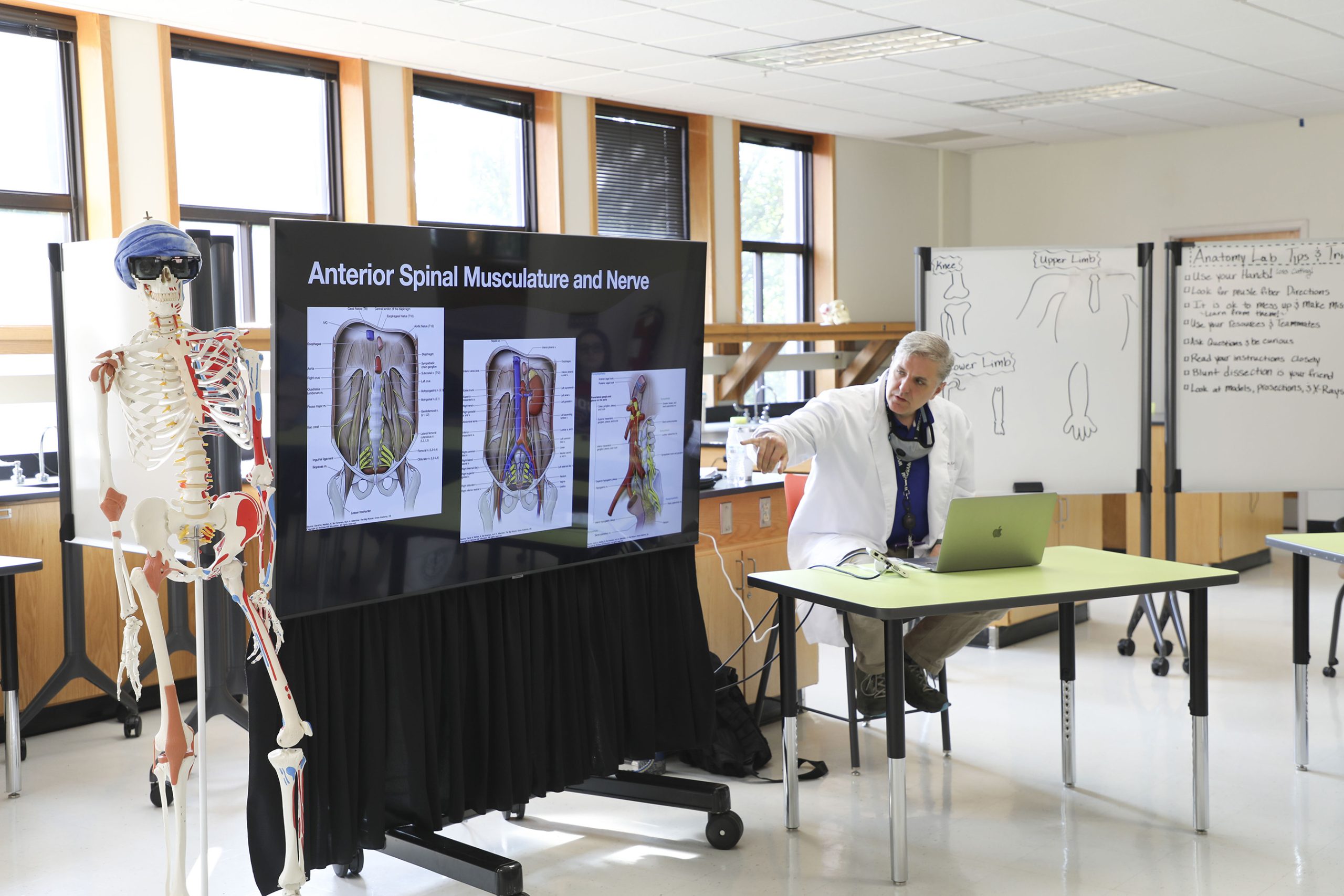 Two summer camps for high-school-aged students – one new, one established – brought groups of young people to the West Virginia School of Osteopathic Medicine (WVSOM) campus for activities designed to educate and encourage aspiring health care professionals and scientists.
The inaugural Clinical Anatomy Summer Experience (CASE) camp took place June 26-30. Ten high-schoolers and rising college freshmen from West Virginia, Ohio, Tennessee, and Virginia visited WVSOM's Lewisburg campus to learn about the human body, investigate clinical correlations and discover how the osteopathic medical approach encompasses care for the mind, body and spirit. Lectures by Karen Wines, a member of the school's biomedical sciences faculty, and current WVSOM student Aubrey Hanes were accompanied by experiences in WVSOM's gross anatomy lab, in an expansion of the Anatomy Lab Educational Program the school has hosted for many years.
Through daily focuses on different areas, attendees surveyed the entirety of the human body during the weeklong camp. Wines explained that understanding the body's form lays a foundation that's vital for learning to recognize when a disorder is present and how to treat it.
"We need to know anatomical structures because when something isn't working, it's important to understand what other structures are related to it and what clinical conditions can occur as a result," said Wines, who planned and oversaw the camp. "We're trying to give these students some background before they head into more advanced classes with anatomical structures and their clinical correlates. We're selecting structures in each of the different regions that are the most prominent and have the most clinical impact."
Participants also heard presentations from school administrators and faculty. James W. Nemitz, Ph.D., WVSOM's president, detailed the events that led him from his position as an anatomist to the leadership of West Virginia's largest medical school, urging students to let their passions guide their professional paths. Thomas Gannon, D.O., spoke about what makes osteopathic medicine unique, and Chelsea Feger, D.O., outlined some of the careers available in the health care field.
Alyssia Ratliff, a rising senior at Lewisburg's Greenbrier East High School and a member of Health Occupations Students of America, attended the camp and said she enjoyed the hands-on nature of its activities.
"It was really fun. I already had a baseline knowledge of the anatomical terms, so it was good to be able to put images to the things I've learned about, to view anatomical structures in person and see how interconnected everything is," Ratliff said. "I loved being a part of the camp's first year, and I hope they continue doing it so that more people have the opportunity to experience it."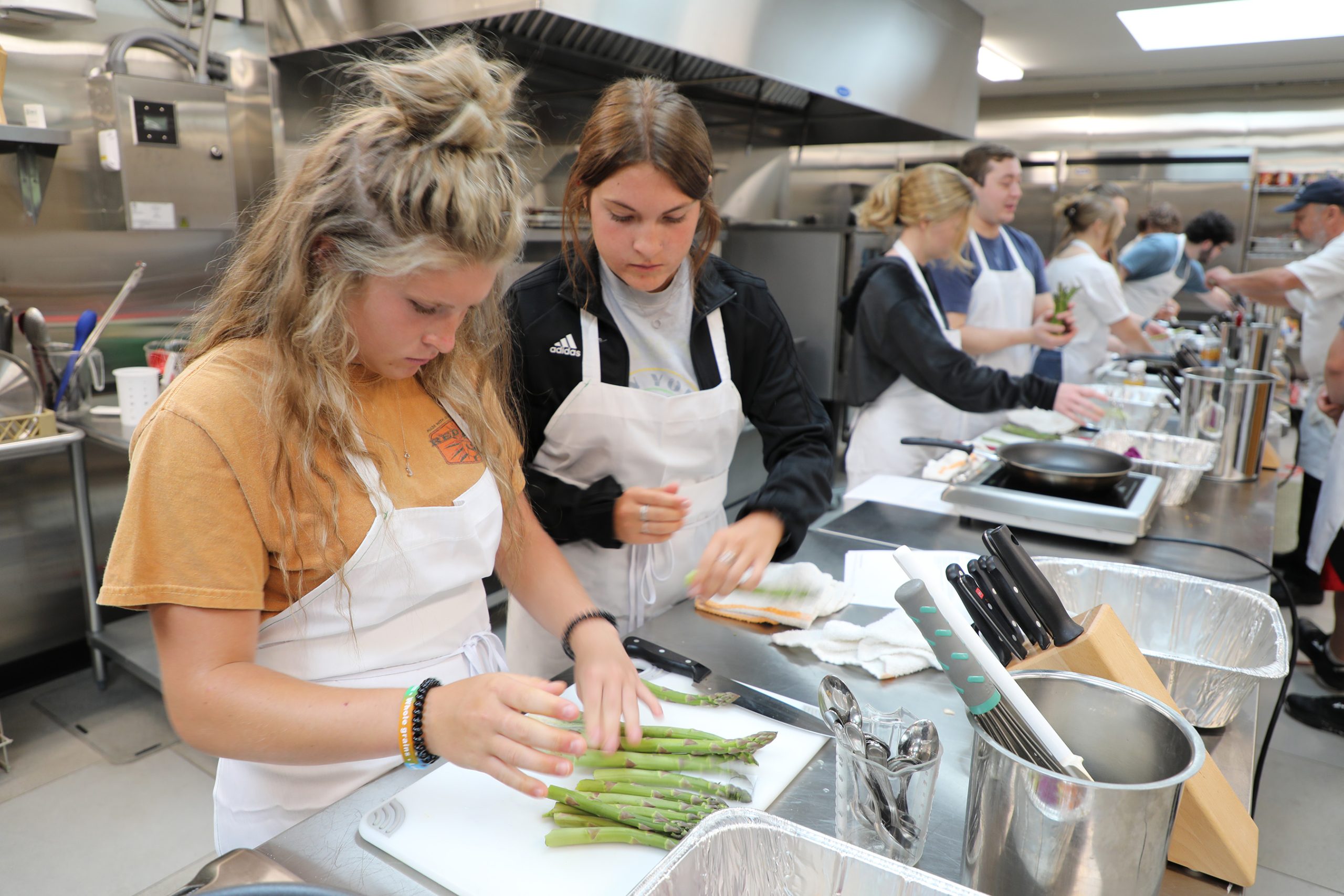 From June 19-23, WVSOM hosted its 11th annual Just Say KNOW camp. The theme for this year's event was "Just Say KNOW to Lifestyle Medicine," with a focus on culinary medicine, nutrition and exercise. Campers studied the basis of nutrition and the physiology behind a healthy diet. They learned to cook meals such as rainbow cabbage slaw and roasted asparagus in the Clingman Center for Community Engagement kitchen, and exercised in the WVSOM Founders' Activity Center while monitoring their heart rate and other metrics via armbands.
Among other activities during the week, attendees learned to take blood pressure readings, practiced yoga techniques and spoke with Bob Foster, D.O., WVSOM's assistant dean for osteopathic medical education, who discussed his efforts to live a healthful life.
Crystal Boudreaux, Ph.D., of the school's biomedical sciences department, oversaw the camp, which was taught by WVSOM student interns and undergraduate interns with assistance from several members of the school's faculty. She said the camp utilized some of the initiatives for which WVSOM has received honors.
"Our Exercise is Medicine and culinary medicine programs are nationally recognized and are part of the school's curriculum. Just Say KNOW provides an opportunity to showcase these programs through practice," Boudreaux said.
Just Say KNOW closed with a virtual quiz about topics covered during the camp, allowing students to compete against WVSOM faculty and with family members and friends who participated via teleconference. Campers received certificates commemorating their completion of the event.
It was the fourth year attending the camp for Sarah Angell, of Springfield, Ohio, a recent high school graduate who plans to study pre-medicine at Athens, W.Va.'s Concord University. She said she especially enjoyed studying why some foods are nutritious and others are unhealthy.
"It was cool to learn about the impact food has on your body. You hear people say, 'This is a healthy food,' but you don't know what makes it healthy. Learning the structure of food is informative, and I think if people had more of that education, we would eat differently in America," Angell said.