By Sarah Richardson
In today's world, with all modern amenities offered to us at the push of a button, the flip of a switch, or a quick run to the store, it's hard to imagine living life any other way. However, just a few short years ago, rural Greenbrier County was a completely different place. Imagine having to trek to town to refill your kerosene for your lamps, or you would have no lights. Or, if you wanted milk or eggs, you had to own a cow and some chickens of your own. This was the reality of living life out on the homestead in the 1900s.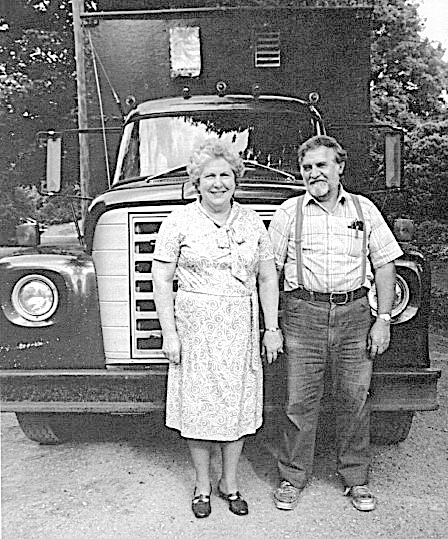 Hale Arbuckle Jr., an unassuming man who was no stranger to hard work, owned and operated a food truck business serving rural communities around Greenbrier and Pocahontas counties. Such a business, while unconventional, provided an essential lifeline to those located off-the-grid by offering fresh fruits and vegetables, supplies, and anything else one might need to get by. Hale took it a step further by also delivering newspapers, hardware, and other needed items to his customers, and he did so while offering store credit on purchases, and going above and beyond by taking some customer's bills to town to be paid, seeking out special requests, and more.
If you lived in Spring Creek, Esty, Marlinton, Butler's Mountain, Droop Mountain, Renick, Auto, Denmar, Leonard Cordova, or anywhere in between, meeting Arbuckle on one of his routes could be the highlight of your whole week.
Hale, a Maxwelton native, married his wife Gerry in 1949. Her father, Jesse Baker Lewis, had started his own food truck business in 1938, leading Hale to join in the family business in 1949 in order to help out.
"We lived in Spring Creek when I was a little girl, and my dad worked at the mill and my mom was the Postmistress," said Gerry. "After dad started the food truck business in 1938, I worked on the truck with him from 1946 to 1948, when Hale and I got married."
In an interview with Andy Yale of Goldenseal Magazine in 1989, Hale said, "I worked for a little while with him, then he made me a partner, and we worked it partners for a while. Then in 1964 he retired and sold it to me. So he, basically, was the brains of it. I just continued what he started."
When Hale starting working with him the business was renamed Arbuckle and Lewis, and it stayed that way until Hale's retirement in 1989.
"We had routes on Tuesday, Thursday, and Saturday, so we spent Monday, Wednesday, and Friday loading up the truck," said Gerry, remembering the runs and stops with pinpoint accuracy. As if it were yesterday, she can instantly name the roads on each route, down to each turn, and recounts the customers along the way fondly. After running the same routes for so long, the customers turned into friends, and the routes would morph to follow them as some of them relocated.
"They not only sold groceries, but they would pick up things from town. People would give them their light bills and they would bring them to town to be paid," Gerry said. "After the homesteaders moved in, one of them wanted a newspaper from a big city, and Hale brought it to him every Saturday. If people wanted stove pipes or hardware, we would bring them parts from Martin and Jones. We used to have a big barrel of vinegar on the back of the truck, and they would measure out the vinegar they bought."
Hale would also stay up to date with the how his customers were doing and help them by carrying heavy feed sacks inside for the elderly, tinkering with broken machinery if they needed a second set of hands, and was a friend to all those that knew him.
"And to each exchange, and to every action, he brings an unchanging courtesy and respect, silent testimony to the value be placed on friends and customers," wrote Yale.
Hale would pick up the goods for his truck from local suppliers such as Covington Grocery, when they had a location in downtown Lewisburg across from where the Visitors Center is now. Pure Kerosene provided the kerosene, and pop trucks brought pop.
By arranging a little of this and a little of that from each place, he would start each route ready to fulfill nearly anything on someone's grocery list, from bacon to chicken feed to aspirin.
As the years went by, people's buying habits changed, Hale told Goldenseal, "At one time we didn't carry any milk- you know all country people had a cow, there was no demand for milk as such. The old-time people bought a lot of flour, sold a lot of feed, coffee, sugar, salt, baking powder- things like that. So there's been a big change in what the demand is for. I've simply gone along with the demand for what people wanted."
Such a job isn't the most glamorous, and doesn't strike most people as particularly attention-grabbing, yet several news organizations ended up interviewing Hale about the business over the years, including the Charleston-Gazette in 1980 and Goldenseal Magazine in 1989.
The Gazette article ended up being picked up and circulated by none other than the Associated Press, which led to a flood of letters following its publication around the country.  The couple received letters from 18 different states including Arizona, Oklahoma, Ohio, and Michigan. Many of the letters were from former West Virginians, or those that had ties to the state, excited to see the work Hale was doing and to catch their home state mentioned across the nation.
"The first letter he got was from California, the lady had been an Arbuckle and wanted to know if they were related, and they were," Gerry said. She added that one Florida paper that ran the story even included a hand-drawn illustration of the truck.
After he retired, Hale spent his time volunteering with the Family Refuge Center, teaching Sunday school, umpiring girls' softball games, volunteering with the Maxwelton Ruritan Club, and more.  A true community figurehead, Hale's tireless volunteerism and service benefited every organization lucky enough to work with him.
Gerry and Hale were married for 71 years until his passing on Oct. 3, 2020 at age 93. A memorial service will be held this summer in his honor on Droop Mountain.
Read some of the many letters the Arbuckle's received below: