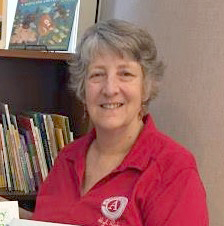 Shepherd's Centers of America (SCA) has announced that Sally Lane with the Shepherd's Center of Greenbrier Valley had been nominated for the 2021 Donald Owen Smith National Volunteer Leadership Award. 
The Donald Owen Smith National Volunteer Leadership Award recognizes exceptional volunteers with the Shepherd's Centers of America network for their service in helping older adults lead meaningful lives through connection with each other and their community. This is the only national volunteer award recognizing older adults in service to communities to help older adults age with dignity, meaning, and purpose. 
"Volunteers are the backbone of Shepherd's Centers," says Sarah Cheney, Executive Director of Shepherd's Centers of America. "Without volunteers, we would not be able to deliver our mission of connecting older adults to vital services and life-enriching experiences, which is even more important during the global pandemic."
Shepherd's Center of Greenbrier Valley (SCGV) is always looking for good volunteers to keep their programs moving forward. Transportation volunteers are needed to take participants to medical appointments or grocery shopping. Volunteers prepare and deliver approximately 130 meals each week for Gwen's Meals throughout Greenbrier County. Handy Helper volunteers are needed to do minor repairs, attach grab bars, build wheelchair ramps, etc. These are just a few examples of volunteer opportunities through SCGV. If you have some free time, please consider volunteering! Call the SCGV's office (304-645-4196) for more details! Your time is invaluable and truly makes a positive difference in the lives of the older adults and their families!
Lane has served with Shepherd's Center of Greenbrier Valley for four years as a member of the board, including secretary and vice president, as well as serving on multiple committees. Her commitment to helping others during the pandemic is remarkable. In addition to helping with Gwen's Meals, she was instrumental in supporting the center to implement Adventures in Learning classes online and teaching older adults how to use Zoom. 
Teresa Bostic, executive director with Shepherd's Center of Greenbrier Valley said, "Sally is an enthusiastic leader with a can-do attitude. She brings new ideas and insights to enhance our programs and processes so that we can better serve more older adults. In short, she is an exemplary volunteer in every sense of the word, not only with Shepherd's Center but for our community."
Forty-three percent of older adults report feeling lonely and isolated before the pandemic, and this has increased significantly in the last 18 months. But Shepherd's Center of Greenbrier Valley adapted programs to produce enriching, quality classes, and social opportunities online. "It's this determination to deliver on its mission and ensure older adults are connected to their community that makes Shepherd's Center of Greenbrier Valley an effective, leading nonprofit," says Cheney. "They are changing lives." 
Annually, the Shepherd's Centers network of 55 centers supports more than 113,000 older adults and contributed more than 660,800 hours of volunteer service. The estimated value of these services is $18.8 million, based on the Independent Sector's value for volunteer time. 
These services are creating a brighter today and better tomorrow for all generations with opportunities for older adults to take on new challenges, learn new skills, make new friends, and serve others.
The 2021 recipient of the Donald Owen Smith National Volunteer Leadership Award will be announced later in November.