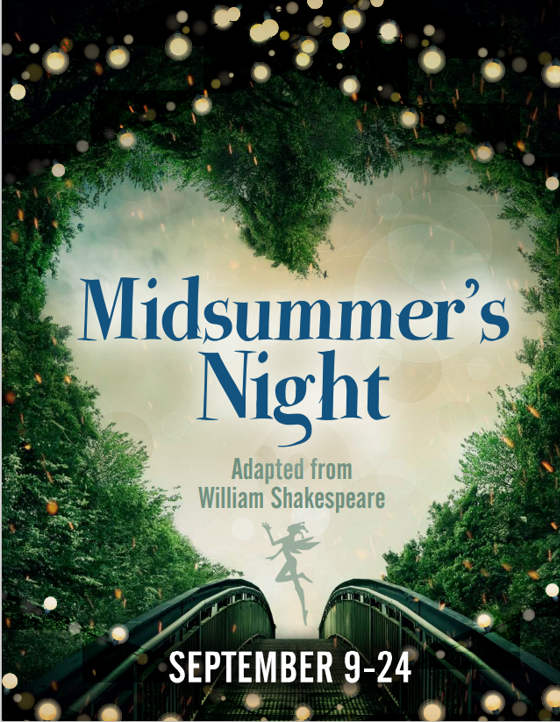 Midsummer's Night is a brand new piece adapted from William Shakespeare
There is a great deal of excitement surrounding Greenbrier Valley Theatre (GVT) as summer draws to an end. The State Professional Theatre of West Virginia is preparing to produce a world premiere show adapted from the works of arguably the greatest playwright in history, William Shakespeare. Midsummer's Night, will highlight some of the most recognizable moments from works such as Romeo and Juliet, Twelfth Night, and many others.
Midsummer's Night revolves around Puck as they lead a group of fairies on a quest to understand the complexities of human love. By visiting many of Shakespeare's most iconic moments and famous text, the fairies explore the humor, frivolity, and truthfulness of the greatest human condition.
GVT is welcoming seven actors making their debut at the theatre, including Devon Ahmed as the fairy leader Puck. Joining her are Ian Kramer, Stephanie LaVardera, Sam Parrott, and Jordan Slattery. Sophia DeLeo and Jenna Fawcett round out the cast while adding musical accompaniment to help set the tone and moods of the show.
Producing Artistic Director Matthew Scott Campbell (Pride and Prejudice, Little Shop of Horrors) will provide direction alongside GVT newcomer, Jenna Sulecki. The production will feature original music by Grace Campbell, scenic design completed by Evan Frank, costume design by Jenna Fawn Brown, lighting design by E. Tonry Lathroum, and sound and prop design by Arron Seams. Elizabeth Salisch serves as the Production Stage Manager and Richard Crowell as Production Manager.
"Matt and I wanted to create something that would make Shakespeare more accessible and exciting. Many people shy away from his work because of the difficult language, so we set out to combine his most human passages to construct a show where people could easily see themselves in the characters and situations," said Sulecki.
Now entering its 55th season, Greenbrier Valley Theatre, is a mainstay and theatre destination located in Lewisburg, WV. The arts organization has been further recognized as a "West Virginia Jewel of the Hills," awarded the Living the Dream Service Organization Honor Roll by The Martin Luther King, Jr. Holiday Commission, and is a multi-year recipient of Non-Profit Business of the Year. GVT boasts a robust series of year-round programming and educational offers with the goal to enlighten, enrich, and enliven throughout the region.
Midsummer's Night, promises to delight Shakespeare novices and connoisseurs alike. The show opens at GVT on Sept. 9 and runs through the 24th. Tickets are $32 for general seating, $29 for senior citizens age 60 and above, and $20 for students. For more information on tickets, shows, and the organization's history, visit the theatre's website at www.gvtheatre.org or call the box office at 304-645-3838.