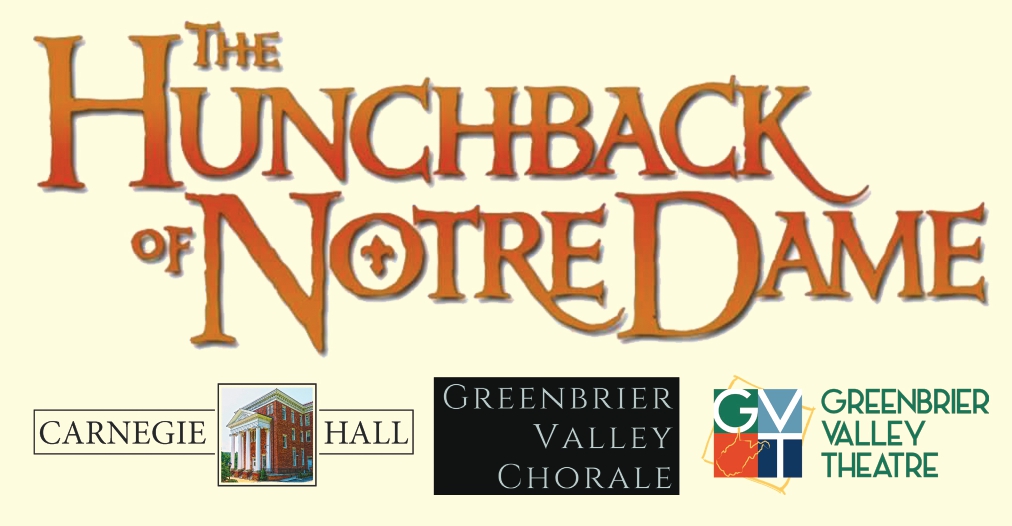 Lewisburg continues to prove its designation as a West Virginia "Certified Arts Town" is well deserved. The summer of 2024 will see another opportunity as Carnegie Hall, Greenbrier Valley Theatre, and The Greenbrier Valley Chorale come together to present The Hunchback of Notre Dame.
Scheduled for July 2024, the musical production of The Hunchback of Notre Dame will take place in Carnegie Hall's Hamilton Auditorium and feature over 40 performers.
The excitement about the collaboration of three of Lewisburg's artistic mainstays is evident. "Each organization will be relying on the others to keep this production balanced and successful," says Barbara Lutz, director of The Greenbrier Valley Chorale. "We all stand to benefit from the strengths of each other."
This will be the first time a collaboration of this magnitude has been completed between the three organizations. "We already share many patrons in common, and this inaugural project will only help to bring our community together in a way we have never seen before," says Cathy Rennard, president/CEO of Carnegie Hall. "We all want to serve our arts community in the absolute best way possible."
The musical, based on the Victor Hugo novel, features songs from the 1996 Disney animated film. The theatrical production of The Hunchback of Notre Dame first opened in 1999 in Berlin, Germany, but wasn't produced in the United States until 2015. The 2024 collaboration will mark the first time this musical production has been performed in Greenbrier County.
Tickets for this event will go on sale in 2024 and will be available at Carnegie Hall or online at carnegiehallwv.org.
For more information, please contact Greenbrier Valley Theatre at 304-645-3838, Carnegie Hall at 304-645-7917, or Greenbrier Valley Chorale at greenbriervalleychorale@gmail.com.