By Sarah Richardson
In recent months the West Virginia Resource Advisory Committee and the USDA Forest Service announced the approval of $40,000 in grant funding to go towards adding signage along the Greenbrier River Trail.
Greenbrier River Trail Association Secretary Robert Gronan said the project officially began this January, but it is still in the planning stages.
"We were awarded a $40,000 grant to install interpretive signs on the whole trail from Caldwell to Cass," he said. "They will mostly have a historical focus, but will also contain information about the river, Native Americans, and naturalistic information."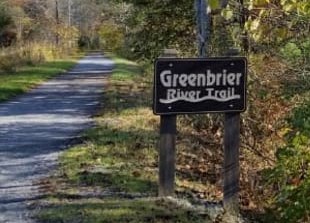 While the overall design of these signs has yet to be finalized, Gronan emphasized that the Association is making sure they will be installed in non-intrusive fashion, as to not block any of the natural beauty of the trail.
The grant submission form states:
"While there are existing signs at access points along the Trail providing information about the history of the area and the flora and fauna, there are many areas of historical and environmental interest where signage is lacking. There is also a lack of signage providing directional information, orienting visitors to exactly where they are on the trail and where they are in relation to surrounding communities, and to the trail's amenities. We are seeking financial assistance with additional signage to enhance both the educational value of the trail and the comfort level of trail visitors, by letting them know exactly where they are and where the sites are that they may want to visit.
The Greenbrier River Trail Association is fortunate to have an active and skilled group of volunteers, who have built shelters and a bathroom on the Trail, who will be able to construct and erect the wooden structures to which the signage will be affixed.
Signage will be designed and placed at designated locations along the trail to meet the goals of the project. Signs will be designed in keeping with the pristine nature of the surroundings with emphasis on "blending" with the natural environment as much as possible. They will be constructed so as to withstand the test of time and weather to provide long term benefits."
The application also notes the economic impact the trail has on the surrounding area, stating, "Multi-use recreational trails such as the Greenbrier River Trail have proven to have a positive economic impact upon the communities within their regions.  A 2015 West Virginia University economic impact study concluded that Greenbrier River Trail usage brought in over four million dollars in economic benefit to the surrounding communities."
Gronan said the signs should be ordered late this year and installed in 2022.