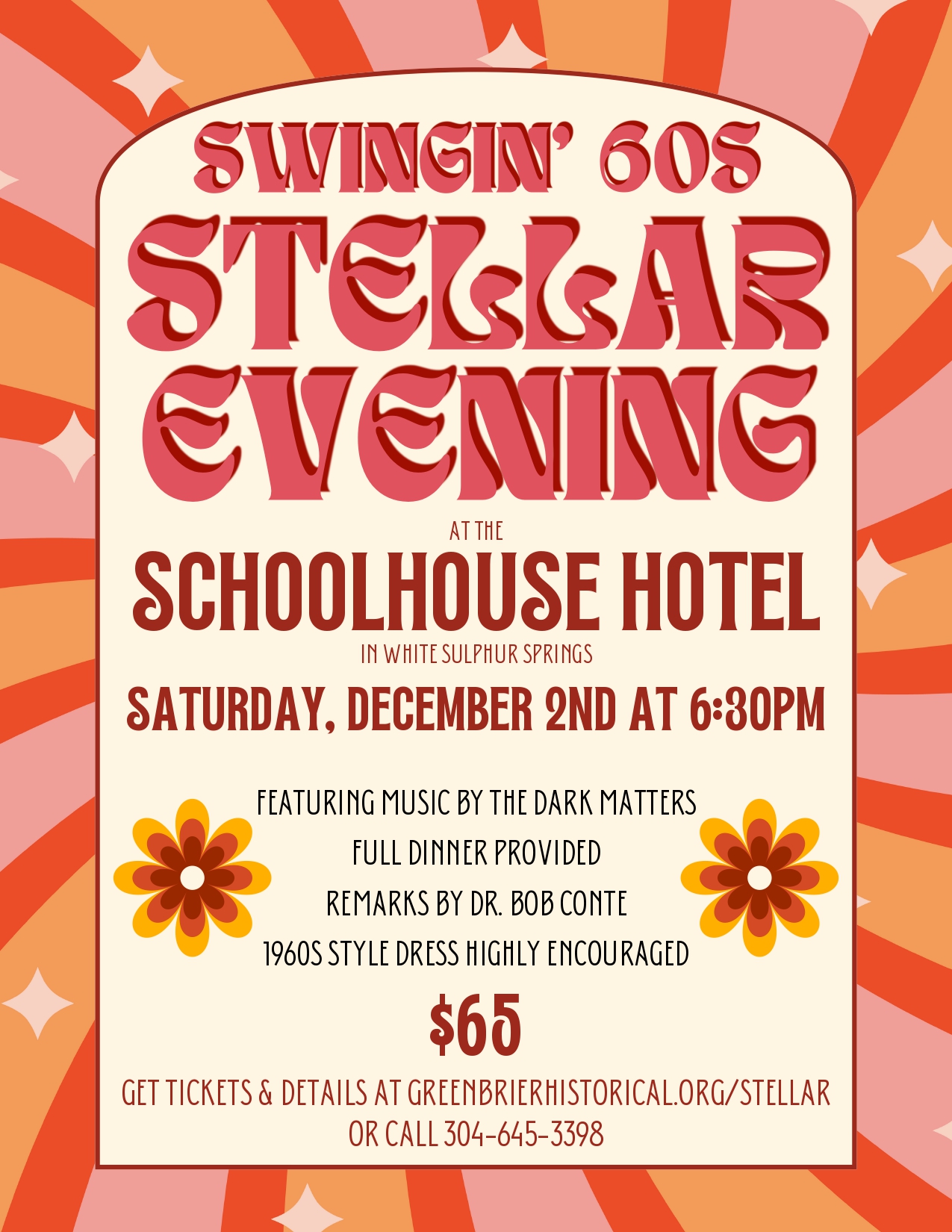 The Greenbrier Historical Society is thrilled to announce their annual fundraiser, Stellar Evening, taking place on Saturday, Dec. 2, at 6:30 p.m. This special event will be held at the Schoolhouse Hotel in White Sulphur Springs, and promises to be a night of nostalgia, celebration, and entertainment.
In commemoration of their 60th anniversary, the Greenbrier Historical Society invites you to step back in time to 1963 and relive the magic of the '60s. Guests are encouraged to embrace the era's fashion by donning their best 60s attire for the evening. Highlights of the evening will be a live performance by the Dark Matters, live and silent auctions, table decorating and costume contests, and remarks from Dr. Robert Conte, former historian of the Greenbrier Resort, about the history of GHS.
Tickets for this exciting evening are priced at $65 and can be purchased through the Greenbrier Historical Society's official website at greenbrierhistorical.org/stellar or by calling 304-645-3398. Table sponsorship opportunities are available. Seating is limited, so early reservation is highly recommended. A buffet dinner will be provided.
This 60th-anniversary fundraiser promises to be an unforgettable evening filled with music, fashion, and nostalgia. Come together to celebrate the rich history of the Greenbrier Valley and support the Greenbrier Historical Society in their continued efforts to preserve the past and educate the present.
For more information about Stellar Evening and the Greenbrier Historical Society, please visit greenbrierhistorical.org/stellar or contact 304-645-3398.