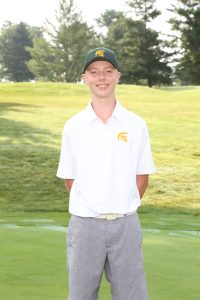 Name: Isaac Hutchison
Grade: Freshman
G.P.A.: 4.0
Parents: Sue and Neil Hutchison
Hometown: Lewisburg
Favorite Golfer: Scottie Scheffler
Favorite Quote: "I can do all things through CHRIST who strengthens me." Philippians, 4:13
Began Golfing: At age 6 for fun and started competing at age 8.
Why he plays Golf: "It's my passion and it is what I want to do in my future; whether I go pro or teach."
Coaches Comments: Isaac was the Team Medalist at Glade Springs as he helped the team beat Woodrow Wilson, Shady Spring and Westside to capture first place. Isaac is a tremendous student at academics and on the golf course. He is just a pleasure to be around. His kindness, attitude and willingness to help is a great asset to the team. They say good things happen to good people, if that's the case… expect great things for Isaac.
Miluk Golf Humor: Golf is a game invented by God to punish people who retire early.  Ha!