By Lyra Bordelon
In a Facebook live event, Greenbrier County Schools and the Robert C. Byrd Clinic partnered in order to answer questions submitted by the public on Thursday, September 5, ahead of the September 8 reopening of Greenbrier County Schools.
The panel included Robert C. Byrd Clinic chairperson Kathleen Martin, Superintendent Jeff Bryant, Associate Superintendent Nancy Hanna, Family Nurse Practioner for Pediatrics Shannon Bashlor, Head Nurse for Greenbrier County Schools Paula McCoy, and Robert C. Byrd Resident Doctor Rob Tavaress.
"Unfortunately, I can not say 100 percent that we can ensure everyone's safety and that no one will contract the virus," said Bryant. "But I will tell you, and you can be entrusted in knowing, that we're going to provide every opportunity to provide PPE, cleaning our schools, cleaning our buses on a daily basis, repeatedly during the school day. We have opportunities for teachers to clean their classrooms each and every day to prepare for the next day. Lots of precautions are in place, lots of procedures and protocols, so working together we sincerely hope we can [prevent anyone from] getting the virus."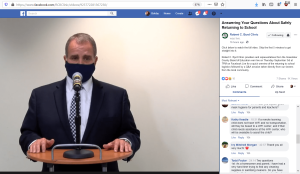 Below are a handful of questions answered during the event – the full video can be found on the Robert C. Byrd Clinic's Facebook page (https://www.facebook.com/RCBClinic/videos/923772281367230/), a link to which is available on the Mountain Messenger's page.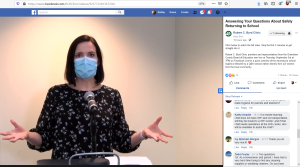 How likely is it that my child could catch COVID-19? I thought it didn't affect children?
"So far, of all of the cases of COVID-19 in this state, we're estimating that 9 or 10 percent of [all infections are] children," Martin explained. "The majority of those infected are adults. … Is it possible that could change to more than 10 percent? Absolutely, but right now when we look at other countries and the rest of the world, it's still a smaller number."
If a students comes to school sick, what would happen?
"We have staff trained to do … a COVID screening for students and staff who might become ill during the day," McCoy said. "What we're looking for is a temperature of 104 or higher, a new onset of a cough, new being the key word there, a new onset of shortness of breath, and also we will use pulse-oxcimeters, little clips that go on the finger … to check oxygen levels in the blood. It's painless, it's noninvasive. We want that level to be within normal limits. If any of those things are yes … we're going to be contacting parents to take that child home. … We will keep that child in a secure area, out of the main flow of traffic in the school. … We will remain with them until a family member can take them home and contact their physician for guidance."
What if that student tests positive?
"[The guidelines are] very specific, if we have a student in a class who tests positive," McCoy said. "We'll have seating charts, we'll know who sits near that individual. Very likely, that class will be out of school for a few days while we do contact tracing, but there may be a possibility that some of the class members could return. A positive case may not always mean the whole school has to shut down – we will follow the Greenbrier County Health Department's guidance on that."
How has the school calendar been affected?
"[Starting on] September 8 is the first major change," Bryant said. "Our teachers have had approximately two weeks of preparation and planning to get ready for our students' entrance," Bryant said. "That's very necessary time very well spent. As we move to the school year, we have some very pivotal times in the year that we've addressed in the best interests of families. That is the week of Thanksgiving. We are required to have 180 days of learning and 200 days for teachers on their contract. We must meet that. So therefore we had to get creative. The week of Thanksgiving, Monday, Tuesday, and Wednesday … will be remote learning days. … There will not be the lengthy spring break we're accustomed to – there will be a break for the students … but some of those days will be remote [learning] days as well."
What does bus safety look like?
Hand sanitizer stations were installed on all the buses. Face masks will be provided to students without them on buses. As students travel, they will only be allowed to sit together if members of the same family or, if multiple families are picked up at the same bus stop, they will be considered a "pod" and allowed to sit together. Ventilation will also be used on the buses on route to school and on the way back by opening the windows as much as possible. In addition, bus drivers are going to wipe down seats between runs with antibacterials and an eletrostatic sprayer will be used to fog buses with a cleaning anti-microbial spray.
Will there be field trips?
There will be no field trips or professional development conferences for teachers. However, althetics program will be allowed to travel to "select" away games with limited people in attendance.
What precautions are being taken with sports and extracurriculars?
"Secondary Schools Activities Commission has been working, in concert with the secondary schools that provide extracurriluar activities, such as band and athletics that follow specific guidelines to ensure that we do the very, very best we can to protect our students and the community, to keep this infection from becoming part of any of those groups," Bryant said. "There's been a lot of work done where students are in pods. … So far, so good. Everything's been successful. [September 3], there's a scrimmage taking place, a boy's soccer game at Greenbrier East, and there will be football [September 4] at West and East."
What about snow days?
"Any time it's inclement weather, of course students who [selected] the in-school option will stay home," Bryant said. "Students' whose parents selected the option of virtual school, of course, will already be there. What we're doing to be proactive is when students return to school next week … students will receive [packets], either downloaded to their Chromebooks for secondary school students or for elementary they will receive written packets. This will take us through the first nine weeks. … We are prepared to go to remote learning immediately.
Will students in middle and high schools be changing classes?
"All the secondary schools will still change classes as they normally do," Hanna said. "With the 50 percent capacity and different traffic patterns in the hallway, we are able to space out children so they will change classes. At each elementary school, it's school specific."
Are the remote learning packets similar to those used after the shut downs in the last school year?
"No, the teachers have worked diligently, working with pacing guides and standards for each grade level and subject area," Hanna said. "The packets will be similar to what the students would receive with in person instruction."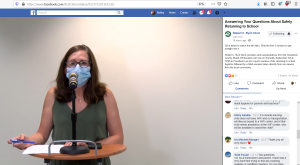 How many students are remote learning and coming to school in person?
"We have about 65 percent of families have chosen in-person instruction," Hanna said. "Approximately 35 percent have chosen remote instruction and less than 1 percent chose the West Virginia Virtual School option."
If my family does not have access to one of the mobile hotspots or Wifi at home, will transportation be provided?
No, Greenbrier County Schools will not provide transportation to the mobile hotspots. However, all of the remote learning packets and assignments can be completed without use of the internet, provided to students either through downloads to their assigned Chromebooks or with physical paper packets.
Should my child be allowed to get together with their friends outside of school?
"Yes and no," McCoy said. "Yes, in small group groups as long as there's some consistency [in who is] there. We're encourage to keep children in what they call pods, a group of peers or people they interact with consistently. Big groups are discouraged, large gatherings are discouraged, especially if there's not social disntancings and face masks aren't being worn. Certainly your child needs to maintain their friendships and interaction, that's an important part of growing up.
How old should my child be before I get them to wear a mask?
Noting that there are exceptions for children with special needs, if the child is going to school, they should be old enough to wear a mask.
"Any child over the age of two should be able to wear a mask," Martin said. "We know that masks don't decrease our oxygenation. They don't decrease our ability to breath at all – they are a little difficult to get used to. Now, school aged children should all be able to wear a mask, that's my opinion and the opinion of the American Academy of Pediatrics. … Children are going to be able to learn to wear masks. It's going to take some time, like how it took some time to learn to tolerate shoes. At first, they didn't want to wear shoes. It was uncomfortable. But we noticed they have a lot easier of a time doing it at school then when they were at home. So, over time, what you can do is help the child get used to the mask by putting the mask on, putting your own mask on, looking in the mirror, you can decorate your own mask."
What if a student can't understand their teacher through a mask?
McCoy explained that school staff have been given special masks with a clear portion covering the mouth, allowing it to be visible for students.
"We have those masks to make communication clearer and I encourage you to be honest with your teacher," McCoy said. "If you are having trouble understanding, let your teacher know."
For those looking for more school resources, visit Greenbriercountyschools.org.