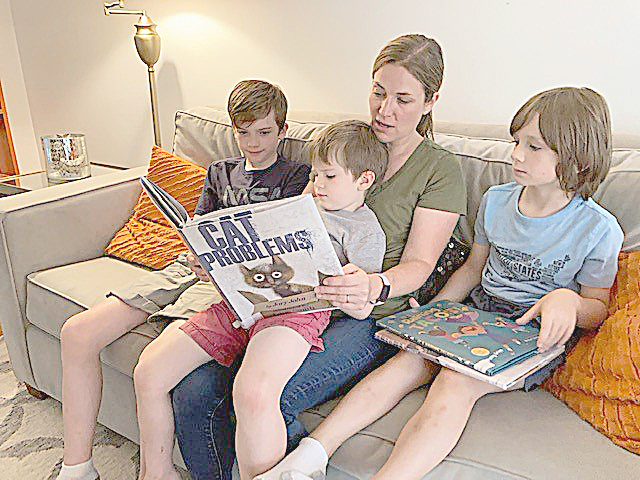 The Greenbrier County Public Library Book Bazaar returns Aug. 27-28 with bargains for book lovers.
Avid readers have become addicted to the annual book sale, calling the library to see if the sale would return this year after the coronavirus outbreak caused the cancellation of the event last year.
"Our family loves the book sale. I'm very glad it's back this year," said Heather Blake. She, husband Ryan and their three sons – Andrew, Brandt and John – are regular patrons.
"I see it as an opportunity to stock up on books to read throughout the year," Blake said. "I've always found there to be plenty of interesting titles. They have just about every type of book you can imagine. And the prices are very reasonable, too."
The book sale also draws Blake for other reasons. "I think the book sale is a really environmentally friendly way of acquiring more books because we're reusing them.
"We come to the library to look for books, probably every week or every other week. It's nice to be able to support them financially during the book sale. We love the library."    
Adult fiction and nonfiction, children's fiction and audio/visual materials are featured in the sale. This year nonfiction is the biggest category, as patrons were particularly partial to fiction when the pandemic prompted the library for several months to leave a book cart with give-away books on the building's front porch as part of its community outreach.
The Blake family appreciated that gesture. "Even when the library was shut down, we would call and request children's books and come pick them up at the door."
The sale opens at 152 Robert W. McCormick Drive in downtown Lewisburg at noon Friday, Aug. 27, and runs until 6 p.m. On Saturday, Aug. 28, the sale starts at 9 a.m. and closes at 2 p.m. On Friday, books will be priced at $2 for hardcovers and $1 for paperbacks. Saturday shoppers can buy books for $5 a bag. (The bags are supplied by the library.) The book sale accepts credit cards and checks, as well as cash.
Shoppers are advised there is no elevator service from the first floor to the book sale in the library's basement.
Masks are required for entry to the sale. "There's not enough room for social distancing," said Greenbrier County Public Library Director Ann Farr. "Everyone is going to be required to have a mask on."
This annual fundraiser is sponsored by The Friends of the Greenbrier County Public Library. The group started in 1979 as an organization dedicated to promoting awareness of services provided by public libraries. Proceeds from the sale support library activities, services and programs. 
More information is available by calling the library at 304-647-7568.