By Sarah Richardson
The Greenbrier Humane Society (GHS) is celebrating the one-year anniversary of their Director, Darcie Sparks McCraw, who has been working at the facility since Sept. 6, 2019.
"It's definitely been wonderful," said Darcie on her past year. "Obviously though, we didn't expect the pandemic; it's definitely been a test of what we can accomplish here."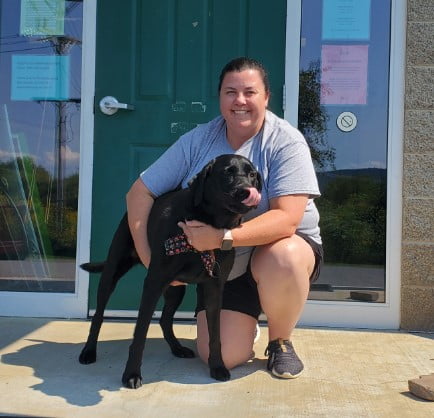 Even though she grew up in North Carolina, Darcie spent her summers and holidays here in West Virginia with her family. "My husband and I were talking about moving here eventually," she said. "We had decided to try to find a weekend rental where I could split my time and go back and forth, and we were in the process of that and I quit my full-time job. My sisters sent me the job posting [at GHS], and it was honestly presented to me by the universe. It was the right timing and everything kind of fell into place."
She says her favorite part of this job is all of the success stories. "You can actually watch the match made in heaven right in front of you, that's my favorite part."
Throughout the COVID-19 pandemic, Darcie and the rest of the staff at GHS have been continuously working behind the scenes to help the animals while being closed to the general public.
"I would say, obviously, managing a facility like this through a pandemic would be a major change. Because of that, rescue efforts that were already in place have really grown in a major way because we haven't been open to the public. Brittany, our placement specialist, has worked even harder at getting animals to our rescue partners, and we do still offer local adoptions."
When an animal is sent from GHS to a rescue, it's a careful process that is designed to ensure their best future.
"These are private rescue organizations that are fully vetted by Brittany to make sure they are a good match for where we want our animals to go," Darcie explained. "She works to build that relationship, and they see the available animals that we have and, if they have foster homes or availability at their organization, they pull the animals. A lot of these organizations have medical and other training professionals that we just can't match. They are able to address medical and behavioral issues that we can't. While they are very well loved and cared for here, the goal is to get them out of a cage and into a home, whether it be a foster placement or someone that's already on a waiting list for adoption."
The facility hasn't euthanized any animals due to space constraints since February 2014. A combination of these rescue efforts and adoption placements makes sure that the animals brought in are given every chance at finding a permanent home.
"It's definitely a misconception that people have," said Darcie about euthanizations due to space. "We are very lucky. There are a lot of humane societies out there that have no other options, whereas we have lots of options."
Even though they are closed to public visits, office staff is available Tuesday through Saturday during their regular business hours to make appointments for adoptions, surrenders, and more.
Although spay and neuter vouchers are currently not available in full capacity due to the pandemic, Darcie encourages those interested in one to call the facility to see how they can help.
Follow the humane society on FaceBook to see available animals, notices, and supply needs. Anyone wishing to donate can do so via PayPal at https://www.paypal.com/paypalme/greenbrierhumane, through their wishlist on Amazon at https://rb.gy/80g33a, or by donating directly to the facility. Ongoing supply needs include nonclumping, unscented cat litter; high efficiency liquid laundry detergent; dryer sheets; bleach; cleaning wipes; gallon, quart, and sandwich sized Ziploc bags; kitchen sized trash bags; baby food (chicken, turkey, or ham); Dawn dish soap; paper towels; hand sanitizer; Pill Pockets dog treats; and dog and cat toys.