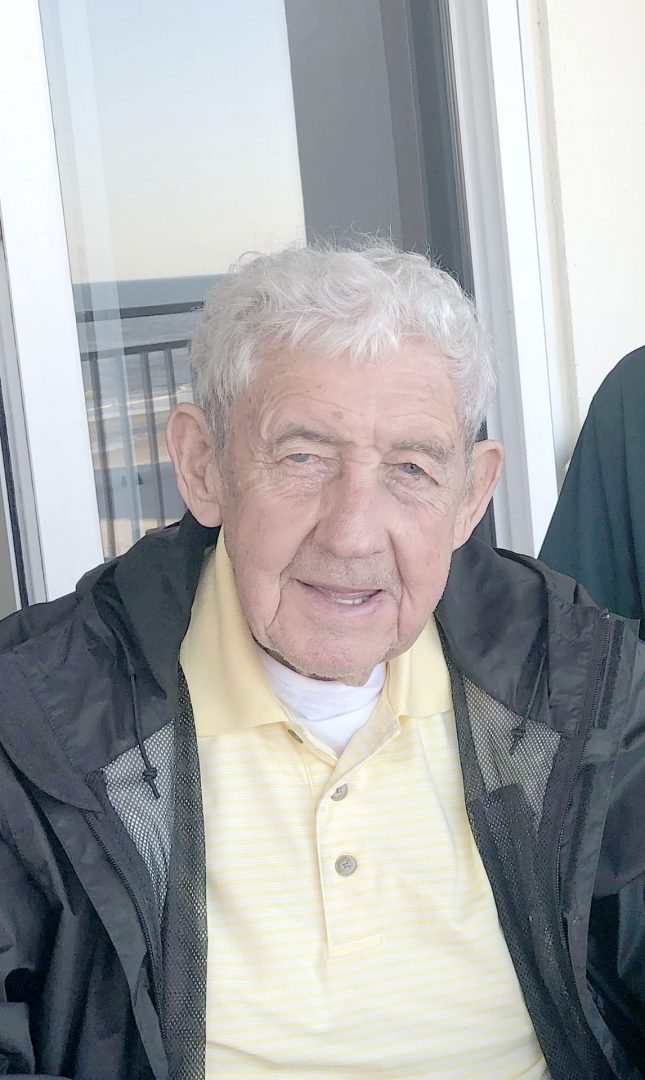 Fairlea-George Edward Piercy passed away at his home in Fairlea on Monday, June 28, 2021, at the age of 94.
George is survived by his wife, Leila "Lee" Camp Piercy; his two daughters, Donna Piercy and Leann Piercy-McMillion; his son-in-law, Bill McMillion; his two sisters-in-law, Dorothy Camp Gill and Adrienne Camp Landrum; his grandchildren, Ben McMillion, Kelby Seanor, Kylie McMillion, and Kris McMillion; and his many nieces and nephews.
He was predeceased by brother, Lourie Piercy; brothers-in-law, Charlie Wise, Lacy Conrad Gill, and Fred Landrum; and sister-in-law, Betty Camp Wise.
George was born in Fairlea on June 17, 1927, to A.K. Piercy and Ola (Hughart) Piercy.
He attended Greenbrier High School until his senior year, when he enlisted in the United States Navy during World War II and was stationed in Bermuda. After the war, he attended Greenbrier Military School, graduated with a Bachelor of Science degree from Davis and Elkins College, and received a master's degree from West Virginia University. Upon graduation from D & E, George met the love of his life Leila "Lee" Camp, and they married in 1952 for 69 years. George was a loving husband, father, and grandfather, but he was known by most as Coach Piercy or Mr. Piercy. He began his career working as a high school teacher and coach at Smoot, Frankford, and White Sulphur Springs. Mr. Piercy was well-known for his passion for coaching high school baseball, football, and basketball, which resulted in many teams advancing to the state playoffs and many of his athletes receiving collegiate scholarships.
George was a man of many talents and took pride in his work as he served many roles throughout his life: a WV Rehabilitation Counselor; the first Assistant Principal at the newly consolidated Greenbrier East High School; the Personnel Director and Associate Superintendent for Greenbrier County Schools; he taught classes at the Greenbrier Community College (New River Community College); and, he was the first educator to teach at the Federal Prison for Women in Alderson. Postretirement, Coach Piercy continued to mentor and coach young athletes, worked as a starter at the Greenbrier Resort Golf Courses, directed his WV State Fair parking and camping lot, and enjoyed playing golf.
The family will receive friends Friday, July 2, from 6 to 9 p.m. at the Wallace & Wallace Funeral Home in Lewisburg. A graveside military funeral service will be held Saturday, July 3, at 11 a.m. at the Wallace Memorial Cemetery in Clintonville. In addition, family and friends are invited to celebrate George Piercy's life at his home in Fairlea, at 5 p.m. on July 3.
The pallbearers for the graveside funeral service are Leann Piercy-McMillion, Bill McMillion, Ben McMillion, Kelby Seanor, Kylie McMillion, Kris McMillion, and Ralph McMillion. The honorary pallbearers are Bill Huff, C.C. Parker, Jackie Joe Robinson, and Tom Sweeney.
The posthumous pallbearers are Dixie Ayers, Tom Bill Dudley, Kelly Ford, Dick Gunnoe, Jim Hayes, Coach Toddy Laudin, Jimmy McMillion, Coach Abe McLaughlin, Skinny Minnieweather, Alvin Porterfield, and many friends and students.
The family would like to thank Dr. Belinda Smith, the staff of Home Care Plus and Palliativecare of Lewisburg for all of their love and support. And, thank you to Kenny Baker and Robert McClintic for officiating.
Wallace & Wallace Funeral Home in Lewisburg are in charge of arrangements. Please send online condolences by visiting www.WallaceandWallaceFH.com