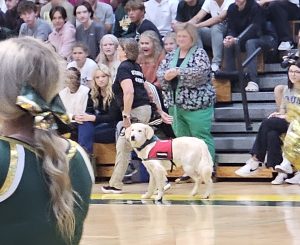 By Sarah Richardson
On Tuesday, Aug. 29, the entire student body of Greenbrier East High School gathered in the school gymnasium for a special announcement. Much like a pep rally, the Greenbrier East Spartan Marching Band and cheerleaders welcomed everyone into the gym as Governor Jim Justice and First Lady Cathy Justice made an appearance. They brought with them as a surprise Babydog herself, much to the excitement of the students. However, this event was actually centered around a different canine.
Gov. Justice announced that GEHS is the newest school in the state to get a therapy dog through the Friends with Paws Program, which is a partnership between the Governor's Office, the West Virginia Communities In Schools (CIS) Nonprofit, and the West Virginia Department of Education. Therapy dogs are placed in schools within CIS counties where students are disproportionately affected by poverty, substance misuse, or other at-risk situations, and are in the greatest need of a support animal. The dogs serve as a healthy and friendly outlet for these students to address trauma and other social-emotional issues.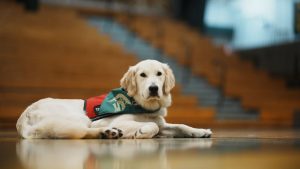 The student body then welcomed Ruby, a 10-month-old Golden Retriever. Ruby is the 13th therapy dog to be placed in schools through the program around the state.
"Ruby loves everyone she meets and is bound to brighten your day like Babydog does for my family," Gov. Justice said. "It is truly inspiring to see so many schools across West Virginia participating in our Communities In Schools program, and the First Lady and I cannot be more proud of this incredible program. We thank you all for welcoming Ruby with open arms, and I know she will be a beloved member of the Spartan family."
"Ruby is a wonderful addition to Greenbrier East High School," First Lady Justice said. "I know she will make a big difference in the lives of the students. Jim and I are so proud to introduce Ruby to her new home today."
"From the first time I met Ruby, I realized how much of a difference she will make in the culture of the school," Superintendent of Greenbrier County Schools Jeff Bryant said. "Amidst students' challenges, she'll offer daily support and become an asset to the school. Her presence will bring such solace and peace to the students."
A press release from Gov. Justice states: "A 2019 study published by the National Institute of Health found that a dog's presence in the classroom promotes positive mood and provides significant anti-stress effects on the body.
In addition, research shows that the simple act of petting animals releases an automatic relaxation response. Therapy animals lower anxiety and help people relax, provide comfort, reduce loneliness, and increase mental stimulation. They are also shown to lower blood pressure and improve cardiovascular health, reduce the amount of medications some people need, help control breathing in those with anxiety, and diminish overall physical pain, among other profound benefits."