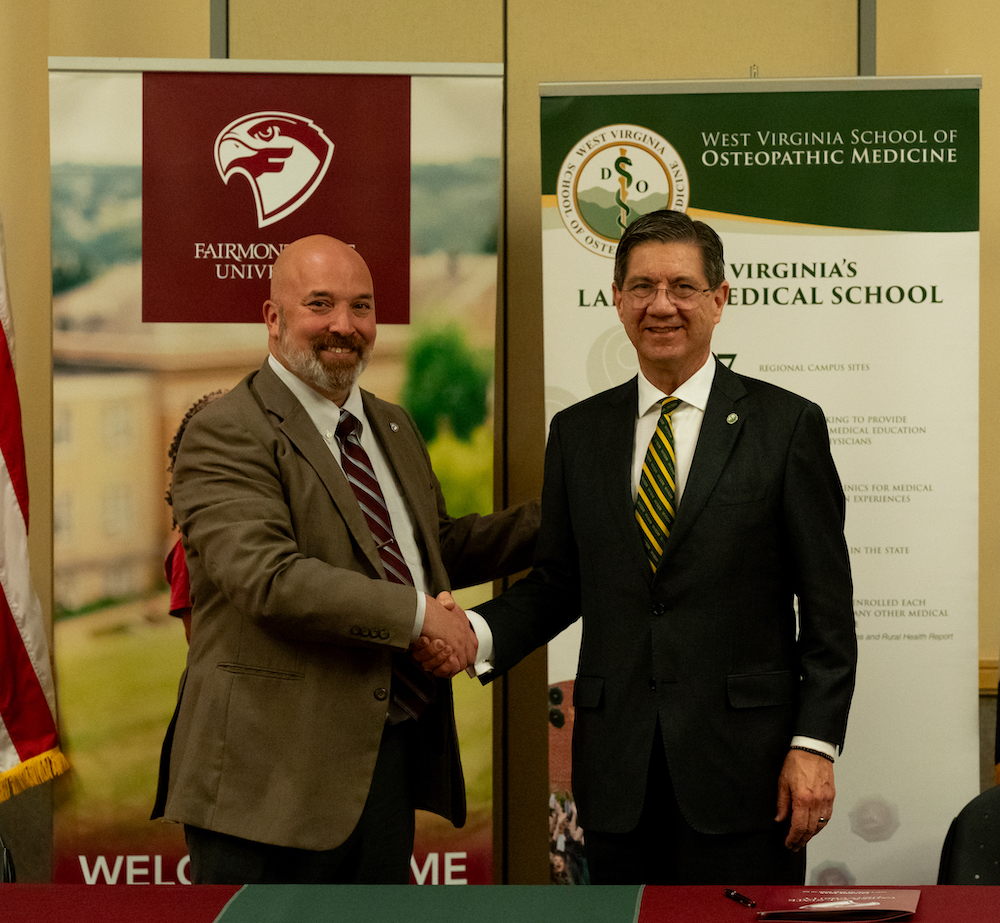 Students attending Fairmont State University who are interested in applying to osteopathic medical school now have an advantage.
The West Virginia School of Osteopathic Medicine (WVSOM) and Fairmont State University have signed a memorandum of understanding that will better prepare Fairmont State students interested in pursuing a career in osteopathic medicine.
Students who successfully complete all program requirements will receive guaranteed acceptance to WVSOM.
The agreement signed Oct. 27 by WVSOM President James W. Nemitz, Ph.D., and Fairmont State University President Michael Davis, Ph.D., will provide skills and credentials necessary for admission to and success in osteopathic medical school through the WVSOM Pre-Osteopathic Medicine Program (POMP).
Nemitz said the agreement offers students a great opportunity.
"This partnership gives students who are driven to succeed and have an early interest in osteopathic medicine an advantage when applying to medical school. If they complete all program requirements, they will receive guaranteed acceptance to WVSOM," Nemitz said. "It is a win for both schools. It allows Fairmont State University to offer a direct pathway to medical school. WVSOM will be able to provide guidance to Fairmont State students, and it is an opportunity for WVSOM to attract the next generation of physicians who will excel in providing health care to patients."
Davis said Fairmont State is excited to begin a partnership with WVSOM and looks forward to the positive impact the partnership will have on students and communities in West Virginia.
"We're excited about who we're partnering with because we know we're partnering with one of the best primary care medical schools in the nation. And in return, Fairmont State will be sending hard-working, bright students ready for advanced study," Davis said. "This partnership is also an opportunity to transform West Virginia communities. The West Virginia School of Osteopathic Medicine leads the state in graduating physicians who practice in rural areas. Given the health care crisis that Appalachia – and West Virginia, in particular – currently faces, this program will have an impact on our communities that will last for decades."
The goal of POMP at WVSOM is to promote osteopathic medicine, increase the number of excellent applicants, support aspiring osteopathic physicians at all levels of education and continue the legacy of osteopathic medicine. 
The program ensures that Fairmont State students can network with medical students and medical professionals. It also assists with shadowing opportunities while improving students' knowledge of osteopathic medicine.  
POMP is a partnership between WVSOM and affiliated institutions. Currently, 13 other schools of higher education are affiliated with the program: Bethany College, Bluefield State University, Concord University, Davis & Elkins College, Frostburg State University, Glenville State University, Shepherd University, University of Charleston, Waynesburg University, West Liberty University, West Virginia State University, West Virginia University Institute of Technology and West Virginia Wesleyan College.
More information about the program can be found at www.wvsom.edu/admissions/pomp.