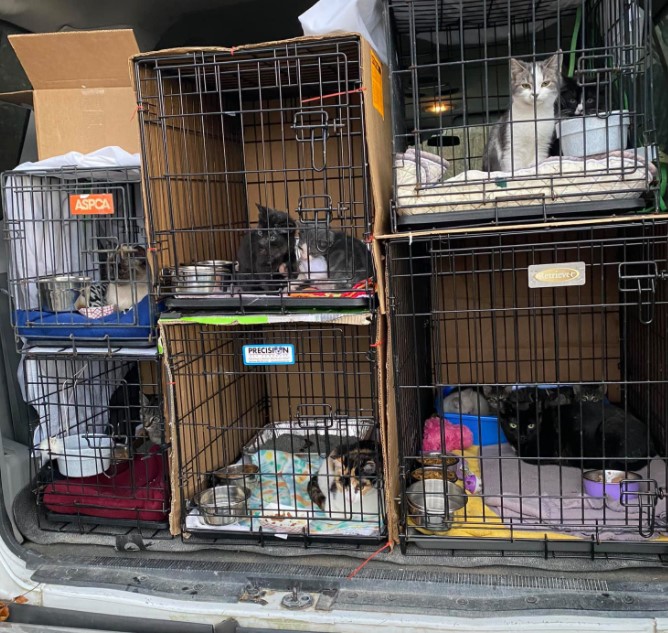 By Sarah Richardson
Laura Whitcomb, president of the Friends of Feral and Homeless Cats and Kittens rescue organization in Alderson, has always been in the habit of helping animals. "I actually started in Connecticut at my horse farm, where people were always bringing us cats and we'd find them homes, but that started to get expensive," she explained.
Whitcomb, together with Missy VanMeter and other volunteers, runs the Friends of Ferals no-kill rescue with a goal of reducing the feral cat population in and around the Greenbrier Valley. The group focuses on the "trap, neuter, and release" model for feral cats who are simply too wild to be adopted, and also works to socialize kittens so they can be placed into homes.
"My first 501(c)(3) was started in Connecticut, and as we got more into it we started to realize the feral colonies were where lots of the kittens are coming from," said Whitcomb. "We focus on TNR (trap/neuter/release) as we try and find a more permanent solution to the problem and stop it at the source."
The TNR model is applied when a healthy adult cat that has a safe living situation is spayed or neutered to prevent them from producing more kittens and exacerbating the homeless cat population numbers. They are given a rabies shot, are ear-tipped to show that they are fixed, given flea and parasite medications, given a checkup, and released back to their old stomping grounds if it's deemed a safe place for them to live. The abundance of farms in southern West Virginia easily leads to growing cat populations when the animals are not fixed, and such a situation can quickly grow out of hand.
Their website explains, "Cats that are healthy and have a caretaker are returned to their colony. Those that are too old or sick remain with us. Any cats that are deemed adoptable are sent to other rescues in the New England area to be adopted."
"In West Virginia the cat population problem is huge, and our main focus is the TNR," said Whitcomb. She and her husband originally selected Alderson as a place to retire, and found a house that offered enough land for her to build a structure to operate Friends of Ferals. The couple moved here in 2017, and they work with both local organizations as well as some from up north.
This year alone, the Friends of Ferals organization has completed over 350 trap, neuter, and release cases, with each surgery costing from $60 to $75.
"We did one colony last year where the woman said she thought she had 20 or so cats, but we ended up catching 61," she said. "She told me it started three years earlier, and that doesn't include the number that have passed away. That's just one example of what we do. We usually do three to five huge colonies a year, and occasional strays when people call us and we have the funding."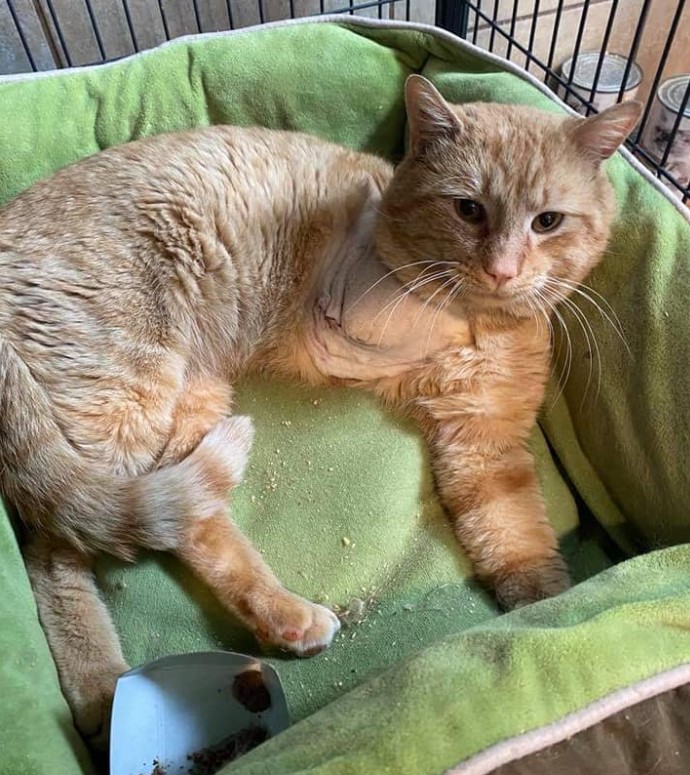 While Friends of Ferals works to reduce growth of feral cat populations, they also strive to socialize cats and kittens young enough to adapt to living with humans. If the cats are socialized early enough, they are adopted out into carefully selected forever homes.
"If they don't get socialized, they aren't adoptable," said Whitcomb, so time is of the essence when it comes working with litters of kittens born into a feral environment.  
Whitcomb explained that they try to not go above housing a maximum of 20 or so adoptable cats at any given time on the premises, which is a difficult feat during peak kitten season.
"We need fosters during kitten season, sometimes as early as March. Recently, kitten season has been out of control," she said.
However, some cases that Friends of Ferals comes across are more complicated than others, and the group finds themselves helping severely injured cats whenever they are able.
"We take in anywhere from four to eight severe cases a year, roughly. We have taken in four this year that have needed amputations due to injuries. Our latest case was this really friendly cat who is vision impaired, and he had a severely mangled leg that had healed but needed amputated. He is an absolute sweetheart, but he had been shot. We don't know if the vision issue and the leg trauma were related, but we found a good home for him up in Connecticut," said Whitcomb. "There's certain things you just can't heal."
Another case this year was a cat that had been attacked by a dog and had a shattered leg, and another with an injury that made him have to walk on his knuckle. These cases cost a considerable amount more at the vet than the standard spay or neuter, and the subsequent care and socialization process for cats too unwell to be re-released requires both dedication and funding.
"A lot of it depends on the vet stay," said Whitcomb, "but our vets work with us, and are very good to us."
However, despite generous veterinarians and volunteers, bills add up.
"We just got our most recent vet bill and our costs have gone up. The average vet bill on a special needs cat runs anywhere from $400 to $1,200 depending on their condition and what needs to be done. We also are always searching for people to sponsor the permanent cases, most of which are unadoptable for medical reasons. A full sponsorship of a cat is $250 for the year. It covers food, litter, and medical expenses."
Whitcomb says that financial contributions from community members are a huge asset to the group, and the funds go directly towards helping the animals. Donations can be mailed to FOF (Friends of Ferals), 848 Mt.  Zion Road, Alderson, West Virginia, 24910.
Everyday items such as food, bleach, and unscented laundry detergent are always appreciated, as well.  They use Purina cat or kitten chow for dry food, and Friskies or Fancy Feast brand wet food.
"We go through a lot of powdered KMR," said Whitcomb, "especially during kitten season." KMR is a milk replacement for kittens too young to eat regular wet or dry food. Whitcomb says the kitten milk replacement sold at Tractor Supply is one they regularly use.
Donations can be dropped off on the deck of their facility, or message the group on Facebook at "Friends of Feral and Homeless Cats and Kittens Inc" to schedule a drop-off.
Above everything else, if you have a stray cat or two on your property, Whitcomb urges the importance of reaching out as soon as possible.
"Please, please spay and neuter. Contact us now, don't wait until you have 20 cats, call even if you have one or two. If you have a stray show up, call us right away and we can work on getting them altered."
She says that the group can also advise on how to trap feral cats, for those wanting to trap the animals themselves, and they can provide a spay or neuter voucher.
Those wishing to adopt can submit an application through their website at friendsofferalswv.org, or make a tax-deductible donation to the group online.
"We are always looking for good homes for our barn cats," said Whitcomb. The $50 adoption fee is waived for those looking for a barn cat, who are all altered and vaccinated.