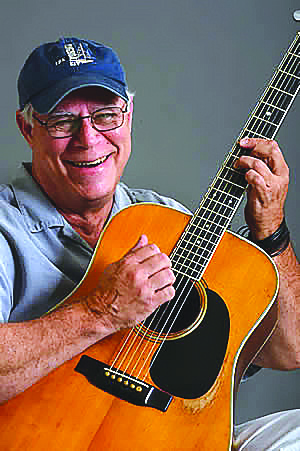 By Adam Pack
The Freshwater Folk Festival of White Sulphur Springs is returning the fish hatchery this year on  Saturday, Sept. 10, and the itinerary is packed. So much so that instead of the traditional 10 a.m. to 3 p.m. time slot, the festival will run two hours longer to accommodate the huge package of vendors, musicians, displays, exhibits, and activities in store for attendees. 
Larry Davis, President of the Friends of the White Sulphur Springs National Fish Hatchery, is beyond excited for this year's festival, especially given that it's been on a two year hiatus. "We've got Carol Mansley organizing the event, and she's just been doing an incredible job all around, rounding up all kinds of vendors and people to come out and be a part, it's going to be a great time."
A great time, for a good cause no less, as the festival is primarily a fundraiser for the fish hatchery. Davis explained that most people know of the hatchery for trout, however,  "They've got more than just trout eggs popping out of there! They're under the U.S. Fish and Wildlife Service, and they're dedicated to maintaining not just the trout and fish populations of the area, but also for introducing freshwater mollusks to the area in order to help protect the aquatic ecosystem here, as well as other creatures that live symbiotically with our waterways like crayfish."
A staple of the White Sulphur Springs area for over 15 years, the festival started when Davis, others, and the local Rotary Club wanted to find a way to help bring entertainment and business to the people of the town while also working to help the hatcheries work. "Really, other than the Dandelion Festival, people were leaving White Sulphur to do anything, so we thought we'd get something going here- and boy has it blown up. Now it's a massive event for vendors and families where people can do business, help a great cause, and where kids can learn a lot too.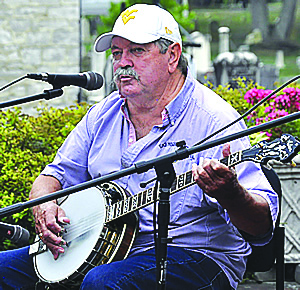 Perusing the lineup of exhibits and displays at this year's festival, one gets the feeling that the event is equal parts folk concert and science fair all rolled into one: booths will be present where festivalgoers can learn the importance of bees and learn how to make their very own bee hotel, visit Sigma Xi and see and learn the science behind their array of mystifying and mysterious experiments, and learn all about how to become a "Citizen Scientist" with Susan Jane Clonch Ryan and submit photos to worldwide databases to be used in research at top universities all from your own backyard. Afterwards, feel free to stop by Usborne Books & More with Katy Alderman and find a great read to end the summer on. Art fans will find plenty as well, as the recycled material sculpture of Jodi's Krazy Kreations will be on full display, as well an art demonstration and sale from award winning nature artist Kathryn Lehotsky.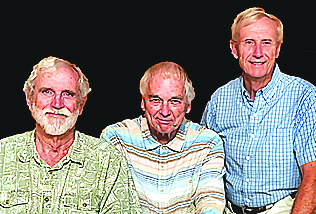 Once you've filled your head and feasted your eyes, treat yourself to all the food and treats available from several local providers: Nana's Ice Cream will be serving everything from Pork Fried Rice to Corn Dogs to Funnel Cakes to Ice Cream and more. Guy's Dawgs will be on hand with hot dogs and cold drinks, and finish it all off with Little Jimmy's Italian Ice, served "by the Fishing Boatload" for your refreshment.
The mainstay of the Freshwater Festival, as always, is the incredible array of musical talent. Musicians performing at this year's fest are:
Richard Hefner & the Black Mountain Bluegrass Boys
Legendary banjo player Richard Hefner will be onstage with his band, The Black Mountain Bluegrass Boys. This band is one of West Virginia's longest-standing bluegrass bands, having been around for over fifty years. Multi-instrumentalist Dave Bing plays fiddle, banjo and guitar. He grew up in a household filled with music, and like his brothers Mike and Tim, taught himself how to play. Fiddler, Blaine Sprouse, is one of the top fiddlers in the US today. Sprouse began his career as a teenager, playing with the "King of Bluegrass," Jimmy Martin. As for Joanna Burt-Kinderman, Hefner has known her since she was born. She grew up listening to his banjo playing, and then one day picked up the bass in his living room and started plucking away. Hefner encouraged her to continue, teaching her along the way, and now she's a member of his band. Make sure you're sittin' in the front row and ready to dance when this blazin' bluegrass band takes the stage at the Freshwater Folk Festival!
Jim Snyder w/ Bob Riggleman and Scott Logsdon
Singer-songwriter Jim Snyder has been playing guitar and singing since he was a boy when he taught himself to play his father's ukulele. His music runs the gamut from folk, rock, and gospel to blues and bluegrass. He'll tell you that he does everything from Mother Maybelle to Jimi Hendrix. He makes his home in Lewisburg but travels wherever the gigs take him. Besides being a performing artist, he is also the Director of the WV Winter Music Festival and the D Street Art & Music Series. He'll be joined by bassist Bob Riggleman and percussionist Scott Logsdon.
The Sea The Sea
Chuck and Mira Costa are The Sea The Sea – an indie folk-pop duo from Upstate New York. Winners of the prestigious Kerrville Folk Festival, The Sea The Sea is known for stunning vocal harmonies and creative song arrangements. Not surprising, since both Chuck and Mira are award-winning songwriters. Mira combines her extensive training in dance, theater, and music with the folky roots she cultivated growing up in the wings of Mountain Stage as the daughter of its musical director, Ron Sowell. Before meeting Mira, Chuck toured the festival and coffeehouse circuit for years as a solo artist and independently released five albums. He garnered many songwriting accolades over the years (Rocky Mountain Folks Fest, Falcon Ridge "Most Wanted," Telluride Bluegrass Troubadour.)
Kipyn Martin
Kipyn Martin is an emerging Indie Folk singer-songwriter whose roots sink deep into the banks of the Shenandoah River. She is a three-time winner of the coveted Gold Award in the Mid-Atlantic Song Contest, was the Washington Area Music Association's WAMMIE Award winner for New Artist of the Year in 2015, a Gold Award winner at the international United Kingdom Song Contest, and has had multiple WAMMIE nominations for Songwriter of the Year and Folk Contemporary Vocalist.  Martin is blessed with an incredible voice. Karin Fuller of the Charleston Gazette says "Kipyn is something else" and has the purest voice she's ever heard. Kipyn Martin is one of those artists whose music casts a spell and brings a hush over the audience. 
The Rust Brothers
The Rust Brothers are George Piasecki on bass, Jim Wright on guitar and Bob Ducharme on guitar and guitjo. What is a guitjo? It's a six-string banjo with a guitar neck. Banjos typically have five strings. As Bob will tell you – with a twinkle in his eyes – these three guys have had day jobs totaling more than 150 years. They bring together more than 75 years of living in the Greenbrier River areas of Lewisburg and Greenville, and they've spent just about as many playing music! They perform music that they like, ranging from golden oldies to classic folk with a bit of rock'n roll and blues tossed in, and they do it in a back porch, parlor, good-time kind of way. As Bob says, "Fun first, and lastly!"
The schedule of performances at the hatchery amphitheater on Saturday, Sept. 10 is as follows:
10 a.m. – The Rust Brothers
11 a.m. – Jim Snyder with Bob Riggleman and Scott Logsdon 
12:15 p.m. – Kipyn Martin
1:45 p.m. – The Sea The Sea
3:30 p.m. – Richard Hefner & the Black Mountain Bluegrass Boys