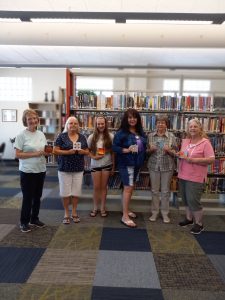 The Rupert Public Library held its first annual Tiny Art Show during the month of August. There were a total of 20 entries on four-inch canvasses. This was a fun project for all those involved. During the month we asked patrons if they wanted to pick their favorite painting. We held a Tiny Art Show reception on Friday, Sept. 1 to announce the People's Choice.
The People's Choice award went to Shelby Oreolt with her painting titled "Wildflowers." All the other artists received a blue ribbon for participating. Picking our favorite was truly hard. They were all beautiful.
Those artists entering their art were: Doreen Alderman, Kayla Berry, Drema Bragg, Linda Connolly, Emma Edens, Margaret Golden, Sharon Johnson, Jane Jones, Marilyn Kelley, Karen McClung, Dee Miller, Shelby Oreolt, Susan Pishner, Robwyn Wingler.