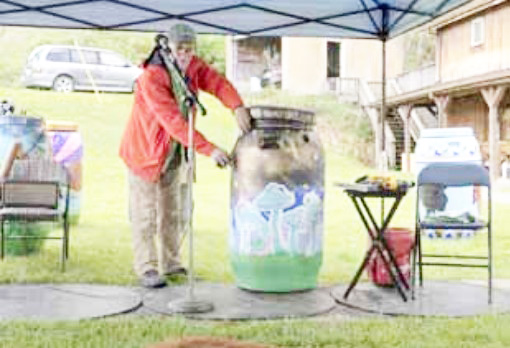 The rain stopped and the skies cleared just in time for the Earth Day Watershed Celebration at Lost World Caverns on Saturday, Apr. 22. The afternoon was filled with music, food, and education about our watershed. WVDEP Save Our Streams representative Callie Sams hosted a macroinvertebrate table, and Kara Grosso with the WV Conservation Agency was present to talk about conservation issues, as well.
Through a grant from the Mountain Resource Conservation Development, we hosted a rain barrel workshop. The grant sponsored a free rain barrel and connector kit to those who signed up. Later, five painted rain barrels were auctioned via Martha Hilton, auctioneer. Students from Rupert Elementary, Rainelle Elementary, Eastern Greenbrier Middle School, and Western Greenbrier Middle School were involved in the painting and decorating. Board member Autumn Crowe will be visiting the schools soon to talk about rain barrel use for water conservation and pollution control. Three schools kept a rain barrel for their own garden and a sponsorship plaque was likewise auctioned to be imprinted with the donor's name.
The entire event included music, food, free cave tours, a fiddler inside the cave, and we received lots of sponsorships and silent auction items from local businesses. Students from the WV School of Osteopathic Medicine came to volunteer as part of their National Day of Service, as well. We thank everyone for their contributions!
Please visit our website www.greenbrier.org or Facebook page https://www.facebook.com/greenbrier.watershed for our thank you list of many, many sponsors and supporters of our event!