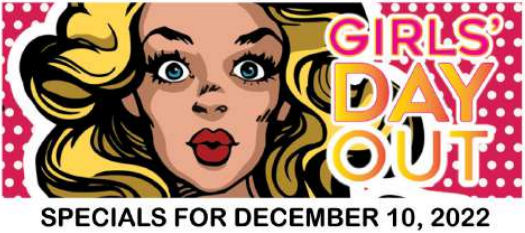 Girl's Day Out will be held all around Lewisburg on Saturday, Dec. 10 with unique shopping, drink specials, samples, giveaways, and more. Presented by the shops and restaurants of downtown Lewisburg, nearly every business will be offering their own fun twist to make holiday shopping a treat for everyone.
Check out the list of all businesses participating this year:
A NEW CHAPTER Spend $50 or more and receive a Complimentary Box of Artisan Truffles from Bellafina Chocolates.
AGGIE'S & VEST Complimentary Ice Water with Lemon, Tylenol & Ibuprofen. Available for use for Tense Necks & Shoulders is a Kick-Ass Massage Gun.
AMY'S CAKES & CONES Enter to win a four pack of Hot Chocolate Bombs – Complimentary Hot Cocoa and Fancy Cookies.
THE ASYLUM Complimentary Holiday Sangria with Purchase of any Food Item.
BELLA THE CORNER GOURMET Sample Champagnes, Non-Alcoholic Rose & Sparkling Wine and Cocktail Mixes. With any Purchase, Enter to Win a $50 Gift Certificate & a Bottle of Champagne.
BLACKWELL'S Complimentary Fried Green Tomato, Goat Cheese, Candied Pecan Canape and Holiday Fruit Wassail.
BRICK HOUSE ANTIQUES Serving Spiced Cider and Christmas Cookies.
BRIERGARTEN Complimentary Aperol Spriz and 10% off Merchandise.
CAT & KATE Every $100 Spent Earns You a Ticket to Win their Signature 14K Gold Diamond Necklace.
CORN & FLOUR Free Avalanche Cookie with Any Purchase.
CYBELE BOUTIQUE All Bags 30% Off.
DEL SOL CANTINA Complimentary Glass of Bubbly with Purchase of any Sushi Dish.
EDITH'S Drawing for a $100 Gift Card.
FOOD & FRIENDS Free Iced Tea or Fountain Drink with Lunch or Dinner Purchase.
GENERAL LEWIS INN Free Holiday Mimosa when you mention Girls' Day Out.
GREENBRIER VALLEY THEATRE "Mountain Home Christmas" Shows at 2:30 p.m. and 7:30 p.m.
GREENBRIER VALLEY VISITORS CENTER Enter a Drawing for a $100 Visa Gift Card and Enjoy Holiday Refreshments.
HARMONY RIDGE Complimentary Champagne – Girlfriend Photo Selfie Station with Fun Props – Drawings for Prizes All Day Long!
HILL & HOLLER Complimentary Mimosas with Any Purchase with Mention of Girls' Day Out.
THE HUMBLE TOMATO Bottomless Mimosas from 11 a.m. to 3 p.m.
LANDING IN NIRVANA Enter to Win a Spongelle Gift Basket with any Purchase over $10. Serving Strawberry Daiquiris!
LEWISBURG SURF SHOP Champagne & Chocolate Bars Complete with Golden Tickets! Golden Ticket Specials include Discounts & Gift Cards up to $100.
LITTLE BLACK BOX Register to Win a $50 Gift Card – Free Gift with Purchase – Hot Toddies & Holiday Cookies – End of Year Sale up to 60% Off.
LOVE CHILD Gift with Purchase and 50% Off Ornaments.
PATINA Make & Take your Earring Creation ($10 to $30) with Design Help from In-House Jeweler Willow. Door Prizes for Everyone!
PLANTS ETC. Hands-on Intuitive Healing Sessions by Linda Gayla. Serving Fancy Cookie Bites from Amy's Cakes & Cones.
THE SHOE BOX Register to Win Unique Handcrafted Bag Full of Gifts, Including a Pair of Boots! Enjoy Coffee & Donuts.
STARDUST CAFE Free Glass of Champagne with Lunch or Dessert Purchase.
STUDIO 40 Holiday Sale and Raffle to Win a $50 Gift Certificate.
SUZANNE PERILLI DESIGNS Ornament Pull for 10% to 25% Off Purchase.
THE WASHINGTON STREET PUB Drawing for a $25 Gift Card and Specialty Black Velvet Gimlet for $8.
WOLF CREEK GALLERY Serving their Famous Champagne Punch – A gift with Purchase over $30 While Supplies Last – Raffling off a deluxe gift bag!
YARID'S Passing out Yarid's Bucks! Receive $15 Yarid's Bucks Just for Coming In! Redeemable only on Girls' Day Out.
SAVE THE DATE FOR NEXT YEAR!
DECEMBER 9, 2023